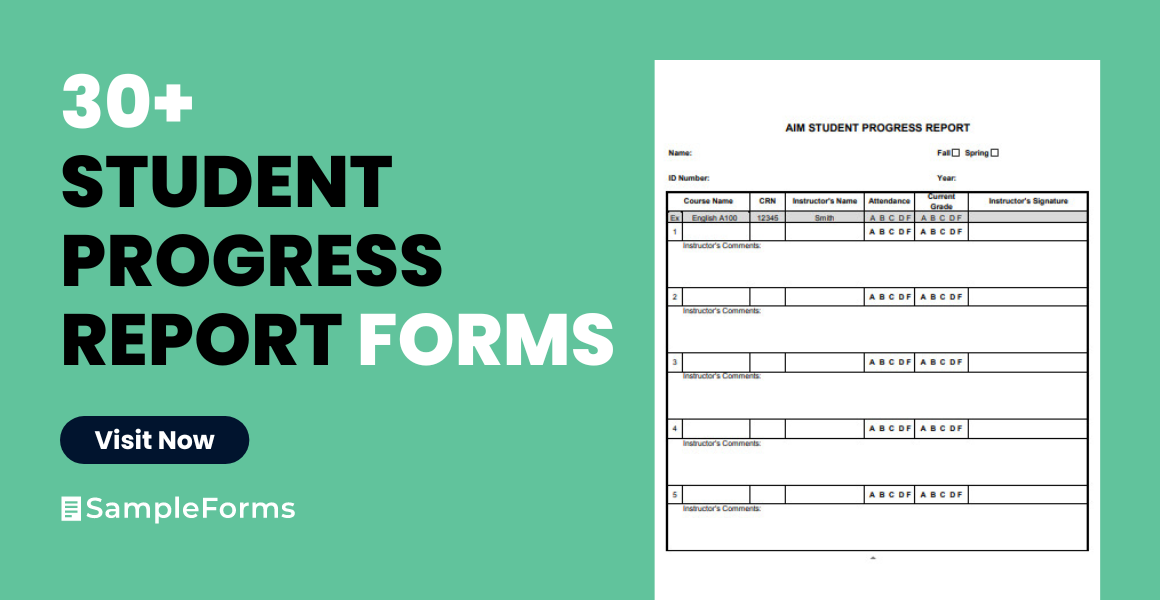 Reaching the mountain top is not an easy feat. A climber must condition himself or herself for the strenuous activity and the possible pain the body experiences during and after the climb. In a similar setting in school, the curriculum prepares the students to understand complex ideas by providing them with the basic concepts. Because of this, teachers and parents should look out for the student progress report form of a child so that they have guidance to direct them towards the goals.
What is Student Progress Report Form?
A Student Progress Report Form is a document used by educators to evaluate and record a student's academic performance, behavior, and skills development over a specific period. It provides insights into the student's achievements, areas needing improvement, and overall progress in their educational journey. This form is a key tool for communicating a student's progress to parents or guardians and can include grades, teacher comments, attendance records, and other relevant educational metrics. You also browse our Student Report Forms.
What is the best Sample Student Progress Report Form?
This sample Student Progress Report Form is designed to provide a comprehensive overview of a student's academic performance and behavior in a specific period.
Note: This form is a template and can be customized to fit the specific needs and assessment criteria of the school or educational program.
30+ Student Progress Report Forms in PDF | MS Word
1. Student Performance Progress Report Form
2. Aim Student Progress Report Form
3. Weak Student Progress Report Form
4. Student Progress Report Form Sample
5. Graduate Student Progress Report Form
6. Student Annual Progress Report Form
7. General Student Progress Report Form
8. Simple Student Progress Report Form
9. Basic Student Progress Report Form
10. Student Research Progress Report Form
11. Post Graduate Student Progress Report Form
12. Primary Student Progress Report Form
13. Student Academic Progress Report Form
14. Student Survey Progress Report Form
15. Student Athletic Progress Report Form
16. Chemistry Graduate Student Progress Report Form
17. Student Mid Term Progress Report Form
18. Compute Science Student Progress Report Form
19. Grade Student Progress Report Form in PDF
20. Student Interactive Progress Report Form
21. Student Semester Progress Report Form
22. Home Education Student Progress Report Form
23. Student Progress Tracking Report Form
24. Student Monthly Progress Report Form in Word
25. Supervisor Student Progress Report Form
26. Student Progress Tutoring Report Form
27. Special Education Student Progress Report Form
28. Doctoral Student Progress Report Form
29. Student Semi Annual Progress Report Form
30. Student Weekly Progress Report Form
31. Research Student Progress Report Form
32. Student Annual Progress Report Form
Student Reports: Why are They Necessary?
The digital era made report cards accessible to parents, as long as they remember the log-in credentials. Although some parents disliked this idea, institutions used this method to reduce the carbon footprint of sending out papers to every household. Despite the debate, it does not diminish the usefulness of a student progress report in assessing the learning milestones. Here are four key reasons why tracking the progress of a student helps them achieve their goals:
If you become overwhelmed with the goals that sometimes, you become unaware of your destination point. Having a track record can point out efforts that count. It will determine whether those late nights studying at the cafe shop help in acing the upcoming exam. It is essential to track efforts that count because the feeling of wasted time and effort can make you lose determination.
Understand the Source of a Problem
Every journey holds a lesson. Along with that lesson, you might encounter a problem that would discourage you from your dream path. Aside from that, setting up a goal involves different strategies. You would want to figure out which approach works best for you. If you try to look up into Google's search bar, there are a lot of ways people deal with this kind of addiction, but not every recommended strategy works for everyone. A progress report is your tool to identify the sources of problems or distractions that hinder you from achieving your dream goals.
Keep Close to Your Dream Career Path
Having a reference on the progress you make keeps you close to your chosen career path. Just like climbing a mountain, the trail may not be visible all the time. Chances of getting lost while traversing the trail is not an impossibility. Even if you have the guidance of your parents and mentors, life can still cloud your decisions. You need to have a constant reminder on your career path, and having a progress report helps you do so.
In achieving your goals, you learn something new about yourself. Challenges can test our personalities and hidden abilities. Keeping a track record of every milestone while working on those goals gives you a better understanding of yourself. It is essential to evaluate yourself because you would be able to point out your strengths and weaknesses. If you work on it, you can even create your weaknesses as your strength. You should also take a look at our School Report Forms.
How to Make a Student Progress Report
Creating a report is a fantastic way to illustrate numbers attractively. Such documents make understanding the significance of the numbers easily readable. If you do not have background knowledge of data analysis, looking at a series of numbers in a plain sheet of paper can cause headaches.
Similarly, teachers do not attach the student's list of scores for the given tasks in the report sheet. Instead, the instructor may use letters and symbols to denote the overall average of the student's scores. In this way, there would be lesser confusion in what the numbers mean. Making a student progress report can take time because you have to analyze data to be able to interpret it in a more straightforward language. Worry not, these steps can help you make that report as easy as eating a slice of cake.
Step 1: Identify the Criteria, Goals and Other Forms of Reference for the Progress Report
One important aspect that an instructor must focus on in a progress report is the basis for the ratings. Some schools use the 5.0 rating while others use the 4.0 rating scale. Also, some institutions use letters from A to F to signify the range of a student's performance rating. Before getting to the dirty work on creating the template of a progress report, make sure to understand the references used to specify the ratings.
Also, it would be a good help if you understand the criteria and the goals set by the curriculum so that you can entertain parents' questions easily. It is undeniable that some parents would question the ratings written on the report sheet. As an instructor, prepare yourself with the standard criteria and, if not applicable, ready the basis of reference in case the usual rules are not convincing enough. For example, students studying a technical course might not have tons of homework and tests. But, they undergo a practical examination justified by pictures of their outputs in a portfolio. The portfolio itself is a basis of reference that an instructor can use to justify the rating given.
Step 2: Use Sections to Sort Out One Type of Data from Another
A student progress report should indicate the name of the student, the address, contact information of parents, and the list goes on. These crucial details look better if they have a category that separates them from the rest of the details. If you want to have a professional outlook of a student progress report, use sections for the information stated on the form.
For example, you can have section one as a student's information, section two as parent's contact information, section three as the rating report, and the last section as feedback and suggestion. Dividing the information category into parts helps not only the parents but also the record keeper of such forms because it would be easier to alphabetize. Aside from that, the document would look neat with a section-based template.
Step 3: Create a Commentary Section for Suggestions and Feedbacks
Similar to selling a new product in a local marketplace, the room for suggestions and feedbacks should be open to student progress reports, too. The numbers on the progress report are not enough to justify his or her ability to learn without any written feedback. Because number ratings cannot provide the weak and strong aspects that a student possesses, comments would fill the missing. Aside from that, parents would have a broader understanding of the rating given by the instructors.
Step 4: Do Not Forget to Include a Description of Symbols Used
Symbols include letters as rating marks of the general weighted average for one grading period in a particular subject. It is crucial to allocate a small space that explains the symbols used in the progress report. Labels are essential so that a reader or viewer would not have any difficulty in understanding them. Our Standard Report Forms is also worth a look at.
Step 5: Include Contact Information of the School or the Section Adviser
As emphasized, some parents may question the ratings on the progress report. Although it is not a guarantee that every parent does this, it is essential to include the contact information of the school or perhaps, the section adviser to answer questions regarding the report form. Also, there might be busy parents who barely have the time to go to school during office hours. Because technology made us closer to people miles away, better utilize electronic mail platforms such as Gmail and Yahoo to receive parent's concerns.
Step 6: Proofread the Contents and Use a Simple Design
The progress report is not an all numbers document. It is crucial to proofread the paper before heading out to rearrange it by designing the form. It is essential to have a professional appeal so that students and parents would not become hesitant with the report form. Also, report forms look better when they are simple. No need for too much color combination. Proper alignment and readable fonts are two critical aspects to look out in the student progress report. If the design and content satisfy the standards, then it is suitable for printing and distribution.
No matter how slow you are doing in achieving your goals, the vital thing to keep in mind is the progress you make daily. Being a student does not stop within the classroom walls. Even if you are a professional, you are still a student, but the classroom becomes the real world. The student progress report helps you unlock the best abilities you have. It is important to acknowledge every downfall and victory. Reaching the mountain top is only a reflection of the sacrifices, the struggles, and the happiness of working hard through little but continual progress. You may also see best forms.
What is the role of Progress Report in Student Success?