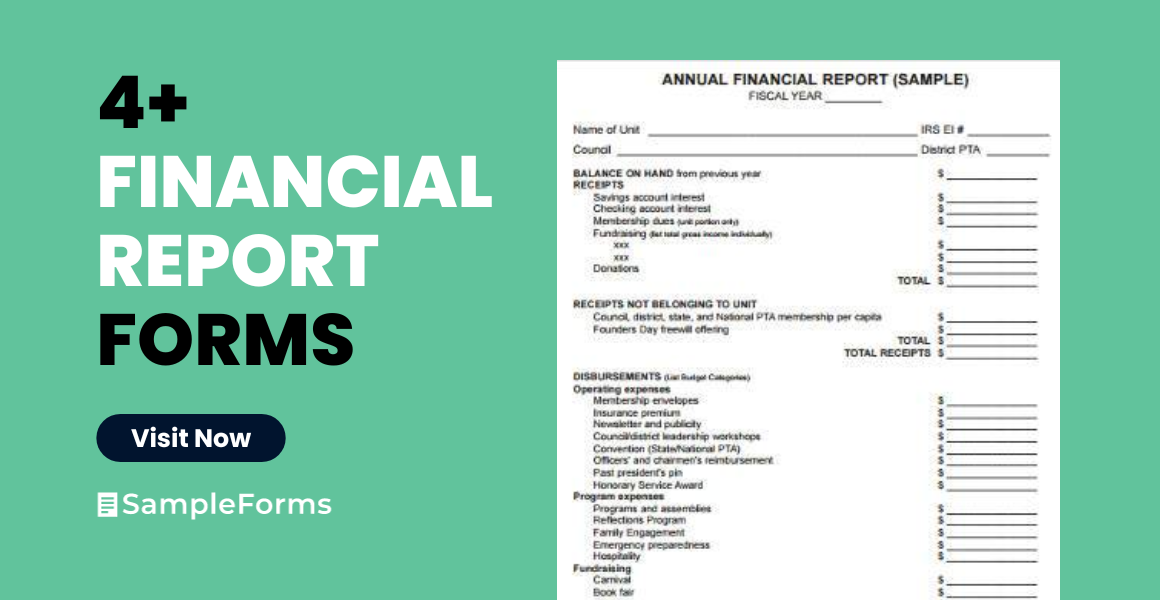 Mostly referred to as financial statements, financial reports are formal representations of all financial activities such as business transactions or income generation of any organization, be it business or non-profit. They usually reflect the financial performance, strength, and position of a company's assets and liabilities at a given period of time.
Like Expense Report Forms that are used to trace expenses incurred during job executions, financial report forms usually represent a balance sheet that includes details for both a company's profit and loss for a specified amount of time. A financial report is important as it can be a basis for clients and investors alike to want to do business together.
Annual Financial Report Form
Financial Report Summary Form
Financial Report Form in PDF
Employee Organization Financial Report Form
Financial Status Report Form
General Types of Financial Reports
Report of Financial Position
Also known as the Balance Sheet, this report or statement presents the financial status of a business or organization at a given time. Assets, Liabilities, and Equity comprise this report.
Income Report
This report is also called the Profit and Loss Statement, which shows a company's net profit or loss during a specified period. The elements that comprise this statement are Income and Expense.
Cash Flow Report
The Cash Flow Statement indicates the movement of cash and bank balances that companies acquire over a period of time. It is divided into Operating Activities, Investing Activities, and Financing Activities. This is where financial Incident Report Forms come in handy in case of emergencies.
Report of Changes in Equity
Also called the Statement of Returned Earnings, it details a business owner's equity over a specified time. Its components are Net Profit or Loss, Share Capital Issued or Repaid, Dividend Payments, as well as gains or losses in direct relation to equity, effects of a change in accounting policy, or correction of an accounting error.
Financial Report Form Example
Financial Advice Report Form
Personal Financial Statement Form
Financial Report Form in Word Format
Necessities of Financial Reports
For business owners and managers
For business owners and managers, the need to be always updated with the firm's financial condition is imperative. Financial reports such as a Business Expense Report Form will help them make decisions in the future.
For investors
Investors commit valuable money to businesses and expect to grow them through financial returns. Hence, investors should always be aware of the financial status of companies for further investments.
For lenders
Just like investors, lenders allow businesses to borrow money to make profits from interests. But first, the business has to have good financial health in order for the company to return the money borrowed and have good credit standing.
For employees
Aside from the management, employees also need to have an idea of the financial status of the company they are working for. They need to be assured that the business is making profits and not losing funds.
For Suppliers
Suppliers would want to know the financial condition of the company or business they are supplying products or services to. In this way, they are certain that their clients will be able to pay the supplies they deliver.