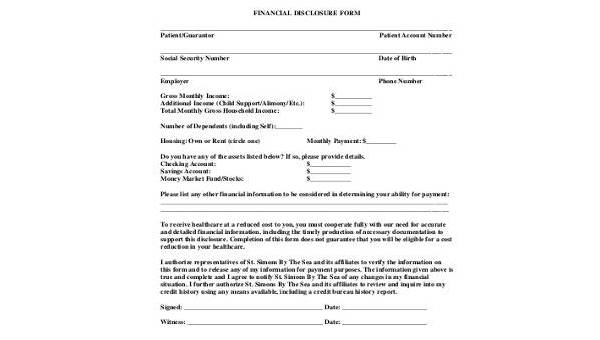 Financial Disclosure refers to a requirement in which an individual should disclose information regarding his assets, properties, and accounts. Nowadays, this type of disclosure is anticipated by the public as government officials are expected to present a full itemization of their assets in fulfillment of their mandate to be accountable, trustworthy, and reliable citizens. It's not just government officials who are required by law to disclose such a list; businessmen, investors, and state employees are required to do so too.
You may also view our sample Financial Forms, including Financial Disclosure Forms, to get an idea on how to furnish such forms.
Confidential Financial Disclosure Form
Public Financial Disclosure Report Form
Personal Financial Disclosure Form
Annual Financial Disclosure Form
Financial Disclosure Application Form
Importance of Having a Financial Disclosure Form
Having a Financial Disclosure Form will help boost transparency and public trust. The information stated should be reasonable when listing the assets. The form will also be evidence for assuring that there are no hidden transactions and anomalies in the company.
General Types of Financial Disclosure Forms
Financial Disclosure Forms can either be confidential or for public use, or for personal or business purposes. Here are some types of disclosure forms on our site:
Confidential Financial Disclosure Forms. Some companies do not allow their agreements to be shared and known by other entities. The form should state that the document is meant only for the use of the company and a handful of authorized organizations.
Public Financial Disclosure Forms. Often used by government or public officials in stating their assets and liabilities. This can be done annually and should be up to date.
Personal Financial Disclosure Forms. This disclosure form is for businessmen and employees. Stating the income that they are receiving from their individual jobs is important.
We also have Financial Affidavit Forms and Financial Statement Forms, which are downloadable for free.
Financial Disclosure Affidavit Form
Financial Disclosure Agreement Form
Blank Financial Disclosure Form
General Financial Disclosure Form
Financial Disclosure Statement Form
Standard Financial Disclosure Form
Three Quick Tips for Filing Financial Disclosure Forms
Mind the instructions. Read carefully the instructions on the form and follow effectively. Input whatever is asked to avoid putting information that is not required by the form and the company.
Be accurate. When you file a Financial Disclosure Form, make sure you were able to review your bank records and all your other documents that involved monetary transactions. Debts and loans are also important to disclose. You should state if you are in a current loan or not. Being careless for mistakenly writing even a wrong digit in the amount may push you into court sessions with an attorney.
Name your properties. Businessmen often have more than one property; therefore, include the details and location of the properties, whether a house or a lot or a business establishment. The total amount of money being used for the making and building of your property should also be indicated.
Financial Disclosure Forms are documents that require honesty when filling up. When you have already submitted your form, it will be time to go back to work and deal with a project for your company. A Financial Evaluation Form should be used in evaluating if the project you'll be making will gain high profit. To view samples of this form, click on the highlighted text.