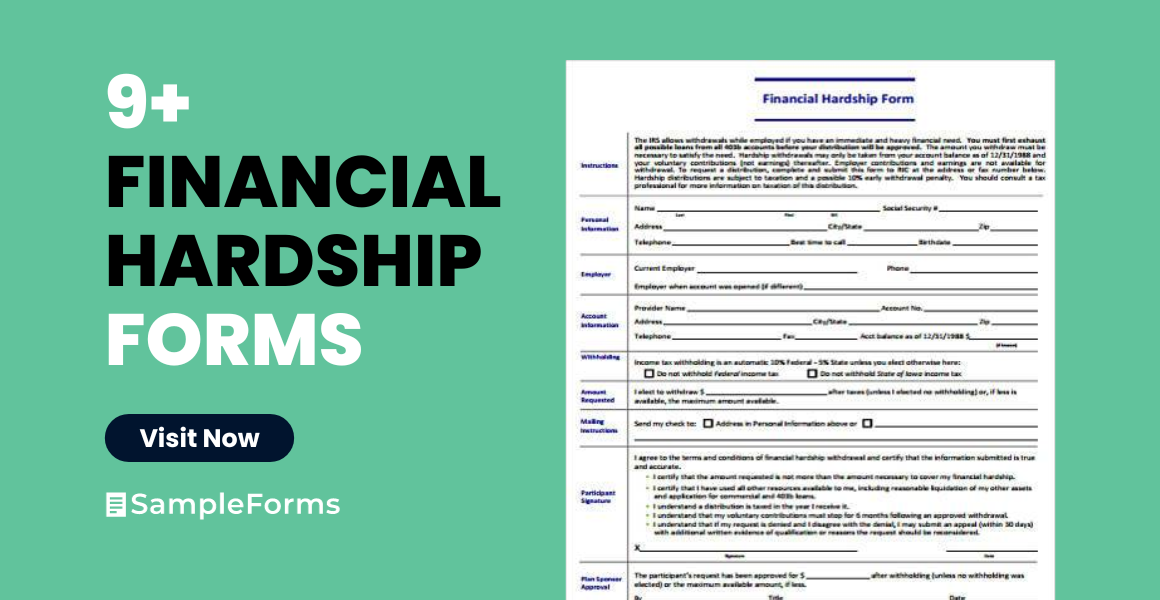 There are some people who have a hard time maintaining a stable financial status. There are those who have no idea of how to handle any of their finances, so they end up in a situation of financial crisis.
These people are undergoing Financial Hardship, and it's not something to be taken lightly. These people need all the help they can get, and certain companies are willing to do so if they see that the person is in dire need of any form of financial assistance.
However, before these companies are able to help out these people, they need to make certain that they are indeed in a state of financial trouble. To help them out with that is by having these people hand over Financial Hardship Forms.
Medical Financial Hardship Form
Financial Hardship Application Form
Financial Hardship Federal Form
Financial Hardship Unlocking Form
Patient Financial Hardship Application Form
The Various Types of Financial Hardship Forms
There are many different types of these forms such as Financial Statement Forms or Financial Affidavit Forms, which can help just about anyone out in making sure that companies understand their financial situation. Here are some examples of these types of forms:
Medical Financial Hardship Forms are the kind of forms that are utilized by those people who are undergoing any form of medical treatment. These are used when the individuals involved don't have the necessary funds for these treatments.
Patient Financial Hardship Forms are for those patients who are admitted into any hospital and who don't have the money to pay for any form of operation or any other kind of treatment that a hospital can give them.
Severe Financial Hardship Forms are especially useful for those who are close to the point of infirmity. These forms show how much of a financial crisis they're in and that they'll require assistance from government organizations.
Severe Financial Hardship Form
Financial Hardship Assistance Form
Financial Hardship Payment Agreement Form
Financial Hardship Form in PDF
Financial Hardship Form Example
The Importance of Having Financial Hardship Forms
As mentioned earlier, people need to make sure that they're able to properly handle and manage their finances. There are just some who don't know how to do that and enter a phase of monetary problems. These forms show just how bad of a situation they're in, and these can help them out if companies decide that they need to take action to prevent them from sinking any further.
These can also help out the companies that are willing to provide assistance to these people. For example, a company needs to make sure that certain people are applicable for programs that can help them out during any monetary crisis. This is when they use Financial Evaluation Forms to help them out in determining who needs help and who doesn't.