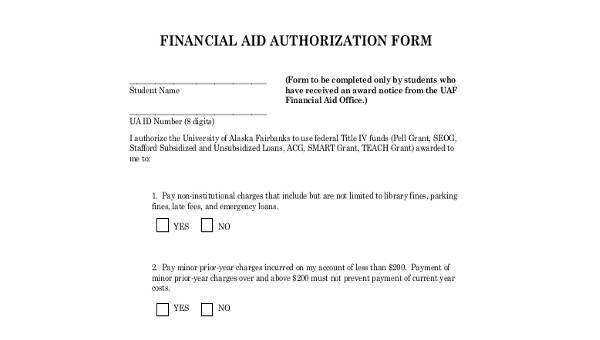 Financial Forms, more often known as Financial Reports, are a formal document that indicate the financial activities and standing of a business or individual. Significant and correlated financial information is presented in this form in a structured manner that is clear and simple to understand.
Financial Aid Forms are an example of a Financial Form, which are mostly used to help students and their families pay for college fees. This financial assistance mostly covers educational expenses that include tuition fees, board and room, books and other supplies, and transportation allowance. Provided below are a few samples of Financial Aid Forms that you can download and use for free.
Financial Aid Verification Form
Financial Aid Application Form
Financial Aid Appeal Form
Financial Aid Supplement Form
Financial Aid Tax Form
4 Ways to Secure Financial Statement Forms or Financial Aid Forms
As early as the first quarter of the year, high school senior students might already have college offers on the table, and there is not really much time to decide which college to go to. Will it be to a prestigious university, a decent state school, or a satisfactory community college? These kinds of decisions are usually hard to make and require a lot of thinking time. You have to weigh what will be the best fit and value for your family's budget, and consider other factors as well, such as your academic interests. Here are four ways to secure Financial Aid or Financial Statement Forms even at the very last minute until your choice of college needs a final decision. Always keep in mind these strategies:
If the aid offer falls short, appeal it. Don't negotiate; rather, ask for a request of reconsideration.
Do your homework on the school's ability to dole out grants and scholarships; don't ask for non-loan aid from schools that are also financially struggling.
Don't pay attention to retail price tags. The labeled price of tuition and fees depends on a college aid policy.
Consider hiring an aid consultant. These professionals usually help your family garner more aid.
Printable Financial Aid Form
College Financial Aid Form
Student Financial Aid Form
Financial Aid Authorization Form
Financial Evaluation Forms are forms used when evaluating whether a project will provide comprehensive and long-term goals to your company or be a drain on your resources. A financial evaluation usually assumes that a project stands on its own and has to finance itself.
Things You Need to Know about Financial Aid
Deciding on which college to attend to the next semester is a challenging decision. Senior High School graduates would have a handful of choices in their mind. Here are a few things that you need to know about Financial Aid:
Apply to qualify. You will need Financial Aid Forms to fill out so you can qualify.
The Free Application for Federal Student Aid is the place to start. This application gives you access to grants and scholarships, work, and loans.
Apply for other aids. After completing the application for the Free Application for Federal Student Aid, you should also apply for the financial aids at the college you are applying for, and private scholarships you are eligible for.
We're happy to provide you some Financial Aid Form samples that you can use for your kids' college financial aid purposes. You can easily download different file formats (Doc or PDF), fill them out, and submit them. We are happy to help you by providing these sample forms.