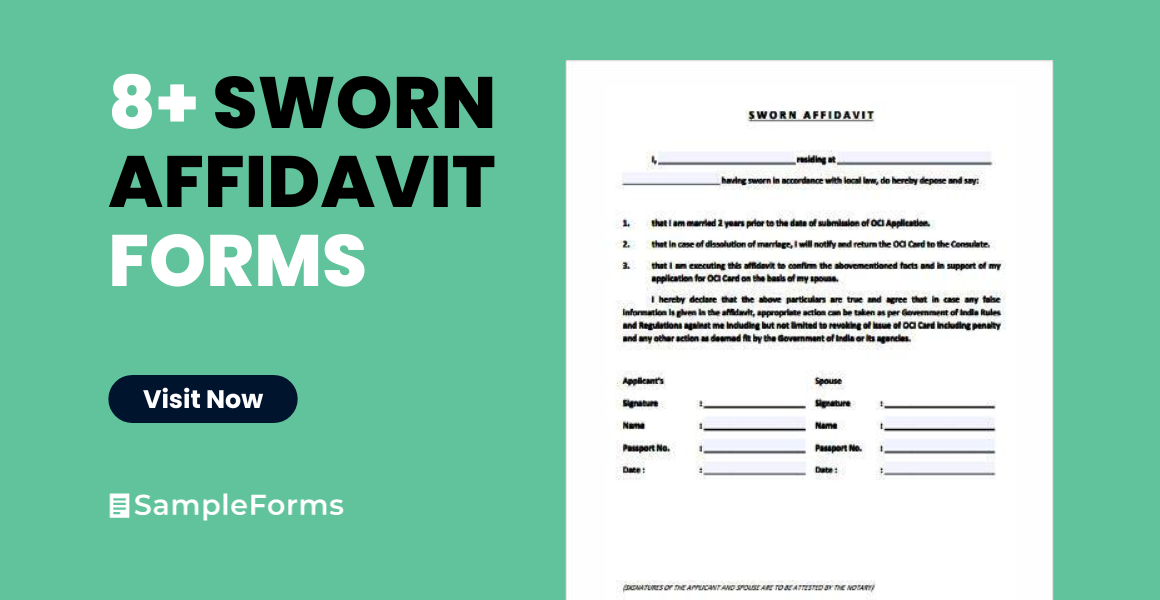 Affidavit Forms are made under oath and are subject to penalty and court proceedings in the event of false information and dishonesty. This form is used to verify in a legal way that the statements you have sworn to in the presence of a notary public are facts.
As we know, there are various types of Affidavit Forms, each one depending on the reason an individual needs to make. An example of an Affidavit Form is the Sworn Affidavit, usually just called the Sworn Declaration, which is a document containing the facts applicable to a legal proceeding. But unlike most common Affidavits, a Sworn Declaration is not witnessed and sealed by an official, such as a notary.
Below are examples of Sworn Affidavit Forms that you can download and use.
Sworn Statement Affidavit Form Sample
Generic Sworn Affidavit Form
Sworn Affidavit Form Example
Sworn Affidavit Form Sample
Sworn Affidavit Forms are legal documents used when a person is required to share credible information necessary for certain procedures and transactions. Unlike most common Affidavit Forms, a Sworn Affidavit is not witnessed and sealed by a notary public. Rather, the individual making the declaration signs a different endorsement paragraph at the end of the document, affirming that the declaration is made under penalty of falsehood and dishonesty.
In the past recent years, courts have increasingly allowed individuals to disregard the step of swearing before a notary official. Rather, at the end of the document on a separate endorsement paragraph, the affiant states, "I declare (or certify, verify, or state) under penalty of perjury that the preceding is true and correct. Executed on (date)."
A Sworn Declaration used in place of an affidavit must be authorized specifically by statute. A statute is a written law passed by the legislature. It is a rule of an organization or institution. There have been general statutes in federal courts and in some states that allow a Sworn Declaration for any matter where an affidavit can be used. This doesn't work in some cases. Sworn statements are allowed for some purposes, but not necessarily others.
Free Sworn Affidavit Sample Form
Sworn Affidavit Account Form
Basic Sworn Affidavit Form
Simple Sworn Affidavit Form
Affidavit of Sworn Account Form in Doc
Blank Affidavit Forms are forms that you can customize or pre-make for affidavit samples that help provide relevant information to an organization in the shortest time possible.
One hindrance to the use of a sworn statement instead of an affidavit is that, while the protection of liability for falsehood and dishonesty is retained, the protection of having an independent official witness the signing and check the affiant's identification is lost. The attorney has taken over the essential function for the party in whose favor the affidavit is given. The court relies on the honesty of the attorney, or – as it may be more realistically put – upon the attorney's fear of being discredited. Another incentive for attorneys to ensure that the statement of declaration particularly matches the declarant's recollection is that an impeachment at trial may be a subject for the witness if the inconsistency between the declaration and any testimony to be later affirmed turns out to be significant.
Yet another more practical hindrance is the conservative nature of the law. Even if the use of a Sworn Declaration is fully authorized, an individual to another transaction, such as a business transaction from a party or another person's attorney, may be unaware with the form and refuse to accept it in instead of a notarized affidavit.