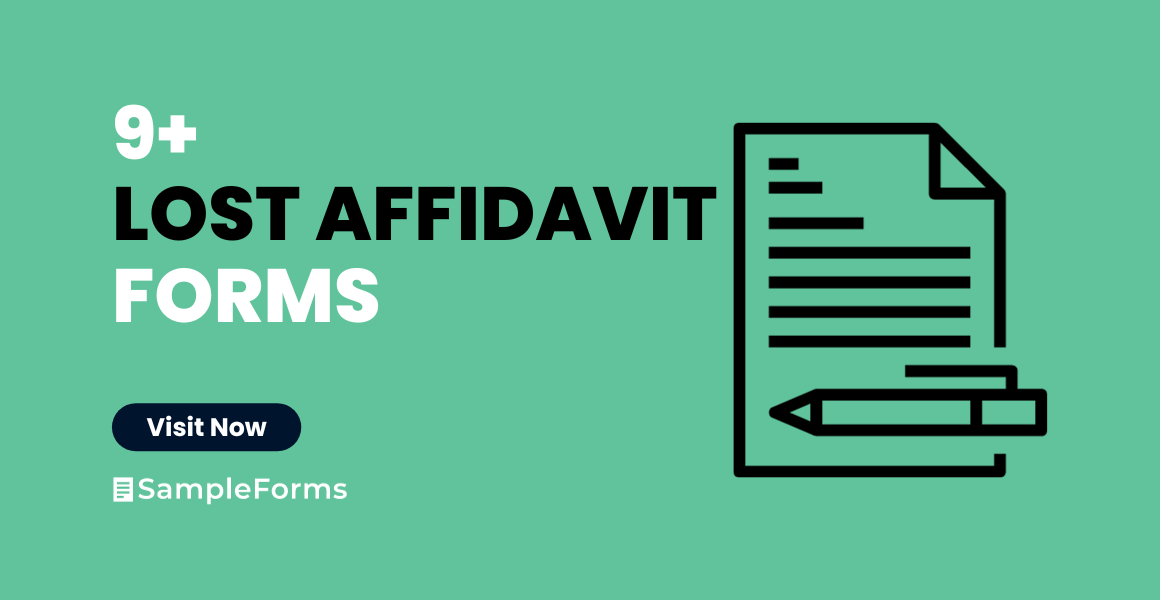 Losing an important document creates inconvenience in our daily tasks. Our applications cannot be processed because our documents are incomplete. This makes us stressful and our time is wasted just because of a single missing document. Nevertheless, it's a relief that the missing document can be replaced by issuing an Affidavit of Loss. Our website offers sample Loss Affidavit Forms for your easy access. We also have general Affidavit Forms that can be useful in your legal activities. Browse through below this page to see the varied types of forms we offer. Simply click the download button and you will have your form.
Lost Note Affidavit
Lost Promissory Note Affidavit
Lost Receipt Affidavit
Lost Policy Affidavit
What Is an Affidavit of Loss?
An Affidavit of Loss is a legal document containing a written statement declaring a physical loss of a necessary document. Whether the document is misplaced, stolen, or destroyed, the person must file an Affidavit of Loss to confirm that the document is not physically present anymore. The statements written in the affidavit should be authentic and truthful. Free Affidavit Forms can assist you if you want to issue an affidavit for any legal dealings.
The Necessary Information Needed in an Affidavit of Loss
The vital information written in the affidavit includes your personal details and the explanation behind the loss of the document. You have to state the following:
Name
Address
Lost document's name
Issued date and place
Reason of the loss
Place and date of filing
Signature
It is important that the statements written in the affidavit are legitimate. Similar to Witness Affidavit Forms available in our website, the testimonies recorded in these forms must be credible. This is to avoid falsification of statements and accusation of committing perjury. Nobody wants to be branded as a perjurer, which is why before stating your truth and giving your signature, be mindful of the words you declare. Once they're out, they can never be taken back.
Lost Check Affidavit
Lost Receipt-Invoice Affidavit
Affidavit for a Lost Cheque
Affidavit  Lost Stock Certificate
General Lost Affidavit Form
How to Get an Affidavit of Loss
Visit the nearest Public Attorney's Office in your city or town.
Upon arriving at the office, ask for assistance from the secretary that you need to obtain an affidavit.
The secretary will give you an application form. Fill out the necessary information such as your personal details and employment background if you're employed.
The lawyer will sign the affidavits and give you the document.
In some cases, the secretary will hand out feedback forms for their service. Just answer the form honestly.
For your ease, our website offers sample Affidavit of Loss forms. You can easily download the form, fill out the information, and ask for a lawyer's signature. This will save you a lot of time because you already have a copy of the needed form. We also have Sworn Affidavit Forms to verify that your statements are factual. You may need these forms in any legal proceedings. Check more of our other forms. We have different types of forms for your situation. Just browse through the site's pages and click download. With that, you are now officially saving your time. Download now!