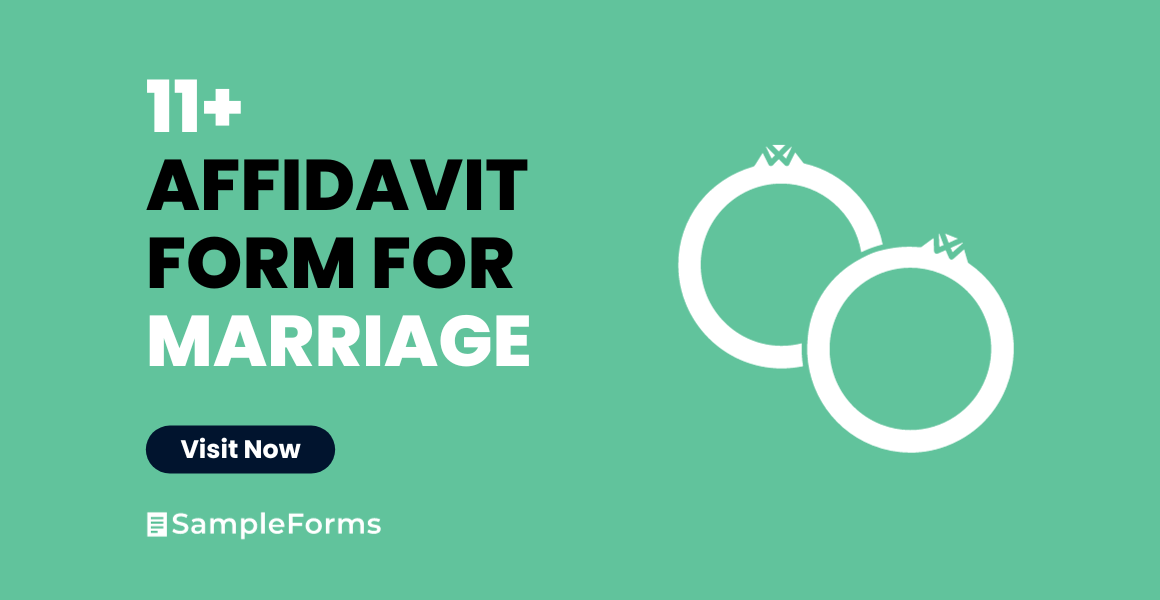 A marriage certificate of a couple can be extremely useful in various circumstances like applying for a passport, renting an apartment etc. However, in case the marriage certificate gets destroyed, misplaced or lost an Affidavit Forms for marriage can prove just as useful. In this form, you are required to fill in yours and your spouse's details along with other relevant information like the date of your marriage etc. This form acts as a legal proof of your marriage.
Sworn Affidavit Form For Marriage PDF
In case you have lost your marriage certificate, you can use this form to fill in the details of you and your spouse and get it attested such that it becomes a proof of your marriage.
Affidavit of Support Form For Marriage
When you have to prove a government agency that you are the sole supporter of your spouse and children, this form can come in handy. You need to fill in the relevant information in a form about you and the people you support.
Free Affidavit of Common Law Marriage From
This is an affidavit form that has been recommended by the judicial system. Thus, using this form would ensure that you do not have any hassles with the legal system on a later date.
Affidavit of Marriage Form
Not sure how to design an affidavit for marriage? Well, this is a sample of such an affidavit and gives you a fair idea about the format to be followed and information to be added.
Witness Affidavit of Freedom to Marry Form
As the name indicates, this form is used by a person who may have been invited to stand as a witness for the bride or the groom. He should fill in this form with the details of the people getting married.
Covenant Marriage Affidavit Form
When a couple intends to get married, they required to fill in this affidavit form with all the relevant details and submit it to the authority concerned.
General Marriage Affidavit Form Download
This is a standard format of a marriage affidavit form and can be used by all and sundry. It contains all the important subheadings that should be present in such a form.
Application to use Marriage Affidavit Form
People who may have lost their marriage certificate can use this application along with their marriage affidavit form to explain the reason for submitting an affidavit rather than the certificate.
Affidavit of Application for Marriage License Form in PDF
In case the marriage affidavit application is made in the absence of one of the partners, this form can be signed by the absentee to present the authority with his/her information.
Affidavit to Amend a Marriage Record Form
This affidavit comes in handy when the couple wants to make certain amends to their marriage record. They are to fill in this affidavit with the relevant information and then submit it to the authority concerned.
Marriage Affidavit Form For Boys Form in Word
As the name indicates, this form can be used by a groom to file a request for legally wedding a girl of his choice. He is required to fill his and the bride's details in the affidavit.
Target Audience for Affidavit Form for Marriage
The target audience for affidavit form for marriage is
Couple who have misplaced/lost their marriage certificate
Courts
Passport Offices
Pension Fund Offices
Retirement Benefit Offices
What are the Benefits of Using Affidavit Forms for Marriage?
These affidavits have been designed by experts and conform to the standard format that is recognized by most offices and organizations. Thus, you can be assured that the affidavit is accepted everywhere irrespective of what your requirement
The affidavit format gives you a clear idea about the information that you should include in it. This, in turn, ensures that you present the authority concerned with all the crucial details required for the purpose
You can easily make changes to the existing affidavit format as per your need You may also see Affidavit of Service Forms.
If you are not aware of the right way to design an affidavit form for marriage, fret not! We have a wide range of these forms to offer. All you need to do is browse through these and find the one that is perfect for you. Download this, customize it if necessary and then add personal details before printing it out. You can also see Affidavit of Support Forms.