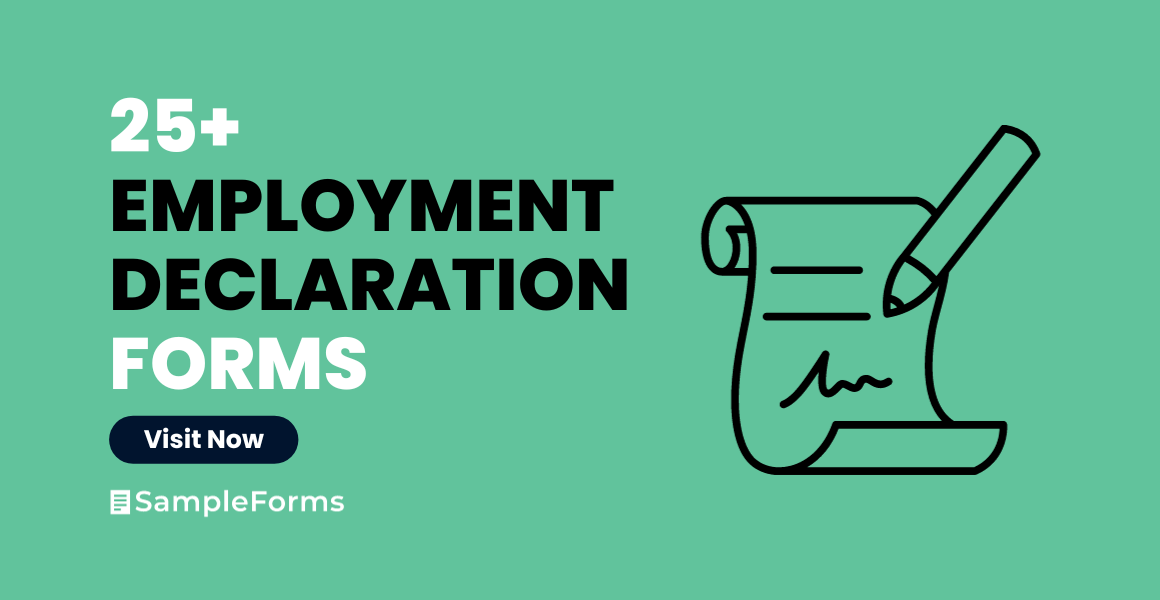 A Declaration Form is made to have a person declare something to satisfy legal requirements and regulations. These forms are used for any type of field, either in matters concerning real estate, marriage, insurance, finance, and most importantly, for employment.
While an Employee Declaration Form is a document containing all the fringe benefits an employee receives from the employer, Employment Forms are completely different in their purpose and when they come into use. Employment Forms are used by applicants when they are still applying for a job.
Employment Equity Declaration Form
Declaration of Self-Employment Form
Prohibited Employment Declaration Form
Pre-Employment Declaration Form
Free Employment Declaration Form
Types of Employee Declaration Forms
Employment Equity Declaration – This form is used for employers to conduct an analysis of the workforce profile.
Declaration of Self-Employment – In this form, the employee states his business details, specifically the name and the type of business he is managing.
Prohibited Employment Declaration – This form is for those employees who have had prior convictions due to criminal acts or personal violence toward children and minors. They should indicate their names and their aliases at the bottom part of the form. This is to assure the safety of the employer and the company from people who tend to violate the law. This is in compliance with the Commission for Children and Young People Act of 1998.
Pre-Employment Declaration – This form is a requirement of the Department of Environment, Water, and Natural Resources (DEWNR) for those who are newly hired for a role in their organization. It indicates the rules of disclosing classified information, the applicant's health status, and criminal history.
Employment Medical Declaration – This is a form that states the declaration of an employee for details of his health-related illness and injuries. This type of Employee Declaration Form also lets the employer know if the employee is healthy and capable enough to cope with the job.
Employment Declaration Form Example
Employment Medical Declaration Form
Tax Employment Declaration Form
Employment Declaration Form Format
General Employment Income Declaration Form
Significance of an Employee Declaration Form
One of the main purposes of having this form is that the employer gets to know the employee better through his declarations. This allows a better understanding of the employee's abilities and attitudes that he is presenting to the company. A guarantee of security is also a vital reason as to why there is an Employee Declaration Form.
Quick Tips for Filling Out an Employee Declaration Form
The Type of Declaration Form. When you fill up a form, always read what the title or the heading states before starting to write. In this way, you will know the purpose and the intent of the document.
Your Details. Never forget to indicate your name and other basic details in the form. This is to make sure that the employer keeps a proper record of you.
Mark It. If there are boxes to be checked, mark the options that are applicable to you or your situation.
Lastly, always be honest. There are forms that require confidentiality of the information within them. One example of such a form is the Prohibited Employment Declaration Form, where a previous offence or crime that an employee committed must only be known by the employer.
After submitting an Employee Declaration, the management will have the employee undergo specific tests for the purposes of verification. The company may use Employment Verification Forms to see if the employee gave factual statements regarding his employment history.