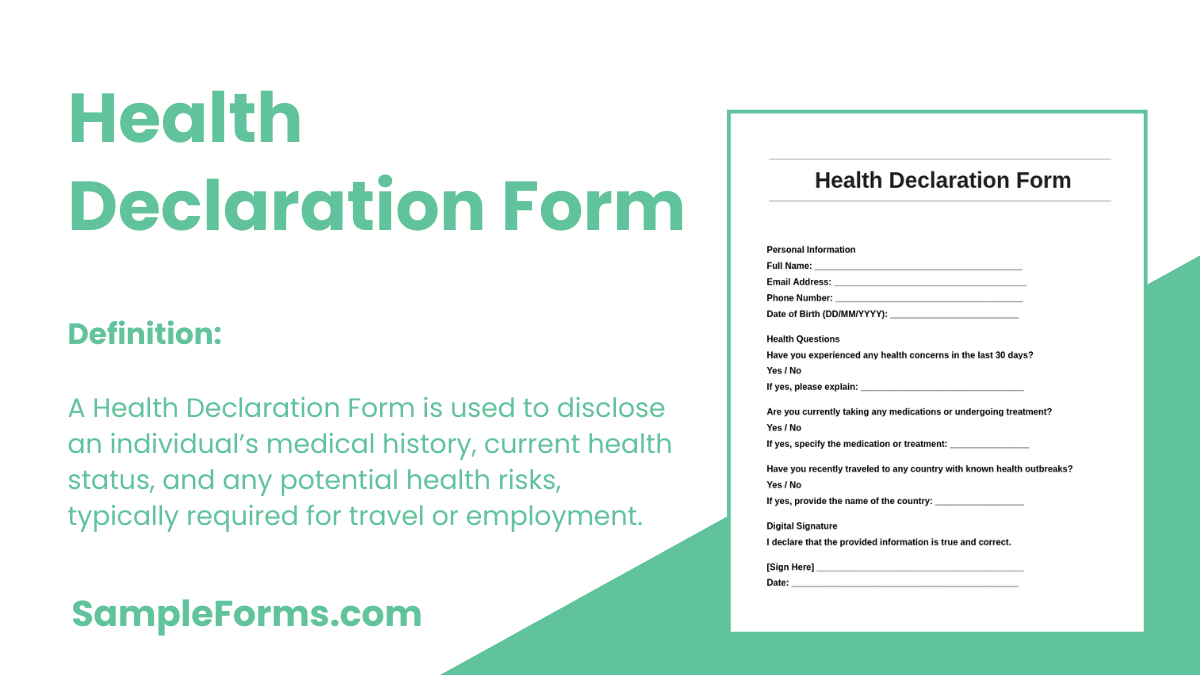 In any industry, the health and safety of the people that make up an organization have to be given utmost importance. Workers who are in good health and are able to go about with their tasks in a safe environment play a tremendous role in the productivity of a business or organization.
It is imperative that businesses regularly see to the well-being of their employees by adhering to basic protocols, such as setting health and safety standards, having workers fill out Health Forms upon their employment, developing and maintaining a sense of awareness in the workplace, and the like. These procedures are instrumental to the success of a company's operations.
Employee Health Declaration Form
Health and Safety Declaration Form
Occupational Health Declaration Form
Health Declaration Form Example
Personal Health Declaration Form
Why Occupational Health Declarations Are Important and Necessary
An occupational health declaration is a step every job applicant or employee must go through. It is often produced after one has undergone a medical and health examination. It is where an individual's overall health is stated, and whether or not there were any health issues identified during their examination. This is required as it will be used in determining if an individual is physically fit to work in a particular industry.
There are other reasons as to why occupational health declarations are necessary, and more importantly, why they are deemed as both a professional and legal obligation. Among the reasons are:
When an individual discloses the state of their health to insurance providers affiliated with the company they are working for, there is a greater chance of faster approval of health insurance claims. Facing Health Care Claim Forms won't be so complex and intimidating.
Better recognition of health risks and hazards will be exhibited in the workplace.
Employees can develop long-term goals with regards to their respective careers.
An organization's reputation to the public is something that is developed, and making health and safety a priority in the workplace shows that a company is setting a good example.
Travel Health Declaration Form
Health Declaration Form in PDF
Free Health Declaration Form
Health Declaration Form in Word Format
General Health Declaration Form
The Significance of Conducting Health and Safety Risk Assessments in the Workplace
The old axiom, "an ounce of prevention is worth a pound of cure," sums up the importance of carrying out risk assessments in a workplace to a tee. When regular checks are conducted in a workplace, there is greater assurance of operations flowing smoothly. More importantly, the welfare of those that comprise the organization is prioritized.
Other than the general points that espouse the significance of risk assessments, there are concrete reasons that further support such significance:
When a risk assessment is carried out in a workplace, identification of those who are at risk takes place. The procedure can involve routine medical check-ups, or employees and other individuals belonging to the organization can simply answer Health Assessment Forms.
Existing control measures are evaluated, which helps in determining whether or not they are effective.
A risk assessment generates an outcome, which is feedback and recommendations from the authority that conducted the procedure. Using the recommendations, the health and safety management plan within the organization can be developed or strengthened.
Whatever the nature of work or business an organization is involved in, it is an integral concept that the health and safety of both internal and external entities have to be a top concern.