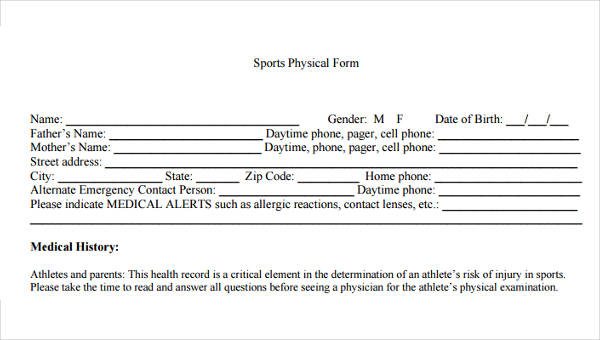 Medical forms are used by physicians to state the health condition of an individual. These forms are one of the requirements for a student in enrolling for a university. When the student wants to engage in sports and athletics, he needs to undergo a sports physical which comprises of a physical examination and his medical history.
Another area where a medical form will be used is when a driver is applying for a license, this is referred to as a Department of Transportation (DOT) Physical exam. The result of the examination will only be used for a maximum of 24 months.
Army Medical Physical
Annual Physical
Dot Medical Form
General Physical
What is a Full Medical Physical?
A thorough medical physical examination monitors an individual's vital signs, height, weight, and symptoms of a possible illness. This is often done annually in companies and institutes as a prevention for contagious diseases. A physician may focus on certain parts of an individual's well-being if the patient had a problem in his medical history.
The examination will contain the checking of the vital signs, a visual examination, a physical examination, a number of laboratory tests and a screening test to complete a Medical Physical Form. The screening tests vary on the gender of the patient; for instance, a male is required to have a prostate cancer screening, while a female will need to undergo a breast examination.
What is a DOT Medical Physical?
One of the requirements to have a commercial driver's license (CDL) is to pass the Department of Transportation Medical Physical Exam and to have a DOT Certificate. Drivers who are operating a vehicle weighing 10,001 pounds and above, drivers who operate a vehicle designed for transporting more than 15 passengers and those drivers whose vehicles are used for carrying hazardous materials are required to take the examination. Any licensed physician can administer the examination with the aid of a Generic Physical Form.
Medical Card Physical
Basic Medical Form
Medical Sports Physical
Guidelines for Medical Physical Exams
In an annual health examination, a student or an employee is expected to follow the instructions that the physician and nurses will say. The physicians may use a Work Physical Form or a Physical Exam Form to administer the medical physical test.
There are no preparations needed when a person is scheduled for this type of examination unless the doctor requires a fast for a specific screening. But, here are some of the guidelines that you, as a patient, should always remember when you are about to take your medical physical examination:
Make sure that you have enough rest before you take the exam.
Salty foods and salt are not your friends in the week of the exam.
You should avoid doing any form of exercise since it may increase your heart rate and drop potassium levels.
Avoid caffeine for at least an hour before the examination.
When the doctor requires you to fast, you should not intake food twelve hours prior to the exam.
Water is your friend for a successful urinary test, so binge on clear liquid for the day.
Remember the medicine you are taking within the month of the examination.