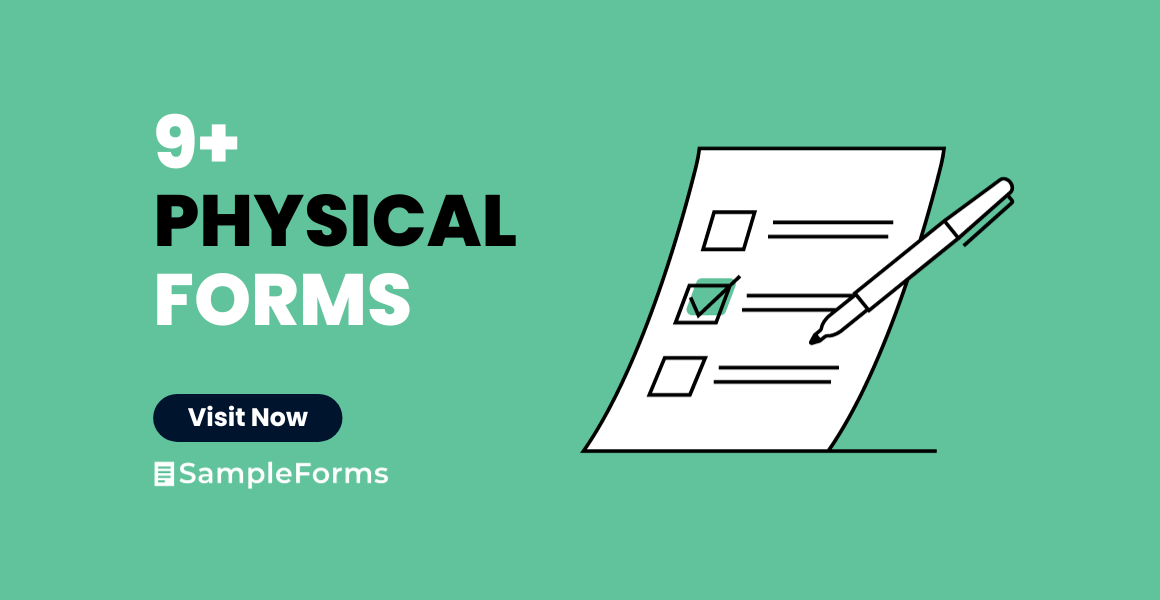 If you ever attended physical education class, or ever tried out for a sports competition than physical forms are no new thing for you, and you may even know the basic physical exam requirements for a physical form. But if you have never heard of a physical form before, then continue reading below to learn more of what a physical form is and why is it so important.
A physical form is especially important in terms of the sports physical requirements for certain sports. For example, you cannot compete in a marathon if you have a weak heart, and or shallow breathing. This is done to avoid causing any complications to the persons later on in the future, or to prevent them from having an accident during the actual physical task.
Sports Physical Form
Printable Dot Physical
School Physical
Printable Physical Form
Printable Pre-Employment Physical
What is a Physical Form?
A physical form is a type of form that is used as a means of evaluating an individual's physical capabilities so as to determine whether they are allowed to compete, work or even perform a certain task.
Most of what we consider as physical capability has something to do with the person's ability to function even in hard to perform tasks. Whenever this test takes place, the examiner will often use a Generic Physical Form so as to have everyone undergo the same exam in order to be fair with everyone who must take the exam.
How to Fill Out a Physical Form?
Filling up a physical form is quite simple, just select a Physical Form Sample and then fill in the necessary fields, so what are the necessary fields that must be filled in? Well, they are:
The name of the patient.
Their address.
The patient's contact details.
The date of birth of the patient.
The gender of the patient.
Emergency contacts or guardians.
The actual physical examination. (Note, this portion is to be filled out by the physician.)
A medical consent agreement must be made by the physician to the patient so as to allow the physician to fully examine the individual.
The end results of the physical examination which will often time classify what limitations the individual has.
Signatures from the physician that will be used to certify that the patient has indeed undergone the necessary examinations.
Blank Sports Physical Form
Physical Examination Form
Annual Physical
Student-Athlete Physical
Camp Physical
Guidelines for Making a Physical Form
Physical forms are a great way of making sure a person will be in top physical condition for whenever the person is going to be part of a group or organization. Whether for permission to join a sports activity, or for permission to work at a certain company these may require the person to have a good physical health.
Regardless of the purpose of the physical form, it can be agreed upon that a physical form is necessary. So here are some tips for when you are making your own physical forms:
It is important to note that all information about the patient`s physical health shall be classified as confidential, and must never be leaked.
All information about the patient's physical health must be completely true and must avoid any alterations of any form regardless how minor an alteration.
Physical Forms must be gender neutral, meaning each form can be used for either male or female. (Thus, the term fair or equal treatment.)
When making a physical form for an application to the department of transportation, it is important to review a Sample Dot Physical form so as to feel familiar with the form.