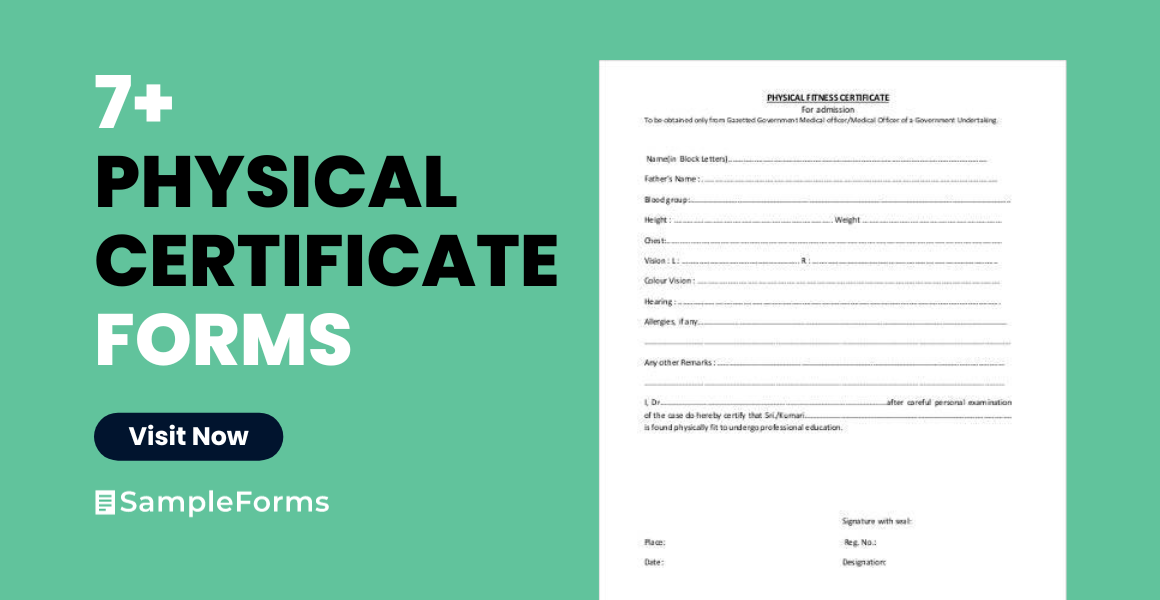 Having a record of one's physical state or well-being is as important as keeping yourself healthy in both mind and body. Physical Forms are documents used to tally important information on one's medical condition and/or history. It keeps tab on a person's health and physical status for easy view and reference by medical practitioners. It is also used as credible proof of one's well-being when the same is called into question. As such it is a very important document to back up the fact of a person's health or medical condition.
If you are clinician or a healthcare worker for a medical facility, you can choose from our wide array of Physical Certificate Forms to download and use. Our sample forms are available in Word and PDF format to help you cut on costs, save on time, and to alleviate the hassle of having to conjure up forms from scratch.
Dot Physical Certificate Form
Physical Fitness Certificate Form
Physically Handicapped Certificate Form
Physical Measurement Certificate Form
What Is A Physical Assessment Form?
Physical Assessment Forms generally contain line items or questions that would extract the necessary information needed to conduct a thorough and correct physical assessment. It is very important especially for medical practitioners in their line of work to prevent any chance of malpractice or misdiagnosis.
In recent years, there has been an increase in medical malpractice law suits stemming from misdiagnosis, that is why a properly laid out Physical Assessment Form is a doctor's best friend.
Physical assessment forms usually starts out with the patient's name and some personal details, but the bulk of which will concern itself with:
Patient's medical history, previous or current illness;
Primary complaint or patient's current affliction;
and particular scenarios to chose from which relates to the patient's medical condition.
At any rate it is very important that the items or questions in the physical assessment form should be precise, accurate and easy to understand so that an effective treatment can be given to the patient. Our free and readily downloadable forms comes in both PDF and DOC format for ease of use.
Physical Certificate Application Form
Physical Certificate Form in PDF
Physical Certificate Form Example
Physical Certificate Form in Word Format
When Are Physical Forms Used?
Physical Examination Forms are generally used by medical practitioners to thoroughly check your overall health condition and for some healthcare providers and insurance companies it is used to determine the type and extent of coverage that a person may or should receive.
Having a physical exam at least once a year is advisable in order to keep tabs on one's health and to determine the possible existence of disease or illness. It may even very well help in preventing disease in the future.
In commerce, most employers would require their employees to undergo a routine physical examination in order to determine whether the said employee may be a liability or not.
Obviously a sick employee is less productive compared to a healthier one that is why most businesses would more often than not, prefer to hire employees who are healthier and who have lesser chances of being away from work due to an illness.
Also, by conducting a routine physical examination of all employees business leaders would also want to keep their flock stay healthy by preempting the occurrence of disease in the workplace.