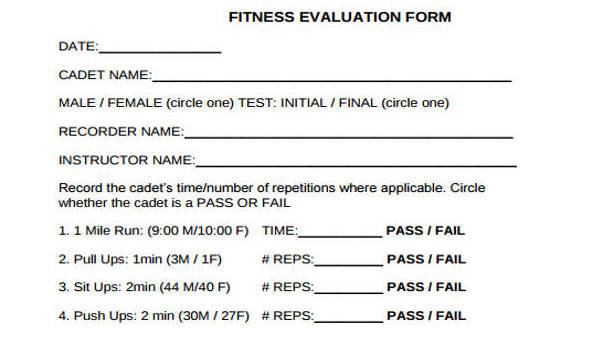 Recent studies have shown that there are many young adults today who fail to give importance to their health, despite wellness being a popular trend among millennials. Most individuals who belong to the millennial generation, particularly professionals, have the tendency to focus more on building a booming career, keeping up with what is popular, and engaging in other pecuniary interests.
Though the effects are not instantly evident, neglect of one's health will gradually result to certain health conditions, whether grave or minor, in the long haul. Hence, one must eventually see to their wellness by incorporating healthier habits into their lifestyle. Knowing what habits to develop and eliminate begins with assessing one's health; this can be done with the aid of Fitness Evaluation Forms.
Group Fitness Evaluation Form
Physical Fitness Evaluation Form
Client Information Form
Free Fitness Evaluation Form
Fitness Evaluation Form in PDF
The Importance of a Fitness Evaluation
Though knowing your health status can be as easy as visiting your primary care provider, it is also equally important that you are aware of your level of fitness. This is especially vital if you are planning to perform or partake in rigorous activities, such as sports or eco-travel. In addition, if you intend to become a workout buff, knowing your body's capabilities beforehand through a fitness evaluation will prove to be helpful.
A fitness evaluation is usually carried out with the help of a fitness expert or personal trainer. It helps to measure a person's fitness level, and consequently determine what health habits and programs one must incorporate into their lifestyle to attain their fitness goals.
Once you have undergone a fitness evaluation, it is only then that you will be able to identify what fitness components you have to work on. More importantly, setting your fitness goals will be easier, and your objectives themselves will be more realistic.
Other than turning to a fitness expert or personal trainer, another means is to join a fitness workshop. This is recommended if you are the type of person who likes working with a group. After completing the workshop, your fitness level will then be assessed as a group using Workshop Evaluation Forms.
Personal Fitness Assessment Form
Golf Fitness Evaluation Form
Fitness Self Evaluation Test Form
Fitness Evaluation Form Example
What Makes an Effective Fitness Evaluation
Knowing your level of fitness, as well as being able to set your fitness goals, depends on how effectively and accurately your fitness evaluation is carried out. Furthermore, it helps to learn the specific components of a fitness evaluation and how each one will benefit you.
Body composition. The tests involved in this component serve to determine the weight and amount of fat present in a person. These tests are essential, especially when your fitness goal is weight loss.
Movement analysis. In this component, movements such as squats, lunges, and core exercises are performed in order to ascertain whether or not one can execute them flawlessly without experiencing pain or discomfort.
Muscular strength and endurance. A variety of exercises that involve the use of the body's major muscle groups will be conducted in this component. These exercises are done in repetition so as to determine strength and endurance.
Flexibility. Tissue elasticity and the joints, as well as one's range of motion, are examined in this component. A common exercise that is performed is the sit-and-reach, wherein the hips, lower back, and the hamstrings are assessed.
Undergoing a fitness assessment involves not just performing certain exercises and answering Fitness Self Evaluation Forms. It will require discipline and that desire to finish what is started.