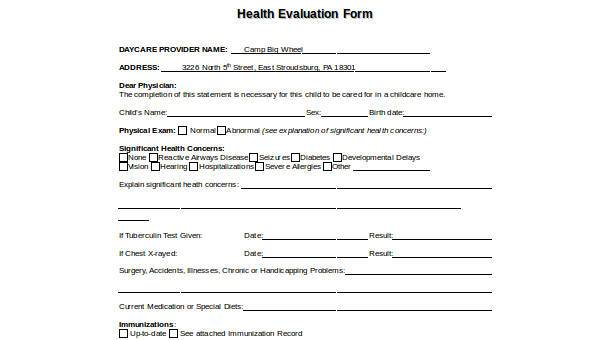 Being healthy is defined as a state wherein you're free from any form of illness or injury. It's important to check up on your health every single day. People have to make sure that their way of living is healthy, so that they'll be ensured long and happy lives.
How do people go about in checking their health? How do they know if the environment they're in won't endanger them?
They can evaluate their health aspects using Health Evaluation Forms. These forms can be very useful in assessing what kind of state, whether it's in tip-top shape or otherwise, a person is in.
Student Health Evaluation Form
Initial Health Evaluation Form
Health Evaluation Form in PDF
Mental Health Evaluation Form
The Different Types of Health Evaluation Forms
There are forms that are related in the evaluation of an individual's health such as Nurse Evaluation Forms, wherein a registered nurse checks on whether a patient is found to be in good shape or not. Here are some other examples of these forms:
Health Education Evaluation Forms are used to make sure that those who are teaching health education are competent and understand what they're talking about. This is also where Course Evaluation Forms come in handy as these evaluate health-related education courses.
Home Health Evaluation Forms are used to assess if a home can be classified as a place with healthy living conditions. Otherwise, the home might be deemed inhospitable and its residents forced to move out.
Student Health Evaluation Forms are forms that are used to check if every school is making sure that every facility is clean and promotes a healthy environment for the students.
Mental Health Evaluation Forms are used to check people who may or may not have a mental illness. These illnesses could either be genetic or just sudden.
Health Education Evaluation Form
Health Evaluation Form Example
Home Health Evaluation Form
Health Evaluation Form in Word
Why Is It Important to Check Up on Your Health?
Your health can greatly impact your life and how you perform on a daily basis. Some people stop doing things just because their health conditions can affect how they are able to do the things that the are supposed to fulfill. It is always important to be reminded that prevention should be on top of your mind when thinking about your health. Having health exams on a regular basis can help you detect health problems and concerns even before they become complicated.
If you truly are concerned with your health, it will be best if you will consult doctors and specialists. More so, attending screenings and having proper health services will allow you to know  more about the condition of your body. Keep in mind that your health can be a combination of different factors like your lifestyle choices, your age, and the health history of your family. Be cautious with the things that you consume and the activities that you immerse yourself into so it will be easier for you to know the factors that can greatly affect your health.
We can take control of our health in many ways. Through regular checkups, doctors can capture a picture of our health over time, helping them notice any changes that might require further attention. These checkups ensure that if anything irregular does happen, at least you'll know earlier rather than too late.