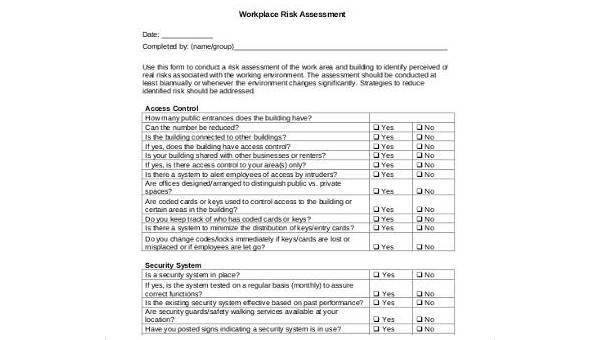 Risk Assessment is the process of determining potential risks in the workplace by identifying hazards and analyzing the risks that are associated with it. Through Risk Assessment in the workplace, employers will be able to figure out appropriate ways to diminish, eliminate, control, or prevent the level of risk in the work environment.
Risk Assessments are important because they form an integral part in the construction of a good and effective occupational health and safety management plan. Risk Assessments not only enable employers to become aware of the aspects or situations in the work environment, but they also help in identifying the people who are directly affected by these risks and provide measures of control.
Workplace Violence Risk Assessment Form
Workplace Transport Risk Assessment Form
Workplace Stress Risk Assessment Form
Workplace Fire Risk Assessment Form
Workplace Health and Safety Risk Assessment Form
How to Conduct a Risk Assessment
Risk Assessments are typically conducted by performing the following procedures:
Periodic inspections of the workplace.
Conducting a thorough inspection.
Taking note of areas that pose a threat or danger to people.
Interviewing staff or employees of any type of hazards that they have observed in the work area.
Doing assessments in the presence of a safety representative or people who have been appointed or elected to assume the role of representing the health and safety interests of workers.
Look at all the aspects of the work, including non-routine activities.
Include people who work off site.
Include an assessment of workers depending on their level, age, disability, or if they are expectant mothers.
Tips on How to Establish an Effective Assessment for Risk in the Workplace
Conduct Routine Checks for Risks
Risk assessments must be consistently done. Establishing a routine to finger-point potential hazards surrounding the workplace enables employers to benchmark their standards and areas for improvement.
Free Workplace Risk Assessment Form
Workplace Risk Assessment Form in PDF
Workplace Risk Assessment Form Example
Workplace Risk Assessment Form in Word Format
Determine the People Who are Affected by the Risks
After determining the potential cause of harm in the area, the next concern should be the people who would be directly affected by it. Begin with your full-time and part-time employees and evaluate to whom these risk factors may affect.
Determine the Level of Risk and Provide Preventive Measures
For every potential hazard, employers have to determine the degree of hazard it brings and if it constitutes a high-, medium-, or low-level of danger. Take note that not all risks can be completely abolished despite the types of preventive measures you take; however, it is necessary to do something to minimize the potential of the risk. This is one way to help determine which one poses the most serious or grave threat to the workplace and the people. This is usually established by taking into consideration the amount of exposure an employee has for accidents or injuries, the frequency of the exposure, and the probability of the occurrence.
Documentation
Risk Assessments should be done with the use of Risk Assessment Forms for them to be objective and clear evaluations. Our Risk Assessment Forms, Health Risk Assessment Forms, and Sample Risk Assessment Forms are designed to help you perform risk evaluations with just the click of a button.