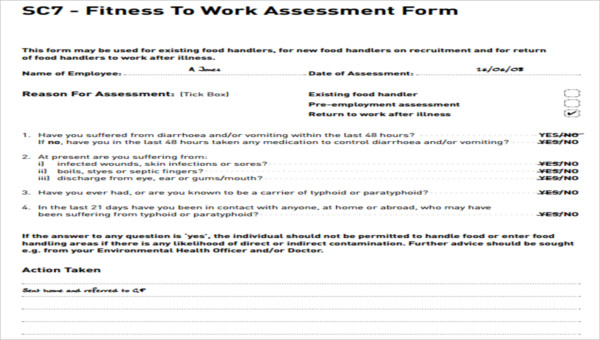 A person who is capable enough must always make sure that he's at the peak of his performance. So, documents such as self-assessment forms are great for knowing just how well you're progressing in providing any kind of work.
Supervisors have to be in charge of assessing all of the works done by just about every single employee. It's like filling out a risk assessment form, you're checking out each and every detail of the service the employee provides and make sure that nothing's wrong. And if there is an issue? Then you do what you can to prevent it from getting bigger and solve it.
Work Experience
Work Health
Work Hazard
Work Readiness
What is a Fitness for Work Assessment
These are the kind of assessments that ensure that a person is physically fit to do certain services. There are some jobs that will require employees to have good physical conditions. Some of them might be too taxing and some of them might put a huge toll on a person's body. Let's say that a company is hiring a construction team; they wouldn't want anyone that isn't physically capable to carry out heavy lifting equipment, right? So in the event that you use certain sample assessment forms that checks on someone's physical fitness, just make sure that you jot down every detail that properly shows accurate results.
How to Prepare for a Social Work Assessment
Social workers are in-charge of making sure that they have information on a client's health, mental condition, or even occupational needs. Think of counselors that use student assessment forms to check on how their students are doing. So in order for you to prepare for a social work assessment, you'll need to do the following.
Gather as much information as you can from your client. Just make sure that you ask questions in a delicate manner regarding anything about them.
Make sure that the client is in a comfortable place. The better the atmosphere of the location, the more likely your client is willing to hand out information
Review all the documents you have about your client. Be sure to check out all the information you have and properly assess them.
Social Work
Return to Work
Fitness to Work
What is a Work Assessment Test?
A lot of companies require applicants to take some form of test before they're even considered for a position. An employer uses interview assessment forms and checks out how well you did in an interview. These tests are used to see the competency level of an applicant. It also evaluates the  degree of knowledge the applicant will be able to bring to the company. The aim of the test is to find those people who can become valuable employees to just about any establishment.
How to Write a Work Assessment
When writing a work assessment, make sure that you include the following information:
The name of the employee
The position of the employee and his or her department
Employee's I.D number
Name of employee's supervisor
Name of person conducting the assessment
Much like training assessment forms, you have to know all of these if you're going to evaluate any employee. After all of that, you may then proceed to rate and comment on how an employee is doing work. Just make sure that you're accurate with your rating so that those employees who are doing a good job get rewarded, and those that are under performing can get properly reprimanded.