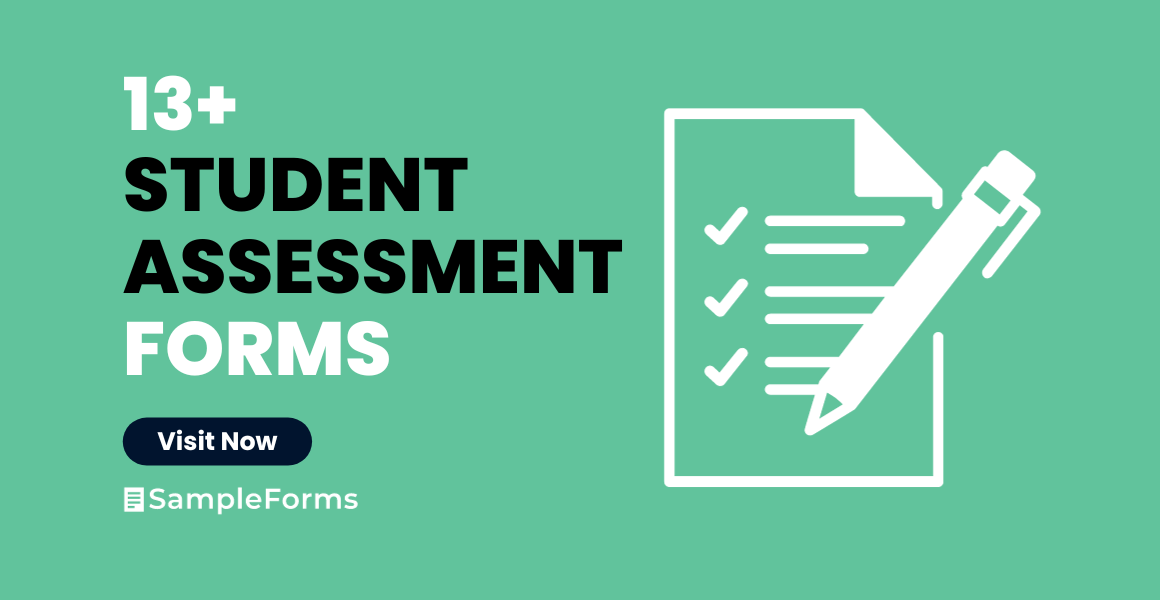 Assessment is an important part of education. Students need to be assessed by their teacher on the daily basis. Student assessment form consists of details about student's performance in the academic year that can be passed on for next year. There are two types of assessment student assessment tools: You may also see Interview Assessment Forms
Formal Assessment– This is taken by large groups of students from variety of locations. Here teachers no control over the assessment.
Informal Assessment: This form is used in classroom designed by teachers for specific group of students. It can be adjusted and customized accordingly.
Let us now check different types of Student Assessment Test: Student Performance Assessment Form: This assessment form is designed to assess and create a report by teacher to students. It consists of standard format having student's details and different assessing points. This includes: Learning motivational attitude Learning Characteristics Behavioural Performance in Class Creativity Leadership This assessment form allows student to gain good grade for personal attribution. Useful Training Assessment Forms
New Student Assessment Form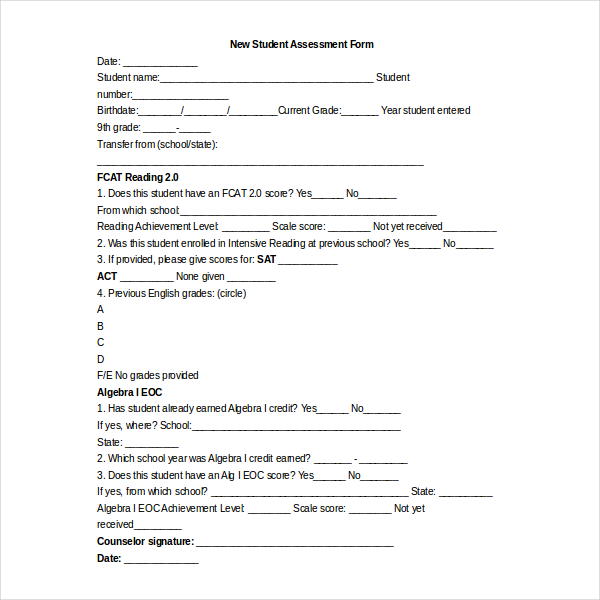 nhs.stjohns.k12.fl.us
This assessment form is designed for new students seeking admission in college or for higher education. Once the student applies for the admission, the next step is to undergo the assessment test. This includes reading and math. If the student successfully passes out from this test, then all other tests are exempted. This is also called as Orientation form needed to be undergone while seeking admission.
Overseas Student Loan Assessment Form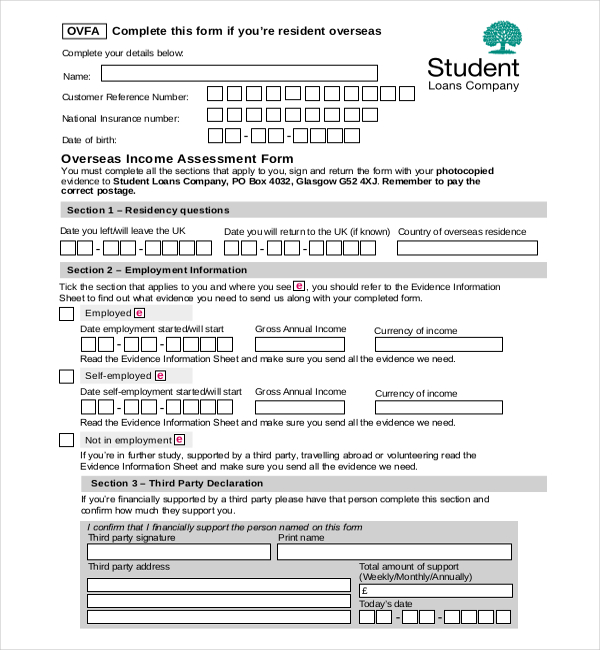 studentloanrepayment.co.uk
If you are seeking student loan for the higher education and belong to other country then, you need to fill the overseas student assessment form. You need to provide all the information regarding the finance and other employment details. The form also consists of UK bank and residential account details. Every university in UK ask foreign students to fill this form while seeking admission for the higher students.
Student Product Assessment Form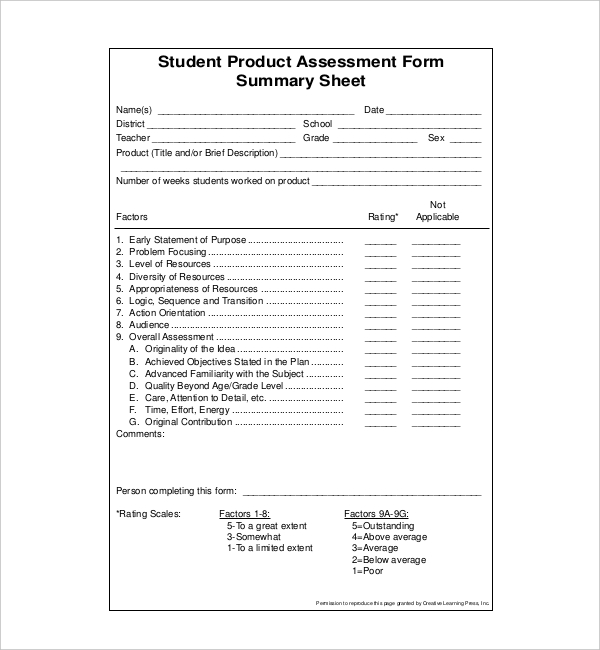 gifted.uconn.edu
This assessment form is to guide the judgement of various types of products developed by students in enrichment programs. There are three different considerations-
Firstly evaluating creative types of products functioning on human judgment
Secondly, evaluating to relate the worth of the product according to the student's age and grade.
Thirdly, considering the growth of student in terms of improvement. It helps the student to guide towards excellence and is shared among student before the start of product.
Confidential Student Assessment Form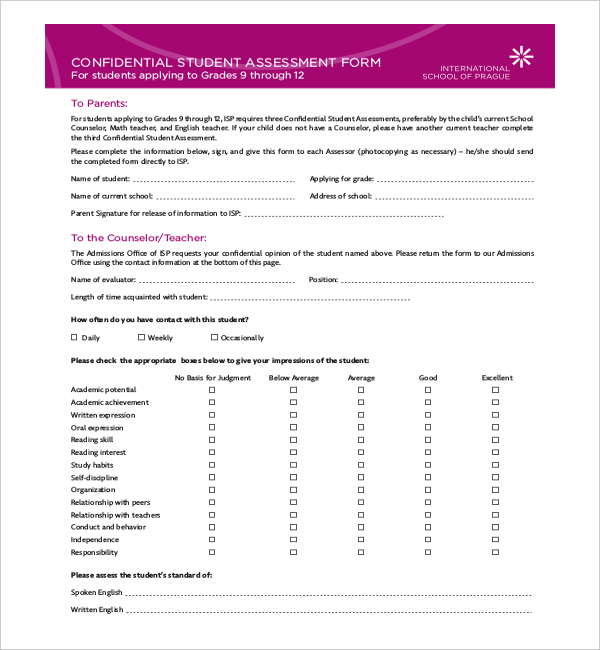 isp.cz
This confidential assessment form is prepared by current school counsellor, Match and English teacher. This form gives a clear picture about the teacher on how students are trained by them. The form is for students applied to grades 9 through 12. It consists of student habit, self-discipline, relationship with peer s and teachers and many other things. It described complete information of student's about the character, values and special interests.
Dance Student Assessment Form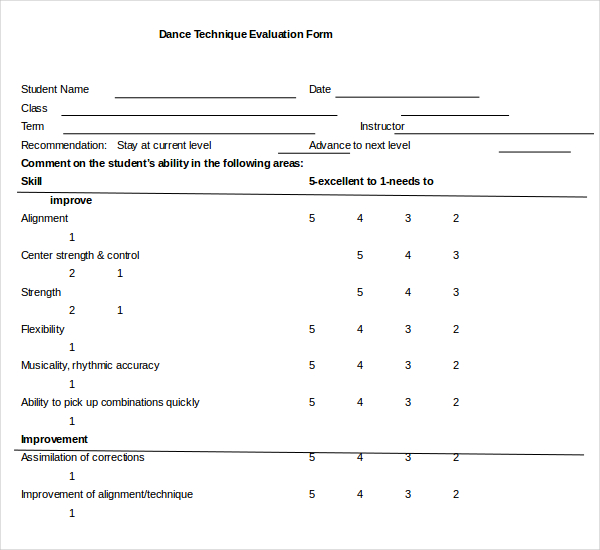 oakland.edu
Student need to undergo this form while seeking admission which advances to promote arts and creative activities. Universities provide dance program to produce graduates having versatility in creative skills. The Dance Student Assessment Form has different assessment methods:
Direct Measures
Dance Technique Evaluation Form

Pre and Post Written Test

Senior BFA Concert
Indirect Measures:
Senior Interview/Exit Survey
Music Student Teaching Evaluation Form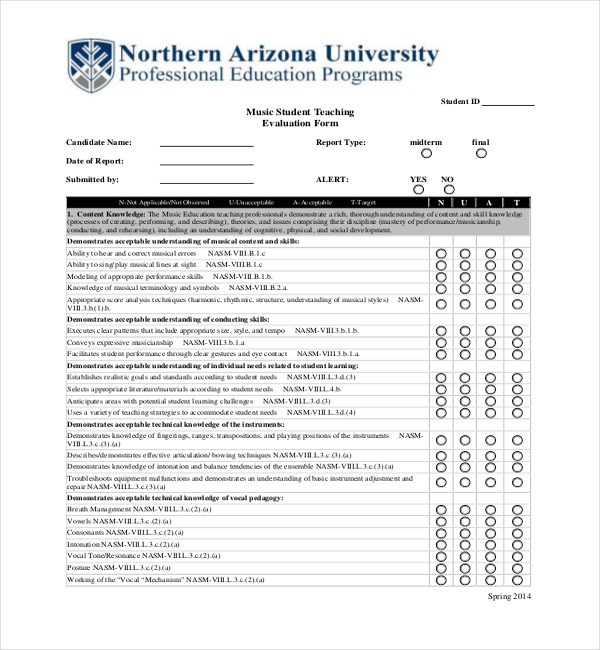 nau.edu
If you are keen on taking up the music education, then you need to fill the evaluation form for further development. The form involves demonstration of music understanding, understanding of conducting skills, understanding of technical knowledge of instruments and other areas. You also need provide information on planning and implementation of musical knowledge, positive learning environment, diversity, technology and overall progress in the musical knowledge.
High School Student Assessment Form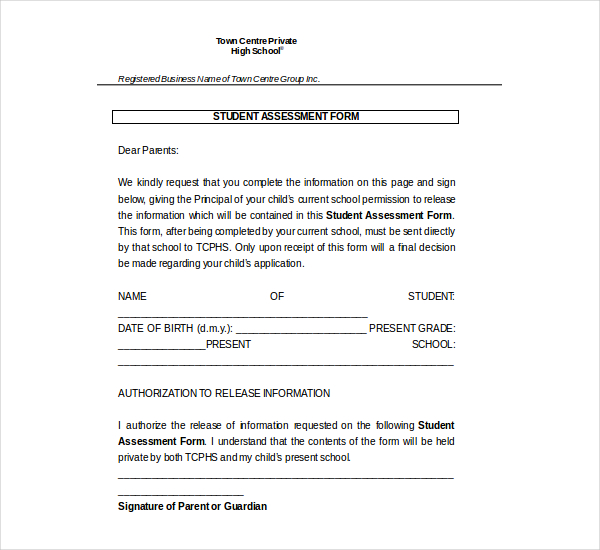 tcphs.com
This assessment form is prepared by employer to their student employee to assess their performance throughout the internship. Students are being rated between 1-5 for attendance, punctuality, Quality of work and other areas of concern. It also includes the job task and number of work hours completed during the internship. Every employer need to offer this assessment form to high school student helping them for future work career.
Kindergarten Student Assessment Form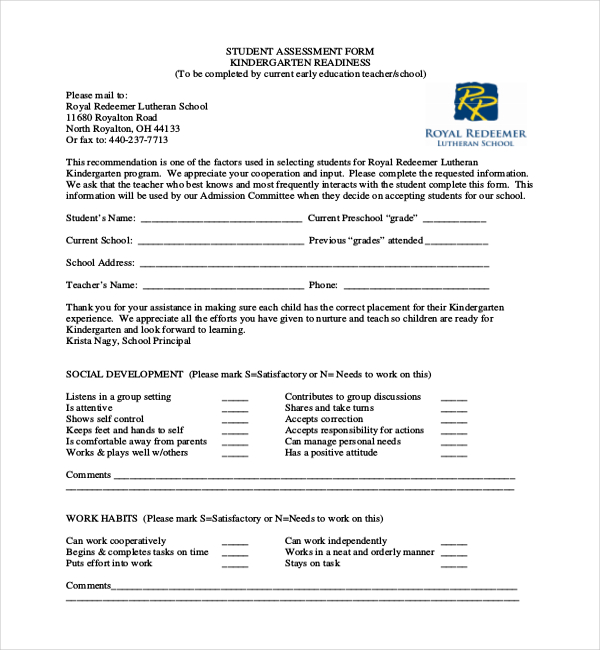 rrls.org
The form is given to the Kindergarten Teachers to be filled up with the details of the students who apply. It comes in the form of a teacher assessment for the Kindergarten applicants. It is purely a recommendation form from teacher who interacts with the respective students.  The form defines student's development in:
Social Development
Work Habits Readiness
Skills for Kindergarten
Motor skills
Medical Student Assessment Form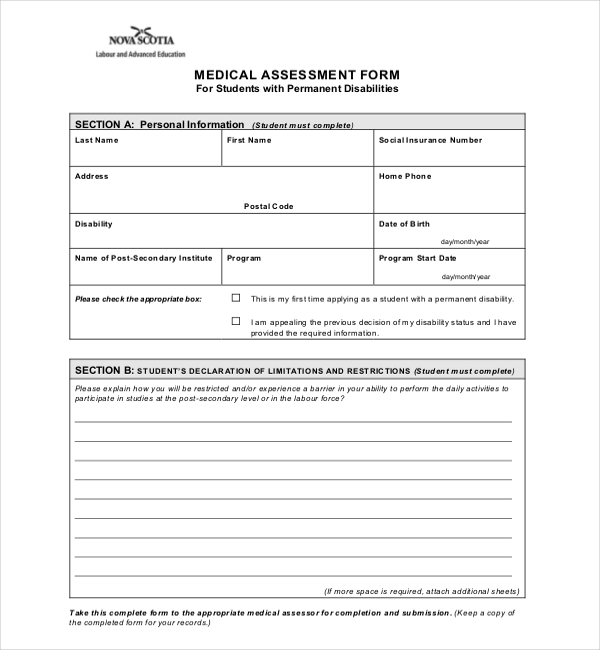 novascotia.ca
This assessment form is completely for permanent disability students. The form is to assess the condition of the student and program undertaken. The form also consists of area to be filled by medical assessor to provide information about the nature of permanent disability of the student. The form gives clear picture about student's medical condition. On the basis of the mentioned medical condition, student is being provided the admission for the desired course.
Physiotherapy Student Assessment Form
griffith.edu.au
If you are undergoing any physiotherapy assistance and seeking admission for higher students, then filling up physiotherapy student assessment form is essential. The form need to be filled with all the medical information of the student. Moreover, it also consists of areas that need to be improved and strategies for the same. Also known as Mid Unit formative feedback, the form also consists of rating about different health issues. This includes professional behaviour, communication, planning and risk management. It consists of two different parts- Mid Unit Formative Feedback and End of Unit Summative feedback.
School Health Assessment Form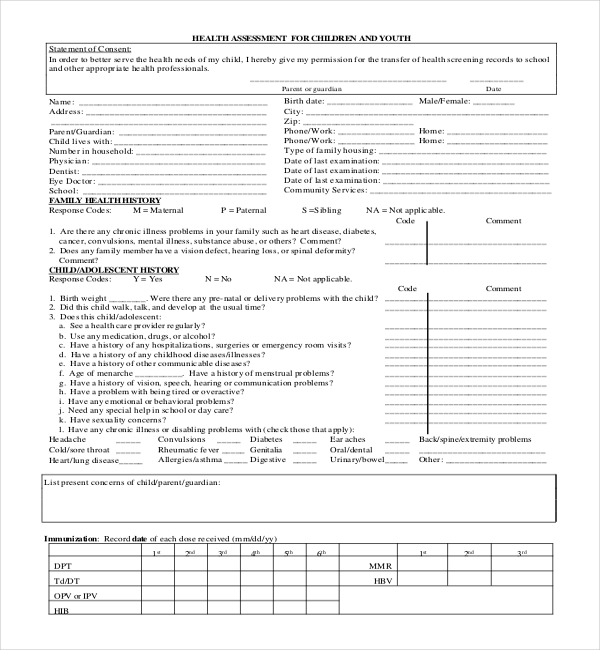 usd458.org
This assessment form is to be filled by parents of the respective students to receive health assessment screening which includes: hearing, vision, dental, lead, health history and complete physical examination. In other words, the parents are giving due permission for the transfer of health screening records to school and health professional. The form also includes family health assistance, child health history to get complete information. According to the screening report, students and parents will be evaluated accordingly.
Student Education Assessment Form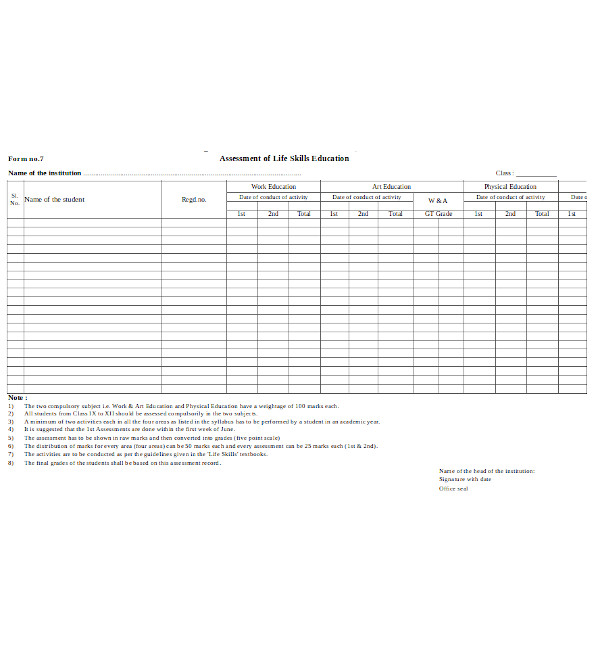 nbsenagaland.com
The main objective of undergoing various student assessment form and medical assessment is to ensure that student sounds healthy and should be given assistance if required for the further studies in university and schools. can also use Self Assessment Forms