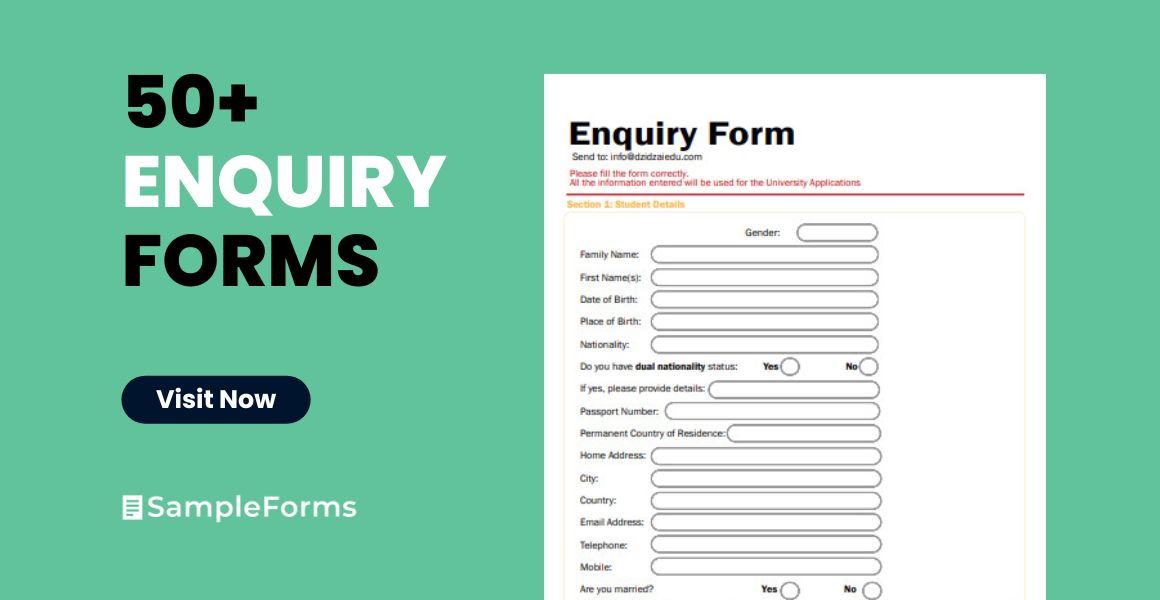 Enquiry forms are essential for businesses, facilitating seamless communication with customers. These printable forms, often found on websites, allow users to request information about services or products. They are designed to be user-friendly, ensuring easy submission of queries. By using enquiry forms, businesses can efficiently gather customer inquiries, leading to improved customer service and enhanced engagement.
What is Enquiry Forms?
An enquiry form is a digital or physical form used to collect questions or requests for information from individuals. Typically found on websites, these forms allow users to submit their queries regarding products, services, or other information. They often include fields for contact details and specific questions. Enquiry forms are vital in customer service, enabling businesses to address customer needs effectively and maintain organized communication. You also browse our Event Inquiry Forms.
What is the best Sample Enquiry Forms?
50+ Enquiry Forms in PDF | MS Word
1. Sample Enquiry Form
2. Customer Enquiry Form
3. Admission Enquiry Form
4. Planning Permission Enquiry Form
5. Directive Information Centre Enquiry Form
6. Network Connection Enquiry Form
7. Offline Enquiry Form
8. Householder Enquiry Form
9. Pre Application Advice Enquiry Form
10. Dealers Enquiry Form
11. Business Rates Enquiry Form
12. Archival Enquiry Form
13. Student Enquiry Form
14. Pre Application Enquiry Form
15. Building Control Enquiry Form
16. Household Enquiry Form
17. Bank Enquiry Form
18. Pre Connection Enquiry Form
19. Membership Enquiry Form
20. Residence Eligibility Enquiry Form
21. Mechanical Seal Enquiry Form
22. Domestic Enquiry Form
23. Fee Status Enquiry Form
24. Community Centre Booking Enquiry Form
25. Marketing Enquiry Form
26. Planning Enquiry Form
27. Short Term Finance Enquiry Form
28. Pre Planning Advice Enquiry Form
29. Land Enquiry Form
30. Entitlement Enquiry Form
31. Product Enquiry Form
32. Employers Initial Enquiry Form
33. Development Enquiry Request Form
34. Event Enquiry Form
35. Banquet Enquiry Form
36. Sample Student Enquiry Form
37. School Enquiry Form
38. Family Law Enquiry Form
39. Gymnastic Score Enquiry Form
40. Retail Leasing Enquiry Form
41. Product Installation Enquiry Form
42. Medicare Secondary Payer Enquiry Form
43. Venue Enquiry Form
44. Environmental Information Enquiry Form
45. Supported Lodgings Enquiry Form
46. Dealership Enquiry Form
47. Technical Enquiry Form
48. Industrial Enquiry Form
49. Multi Agency Enquiry Form
50. Property Enquiry Application Form
51. Workshop Enquiry Form
Enquiry Forms: Serving Customers with Answers
Enquiries are expressed in many different ways. They can either be done verbally by straightly asking a question to another person or in a written manner the same as you do in conducting research surveys. They may also take shape in the form of different documents such as surveys and feedback forms, aside from being a stand-alone document. Either way, enquiries are made for one purpose only, and that is to provide answers to a specific set of questions such as the following:
Price and Cost

These two are the primary factors that customers place weight upon when considering to buy a particular product or service. Since money is primarily essential in an average household, it makes it perfectly normal for a potential buyer to ask about it. Providing job estimate and or pricelist will surely give them the answer that they're looking for.
Time and Date

Customers and clients are highly conscious about the time and date of the transaction of a product. Every so often, they check their calendars and clocks to have an idea of when their package will arrive. Time is gold for a customer, and providing the right one eases their restlessness. And by also knowing the right time and date, the whole process smoothens and becomes organized.
Demographics

Through fully understanding the target demographic, creating plans and strategies will become a comfortable aspect. With this, an employer will have little to no difficulty when it comes to selecting the right items or services to sell since he already possesses the knowledge of who are his potential buyers. And if the employer opts to innovate or calibrate his assets on hand, he can fashion these that assure him of full customer satisfaction.

Measurements

Measurements are relevant to an enquiring customer. They would ask for a product's differing sizes, and an employer must have variations of their items. For example, a one-size-fits-all shirt is not a saleable item since not everyone agrees with the measurement. With that in mind, the form provides the right information to the kind of product measurement that is most profitable to the company's target demographic.
What makes an Enquiry so important?
Information is very elusive and is not that easy to find. But being able to enquire a particular thing that interests us the most, removes the difficulty in obtaining information out of the equation. An enquiry is a systematic process of finding answers and information by gradually removing doubts and uncertainty that surrounds the thing that catches our interest. Thus, allowing us to plan the next move and eventually succeed in achieving the things that we want the most. Aside from information, enquiries, such as real estate property enquiry forms, also bring assurance. Assurance in the form of product specifications and service details that you won't usually find in catalogs.
What are the uses of Enquiry Form?
Enquiry forms serve several important functions in various settings, such as businesses, educational institutions, and service providers. Key uses include:
Gathering Information: They collect essential details from individuals interested in products, services, or specific information, helping organizations understand customer needs.
Lead Generation: In business, enquiry forms are a crucial tool for generating leads. Potential customers provide contact details, allowing for follow-up and targeted marketing.
Feedback Collection: These forms can be used to gather feedback or suggestions from customers or the public, aiding in service improvement and customer satisfaction.
Facilitating Communication: They provide a direct and organized way for individuals to communicate their needs or questions to an organization, enhancing customer service.
Data Collection for Analysis: The information gathered can be analyzed to understand market trends, customer preferences, and areas of improvement.
Streamlining Admissions and Registrations: In educational institutions, enquiry forms help in managing admissions inquiries, course interests, and other student-related queries.
Event Management: For events, enquiry forms can be used to manage queries related to bookings, schedules, and specific event information.
Research Purposes: They are also used in research settings to gather preliminary information from participants or to gauge interest in a particular study.
Overall, enquiry forms are a versatile tool for efficient communication, data collection, and customer relationship management. You should also take a look at our Restaurant Enquiry Forms.
What is a Sales Enquiry Form?
A sales enquiry form is a vital tool used by businesses to collect information from potential customers interested in their products or services. This form serves as the initial point of contact between a company and its prospective clients, facilitating a smoother sales process.
Purpose of a Sales Enquiry Form
The primary goal of a sales enquiry form is to gather essential details from individuals or businesses that show interest in what you are offering. This information typically includes contact details, specific interests or requirements, and any particular questions or concerns the potential customer might have.
Key Elements of a Sales Enquiry Form
Contact Information: This includes the enquirer's name, email address, phone number, and possibly their company name. These details are crucial for follow-up communication.
Product or Service Interest: The form should have options or a field where the enquirer can specify which product or service they are interested in. This helps in understanding their needs better.
Enquiry Details: A section for the enquirer to describe their needs, questions, or any specific requirements they have regarding the product or service.
Budget and Timeframe: Including fields for budget range and desired timeframe can help in assessing the feasibility and urgency of the enquiry.
Customizable Fields: Depending on the nature of your business, you might need additional, specific information. Customizable fields allow for this flexibility. You can also see Blank Forms.
Benefits of a Sales Enquiry Form
Efficient Lead Generation: It helps in collecting leads efficiently, allowing for a more organized approach to sales.
Better Customer Understanding: By analyzing the enquiries, businesses can gain insights into customer needs and preferences.
Streamlined Communication: It streamlines the process of communication between the potential customer and the sales team.
Data Collection for Analysis: The information gathered can be used for market analysis and to improve products or services.
Designing an Effective Sales Enquiry Form
User-Friendly Interface: The form should be easy to navigate and fill out, encouraging more submissions.
Clarity and Conciseness: Questions should be clear and to the point to avoid any confusion.
Mobile Responsiveness: With the increasing use of mobile devices, ensuring your form is mobile-friendly is crucial.
Privacy Assurance: Include a privacy statement to assure users that their information is safe and will be used responsibly.
A sales enquiry form is a key component in the sales and marketing strategy of any business. It not only aids in capturing potential leads but also plays a significant role in understanding and meeting customer needs. By designing a thoughtful and efficient sales enquiry form, businesses can significantly enhance their customer engagement and sales potential. In addition, you should review our Contact Forms.
How to Make an Enquiry Form?
Creating an enquiry form is a crucial step for businesses and organizations to gather information, feedback, or requests from their audience. This guide will walk you through the process of designing an effective enquiry form that caters to your needs.
Understanding the Purpose of Your Enquiry Form
Before diving into the design, it's essential to define the purpose of your enquiry form. Are you looking to gather customer feedback, answer service-related questions, or collect specific information? Understanding the form's objective will guide your design and content choices.
Designing the Form Layout
Choose a User-Friendly Platform: Select a platform that is easy to navigate and accessible. Popular options include Google Forms, Typeform, and SurveyMonkey.
Simple and Clean Design: Ensure your form is visually appealing and easy to read. Avoid clutter and use a straightforward layout.
Responsive Design: Your form should be mobile-friendly, as many users access websites via smartphones.
Crafting the Content
Clear and Concise Questions: Frame your questions in simple, straightforward language. Avoid jargon or complex terms.
Essential Fields Only: Include only necessary fields to avoid overwhelming the user. Common fields include name, email, contact number, and the enquiry message.
Use of Dropdowns and Checkboxes: For questions with multiple options, use dropdown menus or checkboxes for easier navigation.
Include an Open-Ended Section: Allow space for additional comments or questions, giving users the freedom to express their concerns or needs.
Enhancing User Experience
Progress Indicators: If your form is lengthy, include progress indicators to show users how much they have completed.
Instant Confirmation: Once the form is submitted, display a confirmation message or send an email confirmation to acknowledge receipt.
Accessibility Features: Ensure your form is accessible to all users, including those with disabilities.
Testing and Feedback
Test Your Form: Before going live, test your form for usability, functionality, and compatibility across different devices and browsers.
Gather Feedback: After launching, collect feedback on the form's effectiveness and make necessary adjustments.
Optimizing for Search Engines
Relevant Keywords: Incorporate keywords related to enquiry forms, feedback, and customer service in your form's title and description.
Meta Descriptions: Write a clear, keyword-rich meta description for your form page to improve its visibility in search engine results.
Mobile Optimization: Since search engines favor mobile-friendly designs, ensure your form is optimized for mobile devices.
Fast Loading Speed: Optimize images and elements to ensure your form loads quickly, as loading speed affects search engine rankings.
An effective enquiry form is a gateway for communication between you and your audience. By following these steps, you can create a best form that is not only user-friendly but also optimized for search engines, enhancing your online presence and engagement.
Remember, the key to a successful enquiry form is simplicity, clarity, and responsiveness. Keep your audience in mind, and you'll create a form that meets their needs and exceeds their expectations.
What is Enquiry Form in Admission?
FAQs
For a business to prosper, it must provide its customers and clients only the best service and products. A company must then gather vast amounts of data from their target demographic, but obtaining such an enormous amount is not that easy to accomplish. However, data-gathering documents are there to aid any employer, especially the likes of enquiry forms. Enquiry forms differ from the rest of its caliber since it gathers firsthand uninterpreted data. Moreover, the data is useful since the company does not need to contact anyone for verification. All they need to do is make use of the data to its full potential and see the results.