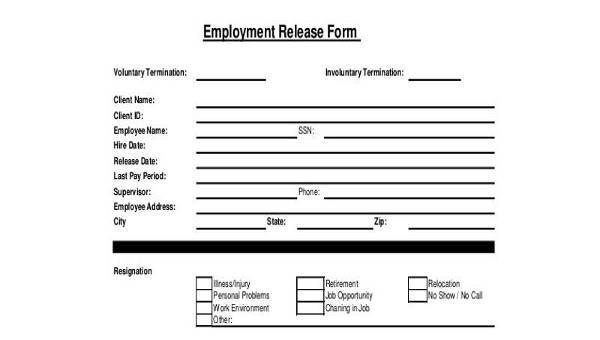 Employees are a staple in the working industry. They get things done and help manage what goes on in certain companies and franchises. However, when a company feels as if an employee has been lying about certain information or if an employee has not been fully honest with the information that he gave to the company, it could mean his possible termination.
Companies can't just do that immediately though. They need valid reasons and they need to notify the employee of their possible dismissal. That's why companies use Employment Release Forms that can help them with these matters.
Pre-Employment Release Form
General Employment Release Form
Free Employment Release Form
Employment Verification Release Form
Employment Release Form in PDF
The Different Types of Employee Release Forms
There are some forms that tie in closely to release forms, such as Employment Authorization Forms or Employment Verification Forms. But here are some examples of forms that handle the release of the employee directly:
Employment Information Release Forms are used when both the company and the employee acquiesce to the release of his information to the public. 
Employment Inquiry Release Forms are for those companies that wish to check on the background of certain employees and inquire about any personal information to verify them.
Employment Records Release Forms are used to make a proper check on an employee's records within the company.
Pre-Employment Release Forms are used to check on an employee's information before actually giving him the job opportunity. It's to make sure that the company is doing a thorough background check before hiring someone who might end up damaging the company.
Employment Verification Release Forms are used by companies to verify if the employee's information is accurate and that no inconsistencies occur.
Employment Reference Release Form
Employment Inquiry Release Form
Employment Records Release Form
Employee Release Form Example
Pre Employment Release and Consent Form
The Importance of Employment Release Forms
Verifying an employee's information upon release can be very crucial. With the steep competition in different industries and a lot of qualified applicants vying for the same positions, there are some individuals who tend to lie about the information that they include in their professional profiles. There are some issues, especially in terms of legalities, that are being covered up by some applicants just so they can be considered for an open job position. With this, employers need to make sure that they can provide an employment release form accordingly. Employers are obliged to ensure the safety and security of all the people within the vicinity of the business and that includes selecting applicants that are aware that they should not bring harm in the workplace.
An employer's verification procedure should be as accurate as possible so that he may be able to detect any false dates of employment provided, any exaggeration of positions or responsibilities held, and any other form of information that an applicant may have tampered with.
It's all up to the employer to make sure that the information he is handed is trustworthy; otherwise, he'll have to do a thorough background check to prevent any harm that may come to the company.