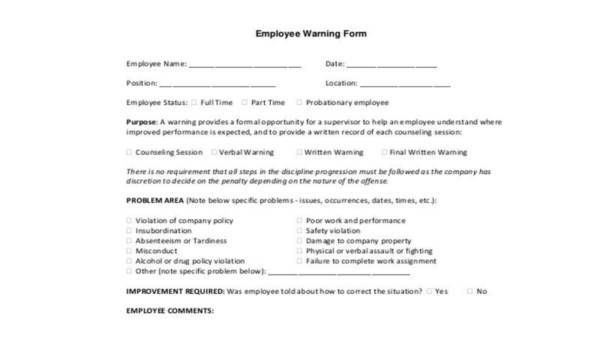 Imposing measures of discipline is an important part of maintaining professional and peaceful relationships in the workplace. An employee who fails to show improvement or fails to adhere to the policies being set by the company should merit a form of discipline to maintain good conduct in the company.
Workplace discipline helps to improve your company and your employees in many ways. For one, imposing disciplinary measures helps to curb behavioral problems and upholds work standards. A supervisor or human resources should remember, however, that employee discipline has to be properly documented and has to go through a fair hearing process to avoid labor disputes. You can view our Employee Warning Forms through our sample Employment Forms.
Employee Written Warning Form
Employee Verbal Warning Form
Employee Final Warning Form
Employee Warning Form Example
Employee Performance Warning Form
The Benefits of Imposing Disciplinary Measures
Some supervisors hate to impose measures of discipline among employees for a major desire to maintain the peace, while others tend to abuse their power and overreact out of anger or frustration. Whichever type of boss you are, you need to constantly remember that disciplinary actions are not there to help you vent your anger or your frustration, but rather, these actions are a chance to help an employee improve.
Employee discipline should therefore be administered in a private setting where you and the employee can personally and privately discuss issues pertaining to his personality and behavior. Below is a list of reasons why you have to structure a method of discipline within your company:
Corrects Behavioral Problems
The main reason why discipline is implemented at work, at school, and even at home is because it enables another person to help correct or improve the offending party's behavioral issues.
In the workplace setting, human resources and supervisors have to properly assess the severity of the behavioral problem whether it be tardiness, office gossip, productivity issues, or inflicting harm on another employee. These offenses vary in severity and therefore merit different measures of discipline.
Sets Performance Standards
If discipline in the workplace is fairly and consistently applied, this boosts employee morale and slims down the chances of further disciplinary action because it allows employees to know exactly where they stand and how they are expected to behave.
Controls Minor Problems
When an employee is called out for a minor offense, this helps him become aware of the wrong that he is doing and allows him to correct it. This helps to hasten or eliminate the chances of actually imposing heavier disciplinary actions in the future.
Generic Employee Warning Form
Employee Warning Notice Form
Free Employee Warning Form
Employee Warning Form in PDF
Employee Safety Violation Warning Form
Types of Disciplinary Actions
Disciplinary Actions can vary depending on the severity of the offense committed, the number of times it was committed, the employee's previous records, and the underlying reason for why the employee committed such offense. The different types of discipline measures in the workplace are as follows:
Oral Warning
An oral or verbal warning is typically the first step to an employee discipline procedure and usually involves a discussion of a supervisor with an employee. Oral Warnings can be formal or informal. An informal verbal warning is done when a worker is not aware of the mistake he has incurred. A supervisor may opt to keep a written record of the verbal warning for documentation purposes. A formal verbal warning, on the other hand, is given if the employee continues to commit the same offense despite the initial warning. In some companies, an informal warning is synonymous to a first verbal warning while a formal warning is a second verbal warning.
Written Warning
Some companies opt to add an additional form of disciplinary action by providing written warnings. In some cases, verbal warnings are not documented and remain to be mere verbal warnings. When a verbal warning escalates, it then becomes a Written Warning. You can use our Employee Warning Notice Forms or Employee Disciplinary Action Forms to download sample templates for Employee Warnings.
Suspension
Suspension is usually given to employees who continuously fail to show improvement or who have committed a grave misconduct despite fair warnings.
Termination
Termination is typically given to an employee who fails to correct his actions amid numerous warnings. Immediate termination can also be given to employees who have committed grave offenses such as dishonesty, espionage, theft, etc.