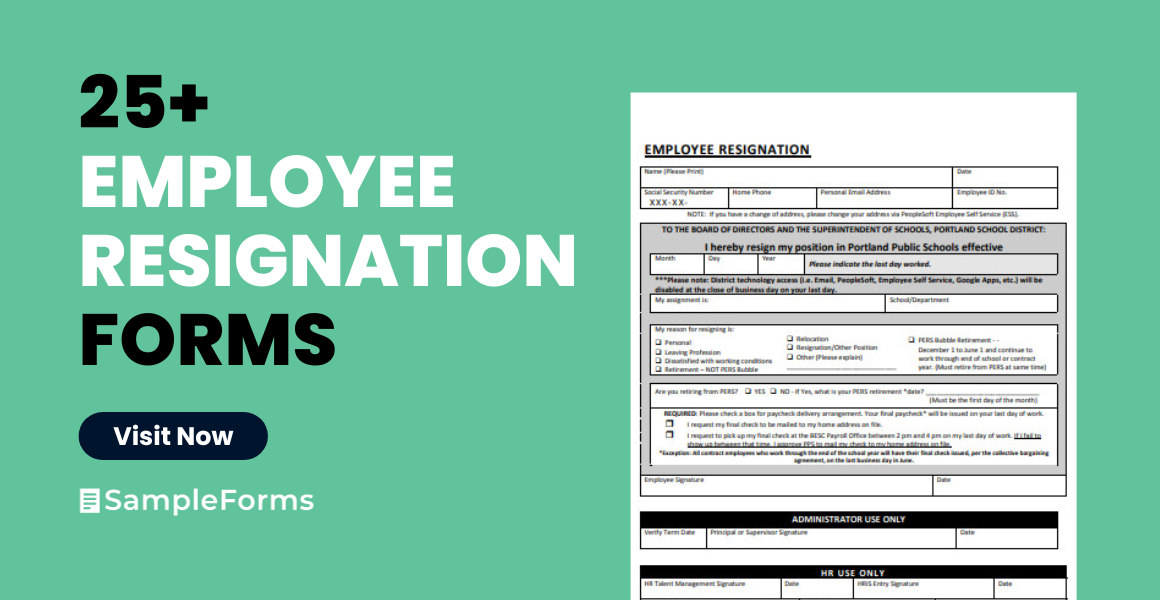 It takes a lot of sacrifice, sweat, and hard work to remain successful at work. Getting a job can be fulfilling enough in thinking about receiving a salary but there are other factors that can cause an employee to quit or resign too. Working is not all fun and games anyway as the workload may be too much to handle or that not enough money gets received along the way. In thinking about moving on to transfer, preparing a resignation letter or form often comes to mind. A formal resignation request gives notice to managers and companies about a possible employee departure anyway.
FREE 25+ Employee Resignation Forms in PDF | MS Word
1. Employee Resignation Form Sample
2. Employee Resignation Clearance Form
3. Voluntary Employee Resignation Form
4. Employee Resignation Release Form
5. Employee Resignation Separation Form
6. Employee Resignation Notice Form
7. Employee Resignation Termination Form
8. General Employee Resignation Form
9. Employee Resignation Checklist Form
10. Employee Acknowledgement Resignation Form
11. Employee Resignation Exit Interview Form
12. Postal Service Employee Resignation Form
13. Basic Employee Resignation Form
14. Simple Employee Resignation Form
15. Printable Employee Resignation Form
16. Employee Retirement & Resignation Form
17. Employee Position Resignation Form
18. Professional Employee Resignation Form
19. Employee Resignation Policy Form
20. Standard Employee Resignation Form
21. Employee Request Resignation Form
22. Employee Service Resignation Form
23. Formal Employee Resignation Form
24. Government Employee Resignation Form
25. Employee Notification Resignation Form
26. Employee Resignation Period Form
How Is an Employee Resignation Form Defined?
Resignation forms are the notice documents used by employees who wish to leave the company officially. Being AWOL is unprofessional in the first place as employers will still contact whoever goes to receive an explanation about why such a person got missing after a couple of days. For voluntary resignation, it is standard to inform the employer along with the resign letter. The document serves as evidence of how a worker is already considered a resigned employee. Involuntary can already lead to termination which is a different story.
There are slight differences between resignation letters and forms despite how similar they are in containing the details for resigning. In a formal letter, everything about the details to quit will be written in complete sentences and paragraphs. At the same time, forms have specific categories to divide information and complete sentences or lengthy paragraphs turn unnecessary already. The resignation form can be like an application sheet where there are things asked like the name, birthday, and more. The applicants provide what is requested instead of writing in sentences.
What Are the Benefits Involved in Employee Resignation Forms?
It may sound sad to officially quit from a business but sending the resignation form can still bring out some advantages. It should be in good terms if the decision is sure and that the form got sent early for the business to prepare in replacing a former employee's position. Recognizing every benefit expected towards the sheets makes it easy in familiarizing how useful those are too. The benefits are as follows:
Informs the Right People

In planning to quit, there is no need to spread the news on co-employees first before telling it to the HR or manager because rumors may spread and having the employers to be the last one to know may lead to a different understanding. Those with authority, like the team leader, often are reliable, and addressing the form to the right individuals with power will make the resigning process effective. For any confidentiality agreement, at least the proper individuals get to keep the info instead of those who may spread the word.

Provides Proper Explanation

Resignation forms can get very detailed, and those get appreciated for further explaining the need to quit instead of merely stating that someone wishes to cease working. Honesty is even encouraged here, so managers understand. Sugarcoating and spreading lies may end up discovered afterward as some companies do further research to check if reasons are real or not. Even if the purpose is to look for a bigger salary or anything, at least an explanation gets given there.

Works on Both Hard and Soft Copies

Forms have impressive compatibility, too, as those sheets may have a printed hard copy or perhaps an online form only that can get sent via email. At least the output gives options, so people are not merely stuck with one format but also on another. Preference is the only basis on which example to adhere with. However, the format and template used must still get considered carefully to ensure everything goes correctly.

Follows with Verification

All forms sent cannot go to waste since verification follows next. This verification form works as a response to the resignation document, whether the company accepts the reason or not. An official approval usually comes next if all details are alright. In getting that acceptance, it turns recommended to send the form early and that no incorrect info will be present there. Companies have to respond as well until an exit interview eventually takes place before the employee leaves the company for good.
Is Quitting without Notice a Good Idea?
Some individuals get tired of processing for a resignation form or scared in telling it to the boss. However, facing the two options is much better than just quitting immediately without saying. Not to mention that going away without any word is very disrespectful. The question remains. Is quitting good without notice? Besides thinking about work, try thinking about going on a date, and you suddenly do not contact immediately after that meetup. That example alone already shows how disrespectful or unprofessional a person is since informing is a big deal in being part of something. In job hunting, a person's reputation can get affected as the next employer may contact the applicant's previous employer. In receiving the impression that such a person quits without informing, then that does not give a pleasant look to the applicant.
The best protocol is to at least spare time in talking with the boss about the planned resignation until submitting a document completes the process afterward. Two weeks' notice is already enough actually because that brings enough time for the business to adjust about the possible loss of a worker. The company will start posting ads about a job opening until somebody takes the position after the worker leaves. This reason is why suddenly quitting and not informing anybody is discouraged because not only the previous employee adjusts but also the company.
What Commonly Consists of an Employee Resignation Form?
There are secure details to identify what makes up employee resignation forms. Ensuring that the parts get seen to any standard resignation sheet will matter to avoid having other people guess what the form is about. Leaving the impression that it is about resignation makes it easier to understand what the following details consist of. Here are the factors to look after in most resignation documents:
Employee's Background Info

Which worker will quit may confuse supervisors, so that should get finalized through background information. This set of data consists of the employee's name, position, number, and the rest that will identify who's who. Not being sure of the worker's details might cause a mess afterward, especially if the wrong person got mistaken as the one who quits. All records, including employees' files, are essential to businesses anyway for documentation, so identifying the workers is a must.

Resignation Details

This part is the most important for containing all details about why the decision led the employee quitting or when it will happen. Some forms even provide choices on what category the reason is. Filling in the blanks is required if other causes are involved. Anyone needing the resignation application better provides details here clearly for bigger chances of getting approved. The info present here will get reviewed by the supervisor for the response given after.

Employee and Supervisor's Signature

What confirms the details if the employee who plans to leave wrote the details or if the employer confirmed it is to check the signatures. Thus, providing spaces for signing must be part of the sheet. Standard forms basically got room for signing, usually at the bottom part. Signatures finalize if everything got confirmed, so double-checking if the form got signed is crucial.
How to Deal with Employee Resignation Forms
Making the employee resignation form should not stay a struggle because it will be easy to work with customizable templates. There are other things to keep in mind as well to ensure that working with the form stays productive. The typical steps involved are the following:
Step 1. What Must Be Asked Should Get Stated
The form will be easy to complete if there are labels on what to ask already. Just like a job application form, there are parts where the name, address, working background, and the rest will get asked. Relevant questions will get asked too because getting too personal is also unnecessary. This sheet is still a professional document anyway, so there are limits on what to inquire as well. Never forget to review if everything worth asking is present there.
Step 2. Format and Presentation Require Adjustments
Having editable templates is excellent because of receiving the opportunity to change things up on the size, format, and the like. Be sure the adjustments look presentable too wherein the form has organized its spacing or measurements and that the forms need not be lengthy. Sticking on the format which delivers the best result in terms of the presentation will be worth depending on. The design itself leaves an impression, so it has to appear decent in the first place.
Step 3. Schedule an Exit Interview
Besides granting the resignation, it is essential to have time in discussing the whole thing correctly too. An exit interview to get to know better about the future ex-employee is crucial to ensure that he or she leaves on a positive note. There could be issues and misunderstandings left behind, and clearing those out can happen here. The things stated among forms can be used as the basis for the final interview as well in case some factors need clarification.
Step 4. Cut Ties with that Employee's Taxes, Insurance, and More
Employers never only let go of employees by waving goodbye because it is still necessary to work on other stuff. A typical example is to stop giving contributions to that particular worker. As the person is no longer employed to the company, paying for his or her insurance, tax, and more will have to cease. That person's next business will be the one responsible for such contributions already, which will get cut in salaries.
Step 5. Plan for the Next Possible Replacement
After cutting off, planning on who will take that former worker's position is a big deal. A manager may post about the job vacancy online until interested applicants would send their resumes and application letters. If that position is in significant demand, then an emergency hiring can take place. There is enough time to find who is qualified for the job anyway since resignation forms get traditionally sent early.
In resigning, both employees and managers have to remain prepared. Employees will complete the resignation form while the manager can start plotting ideas about how to deal with new applicants that can fill the job position. At the end of the day, work still matters. Thus, proper measures in finding a job, and even quitting should be practiced with respect as everyone still needs to work and earn. Despite cutting ties with a company, another opportunity is bound to happen anyway as the ex-employee will explore a different business, and the employer can welcome a new replacement.