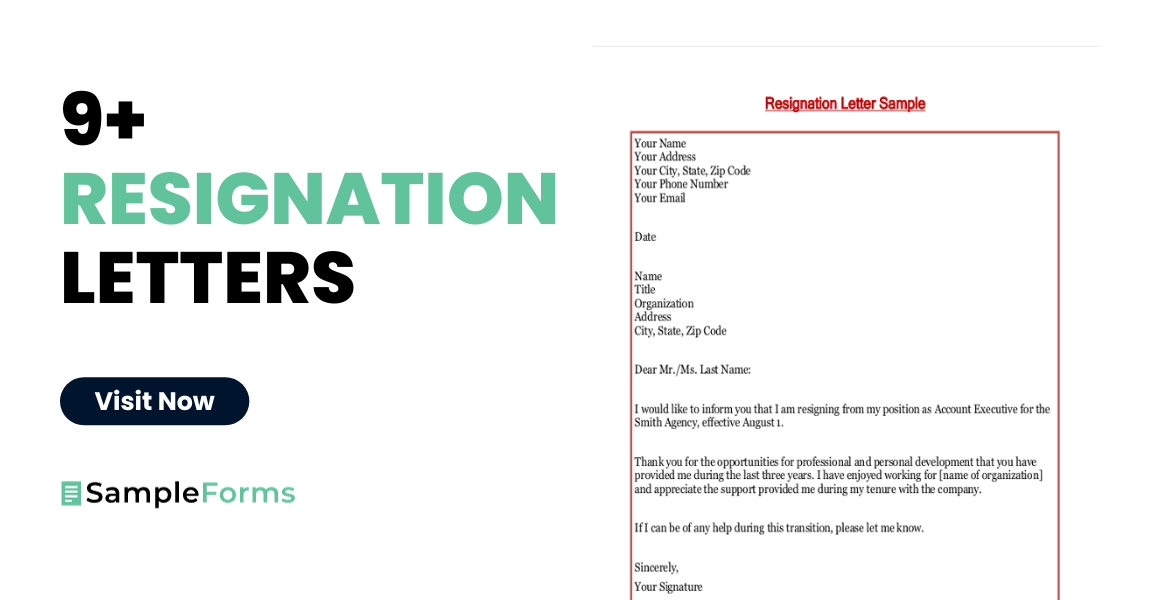 We all need to come across this day in our professional lives when we have to resign from our job. The reason may vary from person to person. Few employees resign due to personal reason, and few others resign due to the availability of a better job offer. The last duty of an employee before terminating services with an organization is to intimate the concerned authorities about the resignation. And informing them through a letter of resignation is an ideal way, but you need to ensure that you don't sound rude or should write anything about any negative experience during your working tenure. Sample Letters can be of great use during such situation.
Sample Resignation Letter For Teacher in Word Format
If you are working as a teacher in any school or educational institute, then you should address the resignation letter to the principal or director to intimate him/her about your resignation with reason. You should mention the date till which you are going to work, so that look for a replacement. You may also see Letters of Resignation.
Sample Job Resignation Letter
This Sample Job Resignation letter can be used for resigning from your job, and it is not mandatory to mention the reason behind your resignation. A polite tone and professional approach can be seen in this letter. You can also see Sample Resignation Letters.
Free Sample Resignation Letter in Word
This is a resignation letter sample that is available in MS Word format. All you need to do is download this sample, make the necessary edits and use it for your purpose.
Sample Professional Resignation Letter
This sample letter can be used to inform the concerned authorities about your resignation, and this will be an ideal way to go about this task. The letter includes all the essential aspect that a resignation letter should have.
Sample Resignation Letter With Reason
You can use this resignation letter sample if you would like to mention the reason for your resignation. The reason can be anything from getting a better job opportunity to have an issue with management. You can also see Letter of Resignation Samples
Downloadable Resignation Letter Sample 2 Weeks Notice
The resignation with a 2-week notice period is appropriate as the employer can look for a replacement during that period. The language used in this letter is easily understandable and the tone used is professional too. Two Week Notice Letters.
Sample Nurse Resignation Letter in Word
If you are working as a nurse in a medical or a healthcare facility and if you have decided to resign from your job due to any reason, you can use this sample letter to convey the message to the concerned authorities in the best possible manner.
What Are The Benefits of These Sample Resignation Letters?
A resignation letter from a departing employee of an organization is very critical because this is the most appropriate way an employee can intimate his/her employer about his/her decision to quit from the job position. It is important for the employer to know about your decision because he needs to forward your resignation to the human resource department who will take the decision of approving your resignation. The resignation letter should be provided 2-3 weeks before leaving so that they can arrange for an ideal replacement. Also, providing a formal and appropriately written resignation letter helps in maintaining a healthy relationship with the employer even after you leave the organization. You may also see Formal Letters.
Is It Mandatory To Mention A Notice Period In The Resignation Letter?
Most organization have notice period that the departing employees need to serve even after intimating the employer about their decision to resign from their position. The notice period varies from organization to organization and the employee who has resigned and whose resignation is already approved, need to perform his/her duties like he/she was doing earlier, before resigning. The notice period is critical for the employer as they need to find a replacement for the employee who has already resigned and is serving the notice period so that they don't face any problem after you leave the organization. So, whether you are going to serve a notice period or not, it is always recommended to mention a notice period in the resignation letter. You can also see Letter of Resignation.
If you are looking for sample resignation letter samples online, for your better convenience we have provided you with a collection of resignation letter samples that will help you to get a clear idea of what an ideal resignation letter should contain. You can directly use these sample after making the necessary changes or use them as a reference and craft your unique resignation letter. The choice is yours.