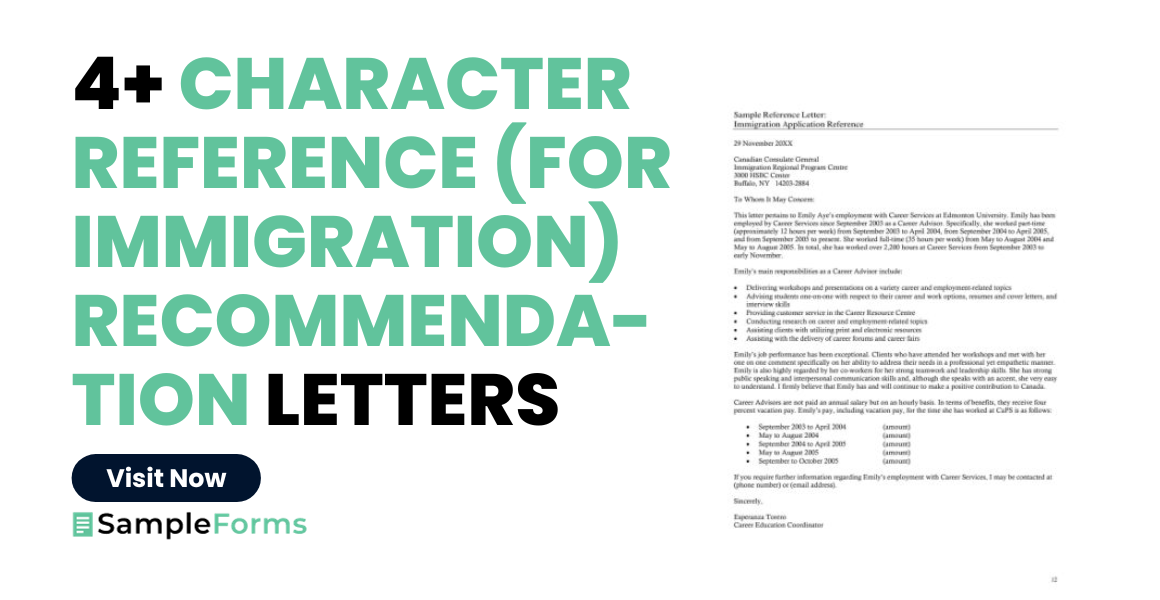 The story of the immigrant in the New World is indeed brave because it is paved with rich, colorful, and often painful history engraved on the pavements of Ellis Island. Amid the turmoil and debate over foreign—particularly immigrant policy, never has it been more important to follow the right process for accepting immigrant workers and tourists or visiting foreigners. If you are an employer, a family member, or someone qualified to recommend a person seeking entry into the United States, you can make the process easier through an immigration recommendation letter.
If the Statue of Liberty had an hour's worth of life, it would be weeping for its sons and daughters in a country now divided by the very principles from which it was founded. Politics and sentiments aside, since an immigrant application for residency and employment are arguably more restrictive at present, securing a Character Reference (for Immigration) Recommendation Letter would help someone involved in immigrant proceedings gain leverage over their case. Or secure entry, and permanent or temporary residency in the United States as well as avoid deportation.
What Is a Character Reference (for Immigration) Recommendation Letter?
To maintain the safety and security of its people, the Federal government requires non-citizens to complete certain procedures before legalizing the entry of these individuals. Writing a character reference for immigration is done in behalf of a person who needs support or strong backing information for their immigrant application or any related proceeding.
FREE 4+ Character Reference (for Immigration) Recommendation Letters in PDF
1. Immigration Response Letter
2. Immigration Reference Letter Sample
3. Immigration Character Reference Responsibilities Letter
4. Sample Immmigration Reference Letter for Visitor
5. Visa Letter of Recommendation
The United States is a melting pot of fresh talent, intelligence, and skills from every field and discipline known the world over, rooted in different cultures from which it owes its global power. Because of that, the country continues to attract scholars, innovators, researchers, and so much more for its workforce. There are also people daring and desperate enough, or those who have nothing to lose, coming here to taste even just a spoonful of that famed American dream.
Steps to Write a Character Reference Letter for Immigration
If you're the one planning for a long-term stay or even just a short visit to the United States, having a qualified and reliable character reference would help you avoid the possibility of a visa denial. Follow the steps below to end up with a character reference letter for immigration that will be hard to dispute.
Step 1: Search for a Character Reference Template
You can't start writing a character reference or recommendation letter without looking for a template. It is such a hassle to have to create a character reference from scratch, and by from scratch—literally from nothing. Why not choose a template and download it to save time and waste no effort on your part instead? Do the smart thing and opt to use a model, giving justice to the initiative of the creator of the template itself. If you want to help designers everywhere who are struggling to get paid for what they do, then use a model.
Step 2: Meet, Know and Evaluate the Requesting Party
You can entirely write about a person if you know them by heart, or by having to ask them the right questions in an interview. Writing about your participant without any prior interaction is a futile effort. You can't write about anything other than his physical appearance. Looking at reports that describe the person will not help you since it is in the So before you start, set a schedule with your applicant. Prepare questions that will help you get an idea of who is the person that you will describe in the reference letter. Once the interview schedule comes, engage in the conversation. Ask the applicant not only about himself but also about what he believes. You may be able to create a picture of the person you will write in the sample letter.
Step 3: Write a Strong Introduction
Introductions are strenuous to construct since it is the part that persuades the audience to continue reading. Enticing the reader to keep moving down the letter can be a difficult thing to do. Your introduction must be significant that it gives a positive image of the applicant to the immigration officer. If the officer has a positive image during the first few sentences, then it means your introduction is working. If the first few sentences do not give the right picture of the applicant, then you might rethink and review the first paragraph. Read the introduction aloud since doing so will help you know if it works or if there are flaws.
Step 4: Include a Description of the Applicant
Reference letters exist to give the recipient an idea of who is the requesting party. Write a short description of the applicant, a sort of personal physique information. The first descriptions should detail the applicant's physical appearance and health condition. Is the applicant fit and healthy enough for the travel and weather conditions toward the destination? The immigration office must know of the applicant's health conditions to avoid any risks, preventing further health damage to the applicant if he has any. Citing a doctor's approval of the applicant to travel is another way of boosting the success rate of getting the person approved by the immigration office.
Step 5: End With an Explanation of the Relevance of Personality
The next part of the description would be the applicant's personality and work ethics. Aside from the applicant's health conditions, the immigration office will also look not solely the physical appearance but also the qualities that define a person—character. An applicant's character matters since the immigration office will be the one in trouble if they approve of a rude and toxic person. So the office will do its best to screen and give a sample evaluation to applicants if they are qualified enough to go to another country. Make sure to detail the applicant's character accurately. If you need to cite situations, then do it.