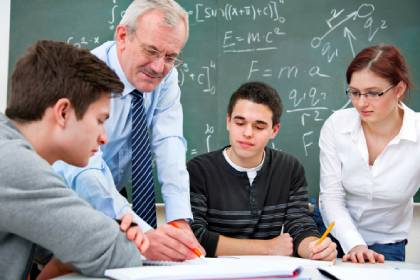 Personal development and growth are among the main reasons why people pursue the path of higher learning. Graduate Schools offers the promise of not just furthering the knowledge gained from a college education, but also the promise of the advancement of one's career. Having someone who could vouch for your skills, exemplary achievements, and your A-type attitude to an institution for higher learning boosts your chances of being admitted.
What Is a Graduate School?
Graduate schools are institutions of higher learning for further advancement of one's knowledge of subjects obtained from a college education. Admission in these institutions typically requires earning an undergraduate degree. In most cases, students are required to produce original research specifically for studies in the field of social sciences, natural sciences, and the humanities to complete their studies in these institutions.
What Is a Graduate School Recommendation Letter?
Graduate School Letter of Recommendation is a type of formal letter that recommends an individual for admission in an institution for graduate studies. In this letter, an individual's work ethics, skills, academic, and professional achievements are highlighted to justify its admission. These are addressed to the admission board or dean of the school. These Letters of Recommendation are required for submission before being admitted to such an institution.
MBA Recommendation Letter Form
MBA or a Master's Degree in Business Administration is a graduate degree in the field of business; wherein, it involves the study of analysis, corporate strategy, business ethics, marketing, and management. Having an MBA advances your career in business administration and allows you to be employed in management positions.
MPA Recommendation Letter Form
A Master Degree in Public Administration is a graduate degree that specializes in the field of governance and public service. Individuals taking MPAs prepares them to serve in administrative functions such as in Government Agencies and Public Offices.
MHA Recommendation Letter Form
A Master Degree in Health Administration is a master's degree which focuses on careers in management of hospitals, health services organizations, and public health infrastructures. This degree program prepares graduates of health disciplines for senior management roles.
Law School Recommendation Letter
Law Schools are academic institutions that specialize in legal education. Admission in these institutions generally requires an undergraduate degree in any discipline. Law school curriculum are composed of a variety of subjects such as constitutional law, criminal law, legal proceedings, contracts, and legal research.
Sample Graduate School Recommendation Letters
Sample Graduate School Recommendation Letter
Sample Graduate School Recommendation Letter
Fact
Did you know that more women enroll in graduate studies than men? In a study, 57 percent of graduate students in the United States are female. It means that six women are enrolling in graduate school for every four men. The majority of female enrollees are taking up a master's degree in several fields, including public administration and health sciences. In contrast, women enrollees remain in small numbers in science, technology, and engineering programs.
Graduate School Letter of Recommendation Sample
Sample Graduate School Recommendation Letter
Sample Graduate School Letter of Recommendation
Graduate School Recommendation Letters Tips
Admission in graduate schools is not walk in the park kind of affair. On contrary, getting accepted is like getting a thread through a needle's eye blindfolded. While most graduate schools have high acceptance rates, most "ivy league schools" acceptance rates are low due to the amount of scrutiny they give to applicants. 1 out of 10 applicants are lucky enough to get accepted in these schools but, if you're looking for quality investment then applying to ivy league schools are worth a try.
Graduate School Recommendation Letters are generally written by people who would recommend you to institutions offering graduate studies. To ensure your admission to those institutions, here are the tips on how to have an effective Graduate School Recommendation Letters.
1. Look for Somebody that Would Recommend You
In looking for a person who would recommend you look for experts on the same subject that you are pursuing a master's degree for. That professional should be someone that you have formed a close working relationship with for a long time. These people could be your college professors, chief physicians, if you're applying for an MHA, your immediate superiors, and even mentors. They will readily highlight your skills, achievements, and progress through the period in which you've closely worked with them.
2. Provide Extra Information
Providing extra information to persons that would recommend you help them include skills and achievements not known during the time you've closely worked with them. Help them by providing documents such as your CV and certificates from training and awards. You can also help them further by giving small details such as a list of extracurricular activities like volunteer work and even giving the date on when they should submit the letter.
3. Express Gratitude
Don't forget to thank the people that recommended you if ever you got accepted into the academic institution that you are applying to. Expressing gratitude for favors received goes a long way, not just for you but also for the people who gave it. There are a lot of ways to express your gratitude. One of which is by sending a small token with a thank you letter or note attached to it.
What to Expect in Graduate School
Once you get accepted into a graduate school, the first thing that you should know and realize is that it is different from undergraduate schooling. In graduate school, you are expected to be a self-starter, which means that you are the captain of your own ship and its crew at the same time. Second, the quality of research that you produce will reflect on your thesis. Much of your life in graduate school will revolve around research, which means much of your time will be spent on writing a research proposal, gathering information, materials, reading, and writing your thesis. Lastly, prepare to defend your research. Your research will be presented and evaluated by a panel of experts in which you're required to protect its validity. How you did during your thesis defense will determine the success or failure of your graduate studies.