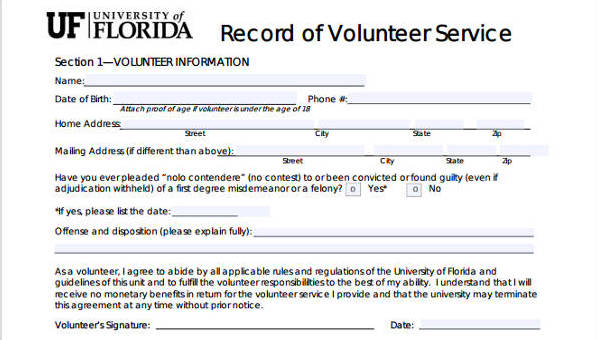 Service Forms are commonly used by clients, organizations, and claimants. An Acknowledgement of Service Form is a document which is needed to be signed by the defendant indicating that he received the details of a claim as a proof of his response towards the case. Some states and countries require the defendant to respond to the claim within a period of 30-days.
Another type of service form is a Selective Service Form which contains the information of the individual who signed in joining the Selective Service Agency. This organization is the one who is responsible for keeping track of eligible men who are potential subjects for military conscription.
Student Volunteer Service Form
Army Volunteer Service
Volunteer Community Service
Volunteer Record Service
Volunteer Service Documentation
What is the President's Volunteer Service Award?
The President's Volunteer Service Award is a type of award given by the president of the United States to a citizen who has outstanding volunteering records. This is a way in motivating the citizens of the country to serve their fellow men by granting a volunteer service that sums up to a hundred hours in one year.
The candidates for the awards must have a proper documentation for every volunteer activity that they joined. One of the documents that may help them as a proof for their actions is a Community Service Form. This will contain the credits for the owner of the form and the details of the activity done.
Why is Volunteer Service Important?
Volunteering is essential for a person's well-being. Anyone can give a volunteer service in any possible way, such as helping an old woman cross the road. There are some services that require volunteers to have proficiency in a particular skill.
An example is in the mechanical industry, where a company that fixes cars accepts volunteers for a day. The volunteers are expected to fully understand the importance of a Vehicle Service Form to attend to their clients and to know the basics of a mechanic's role.
Volunteer Service Hours Form
Volunteer Agreement Form
Volunteer Service Verification
Volunteer Medal Form
Sample Volunteer Service Form
How to Start a Volunteer Service
There are numerous ways to start a volunteer service, and these are as follows:
Research ideas and volunteering agencies. The internet is a friend, especially for searching volunteer agencies which are beyond your own location.
Look for immediate needs within your community that you can provide. Just choose what type of project will help your community and develop a strategy to make this into a reality.
Sign up for the Selective Service System. Our Selective Service Form Samples will give you an idea and a checklist if you are eligible for joining the service or not.
What are the Requirements for the Volunteer Service Medal?
A candidate for the award must (be):
A member of the military.
Able to complete 500 hours of volunteer service outside the military duty.
Have volunteered for activities that produced some tangible results and are for the community.
If you have met the criteria as a probable candidate for the volunteer service award, you need to submit complete documents as your volunteering pieces of evidence. Our Sample Service Forms contain forms for community services, certificates for your rendered services, and a form to acknowledge your proof of service.