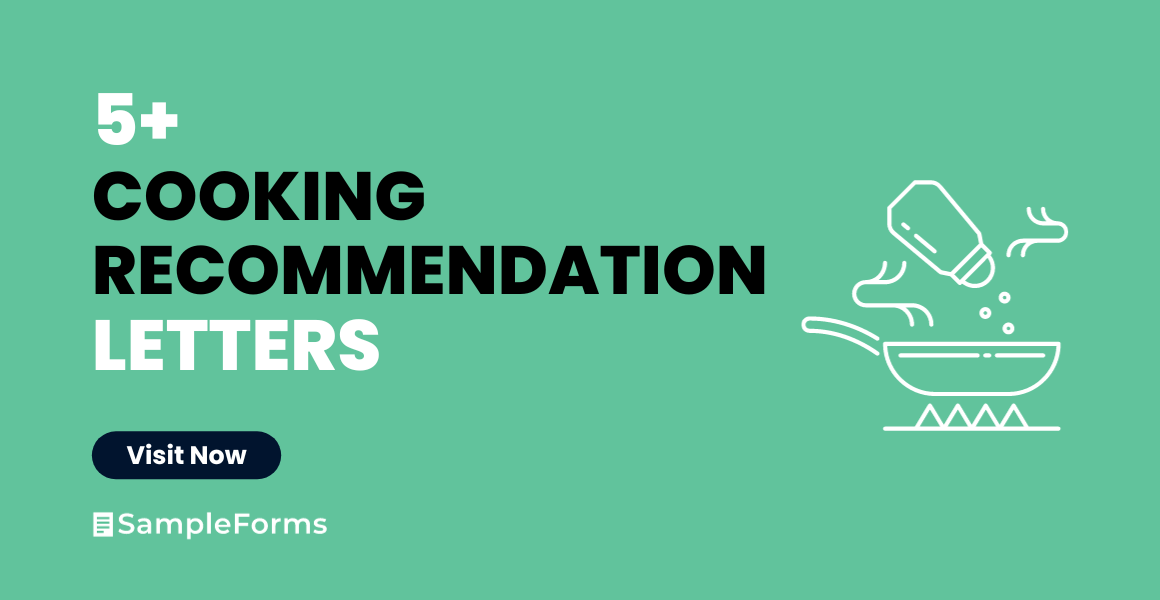 Hotel cook, chef, and head cook job positions have been on the rise recently. Job positions that require knowledge in the composition of food and cooking techniques now have high salaries, with the annual salary total being $48,460. However, culinary job positions must also require an intensive degree in creativity and leadership.
You can't survive the culinary world with raging food critics and customers by merely knowing how to cook. You need to have various cooking skills from multiple cooking techniques from various cuisines. But how will employers know you have exceptional cooking skills? Through a chef recommendation letter, employers will be able to have a background on your experience.
What Is a Cooking Recommendation Letter?
A recommendation letter is a formal business document that is written by a person who is higher in position than the person he is writing about. The formal business document aims to give comments and feedback to the employer on the overall personality, attitude, and credibility of the one to be endorsed.
A culinary recommendation letter, specifically a chef recommendation letter, aims to endorse a chef to a certain five-star restaurant, hotel, or any environment that deals with creating food. The recommendation also serves as a means to promote the chef for a higher position in the establishment. There are other various recommendation letters for various scenarios and purposes. Currently, there are three categories for recommendation letters.
Types of Recommendation Letters
Recommendation letters serve to endorse or promote a person's character and personality for a job position they are vying for.  There are three categories of recommendation letters—academic, employee, and character.
These three categories are used differently, depending on the circumstances. These categories are carefully written and highlight different priorities. Here are the three categories presented below with their respective areas of priority.
Academic
This type of recommendation letter is used when someone applies for graduate school or when a high school student applies for a college.
Employee
This type of recommendation letter functions similarly to an academic recommendation letter, but only the setting is different. This type of letter highlights an endorsee's qualifications for a job position.
Character
This type of recommendation letter is used for child custody battle or adoption qualifications. This type of recommendation letter focuses on the endorsee's qualification as a parent or guardian.
Samples of Recommendation Letters
Displayed below are samples of chef recommendation letters written by head cooks and executive chefs from various prestigious hotels and restaurants that aim to endorse the skills and personalities of their best employees, who want to relocate to a new place for experience.
Examine the six different sample chef recommendation letters, and take note of the elements and the forms used for your reference when creating your letter.
How to Create a Cooking Recommendation Letter
Culinary recommendation letters matter that much to the endorsee who badly wants the job they are applying for. Help him or her out by creating a professional and effective recommendation letter that will ensure the endorsee that he or she will get their dream job. Here are a few steps and tips on how to create a culinary recommendation letter.
1. Choose a Template
The process of the creation of the recommendation letter begins with the selection of a suitable template. You can visit our website template.net that hosts a wide variety of premium high-quality cooking recommendation letters that are easily customizable and fully compatible with various platforms such as Microsoft Office and Adobe.
Dive into our vast media library, and select a cooking recommendation letter templates. Download one template that piques your interest. Personalize the template to your liking.
2. Use a Suitable Font Style and Size
Traditional styles have always been highly valued and widely used by most due to the formality it radiates to the audience. Traditional font styles—Arial, Garamond, Times New Roman, and Georgia—are best utilized for formal business documents such as a recommendation letter.
Imagine using sample journal font styles, styles that contain extending curvy features, on a recommendation letter. The letter wouldn't appear formal but rather personal. The letter wouldn't emit a professional image but rather an image of a friend.
3. Add the Logo of Your Restaurant
Most recommendation letters do not require a creatively-designed photo or a logo on the document. However, you can opt to place a logo design on the uppermost corner of your recommendation letter.
The logo must be coming from the company or restaurant that you, as an endorser, manages or works in. A logo will help establish more credibility with the recommendation of your endorsee.
4. Use Salutations
Start the body or the content of the letter with a simple "Dear Mr./Ms (insert name)." However, do note that most recommendation letters use "To whom it may concern" as their starting phrase. You can use either both, but using the former will give more politeness to the tone of your recommendation.
5. Your Credentials
The first paragraph must contain the nature of your credibility as a person who recommends a certain person for a job position. You must state your credentials, such as your job experience and your current position.
State also the nature of your relationship with the endorsee. A brief history of how you and the endorsee came to know one another will suffice.
6. Your View on the Endorsee
The next paragraph constitutes your assessment of the endorsee. The succeeding paragraph must contain your on-hand experience on the endorsee's personality and attitude toward his responsibilities. You can also provide a brief background on the endorsee's strengths, weaknesses, interests, and so much more.
7. Evaluate Your Work
After hours of creating the output, the last on your mind must be to evaluate the final presentation. Evaluate the level of professionalism in how you integrate your firsthand experiences on the endorsee on to the paper.
Check the sentences and paragraphs for grammatical and contextual errors. Once you are done, have it proofread by someone else for a final assessment of your work.