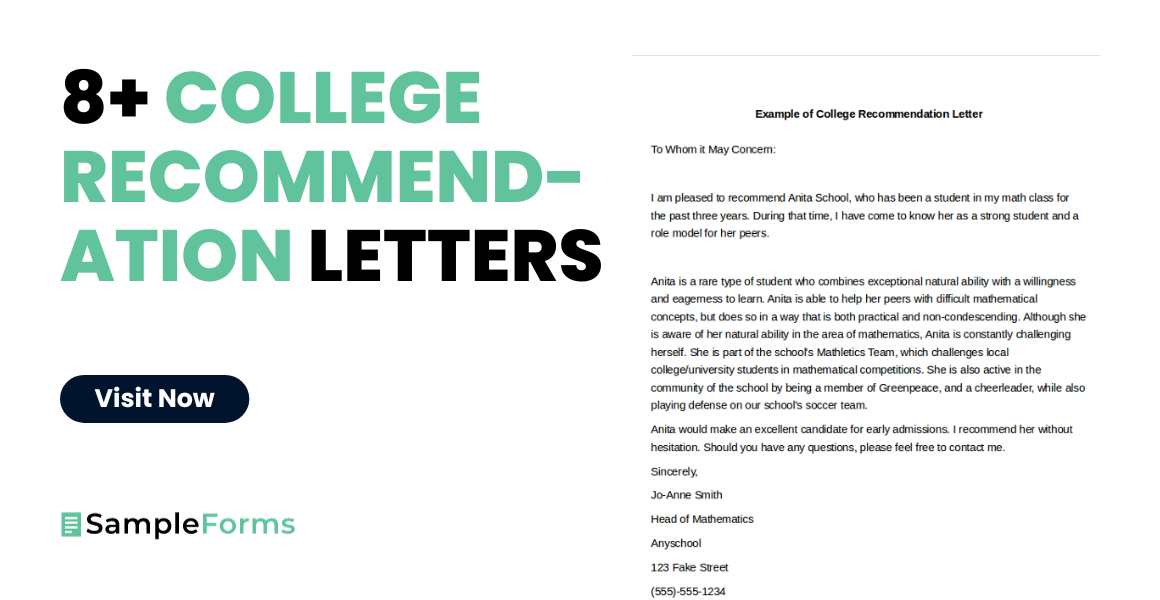 A recommendation letter can help a person in many ways and when it comes to college, this is no different. A college recommendation letter can help a student to attain certain benefits or provisions like admission into the college, scholarship, hostel facility and what not. However, writing a college recommendation letter that is presentable and looks professional can be quite a task. Using Sample Letters can definitely simplify this task as these comprise of well-written sentences and important sections.
Sample Letter of Recommendation For College
As the name indicates, this is a sample letter which can be used by a person to draft a sample letter for college. It contains all the important segments to be included in the letter. However, the user can make necessary changes to it based on the reason for which he may be writing the letter.
Letter of Recommendation For College Admission
When an influential person wishes to help a student to gain admission in a college, he can use this letter to draft such a letter. With all the required statements and sentences in place, the letter can be personalized within a matter of a few minutes.
College Recommendation Letter From Teacher
A teacher who wishes to help his or her student to avail certain benefits like a scholarship, a project approval or an internship can use this recommendation letter to draft a unique document. All the teacher needs to do is fill in the required details in the segments allotted. You may also see Recommendation Letter Formats.
Example of College Recommendation Letter
This is an example of a college recommendation letter and it gives the user an idea about the format to be followed and the way to write the letter in a professional way. The user can, however, alter the style as per his needs. You can also see Letter of Recommendation Samples.
Letter of Recommendation For College Scholarship
A person who may be acquainted with the college management and wishes to help a student to acquire a scholarship can use this letter to offer a recommendation to the college. Since the letter contains all the important sections, the person can quickly customize this.
College Recommendation Letter for an Average Student
When a student wants to take admission into a particular stream but has not acquired enough marks for it, he can get a recommendation letter from an influential person for the purpose. The person can get an idea of how to write such a letter using the aforesaid sample.
Graduate College Letter of Recommendation
This letter comes in handy when a person wants to help a student to get an admission or acquire certain benefits in a graduate college. This letter gives him an idea of how to draft a professional and serious college recommendation letter.
Target Audience for College Recommendation Letter
A college recommendation letter can help a student to gain admission or other benefits in a college. However, the letter should be written by a person of importance. Thus, the target audience for college recommendation letter is
People in influential posts
Government officials
Teachers
Students
College officials
College management
What are the Benefits of Using a College Recommendation Letter?
This letter is written by an expert and thus had an air of professionalism to it. Thus, the user using the letter does not have to worry about the presentational quality of the letter. He can go ahead and use it to draft a perfect recommendation without the help of an expert
With all the sentences weaved in professional style and all the important segments in place, the user just needs to add in the relevant information into the letter
The user can make changes to the college recommendation letter format and content depending upon his requirements. You may also see Formal Letter Formats.
Not sure how to write a perfect college recommendation letter? Well, why not take a look at our vast collection of the letter of recommendation? You are sure to find one that will be perfect for you. Just download and personalize it with the important details. These letters are print ready and thus help you draft and send a recommendation letter in a jiffy. You can also see Letter of Application Forms.