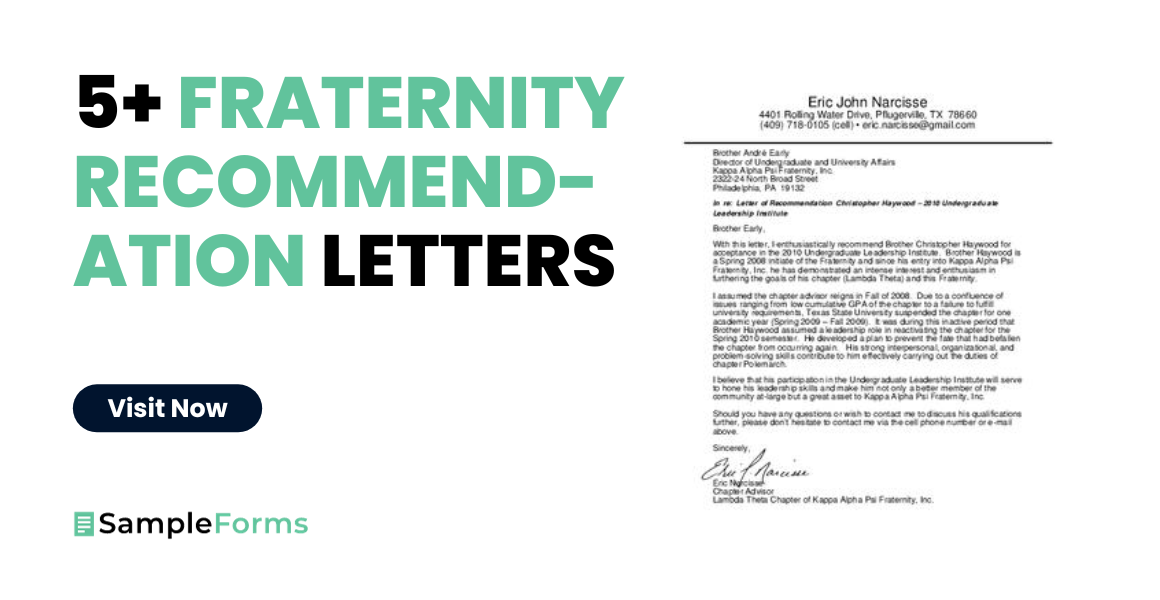 Do you feel alone and scared when going to school? Worry no more. Join a school fraternity. Joining a fraternity is easy if you have a friend who is already part of a brotherhood. You can ask your friend, who is part of a fellowship, to write a recommendation letter for you. The application process can become more comfortable, and maybe you won't have to go through the usual notion of initiations, which involves rigid traditions as part of the acceptance into the brotherhood. However, you may need a fraternity recommendation letter.
What Is a Fraternity Recommendation Letter?
A letter of recommendation, also known as a recommendation letter or a letter of reference, is a formal business document that the writer of the letter's message, usually someone of high position, assesses the applicant's characteristics, skills, abilities, and so much more.
A fraternity letter of recommendation helps the person to gain more advantage during an application to join the school fraternity, a request for a scholarship, or even an application to a prestigious college. This function or type is merely one of the things that the brotherhood can offer to the members and to the people who want to join. But first, what is a fraternity?
A fraternity, according to southwestern.edu, "is a group of men who are part of a brotherhood built on common goals and aspirations that make a commitment to each other for life." A fraternity can help you gain many opportunities in life.
Despite the initial idea that a fraternity as a brotherhood—new practices have given the impression that fraternities are similar to that of a gang, a mafia, or a cult. Hazings are the usual manner of initiation of modern fraternities, and members must submit all of their loyalty to the group.
However, some fraternities still try to follow the most fundamental reason why fraternities exist, which is to promote brotherhood without the brainwashing and hazing. A fraternity offer acceptance or recommendation letter can help you get into many universities and establishments, which the usual applicant without a fraternity has trouble entering.
FREE 5+ Fraternity Recommendation Letters in PDF
Here are six samples of fraternity letters of recommendation that you can use as a reference when you have found someone who will write your recommendation letter. Let your writer browse through the samples we have prepared and presented below. Let him compare and contrast the sample forms to see if he can find any similarities or differences.
1. Generic Sample Letter of Recommendation
2. Sample Fraternity Letter of Recommendation
3. Sample Generic Letter of Recommendation
4. Sample Letter of Recommendation
5. Sample Fraternity Letter of Recommendation for Scholarship
6. Sample Fraternity Letter of Recommendation
Three Types of Recommendation Letters
Recommendation letters, also seen as a more advantageous registration form, have three types of focus. All three are similar in how they are structured and formed but differ solely in the area each of the types prioritizes. Here are three types of recommendation letters that you can use as references.
1. Employment Recommendation Letter
This letter of recommendation type solely focuses on getting the applicant accepted to a job that he or she is applying for. Usually, a paragraph or section that describes the job applicants' work personality and abilities are dedicated to the letter, positively praising the skillset of the applicant. The usual writer for this type is the applicant's previous employer, manager, supervisor, or team leader.
2. Academics Recommendation Letter
This letter of recommendation is similar to the previous one, but the focus is on the academic side. This letter of recommendation helps a student get into the college or university that he or she wants to study in. This letter of recommendation type can also be used to get the student a scholarship form. The person who usually writes for this type of letter of recommendation is the student's previous professor or teacher.
3. Character Reference Letter
This letter of recommendation type can be for either employment or academic means, but the focus is solely on promoting the applicant's personality, attitude, and characteristic as a person. This type of letter of recommendation is usually aimed at jobs that deal with people. A character reference can also be used for immigration purposes.
How to Create a Fraternity Recommendation Letter
Here are six easy steps and tips to help the person who will write the letter to make the content professional and formal but easy to understand. Carefully read the process that w have prepared for you during the creation of your fraternity letter of recommendation.
Step 1: From the Wide Selection, Choose a Template
You must go to template.net and browse through the vast ocean of professionally structured, high-quality templates. Select one that suits your preference and download it. Open the model and start customizing it.
Step 2: Serif Font Styles Are More Formal
You must use the serif font styles, specifically the default ones such as Garamond, Times New Roman, and Georgia. Serif font styles are more formal than sans-serif font styles, and business documents have been using the serif font styles for their official appearance. Select only one serif font style that you like to be seen on the material.
Step 3: Look at Online References
When you doubt the knowledge that you currently possess regarding the letter of recommendation, you can go to the Internet and search for other online references. Be careful, though, when you go through websites. Some websites are not credible sources and may even harm the content of the letter of recommendation.
Step 4: Give a Brief Description of Your Qualifications
Tell your writer to dedicate one paragraph that states why he or she is credible to be the one who will recommend you. Let him write a few sentences about his certifications and credentials. He must also write and explain the nature of his relationship with you. This section can also be seen as an explanation for why he is chosen as the writer for your letter.
Step 5: Describe the Applicant Positively
Let the writer briefly and positively describe your qualifications, such as your personality, skills, abilities, etc. Tell him to use a positive tone, a tone that praises your achievements and character.
Step 6: Review the Whole Letter File
Once the writer is done writing the letter of recommendation, you must evaluate the whole document. Have a professional grammarian or editor review the file for any grammatical or contextual errors.