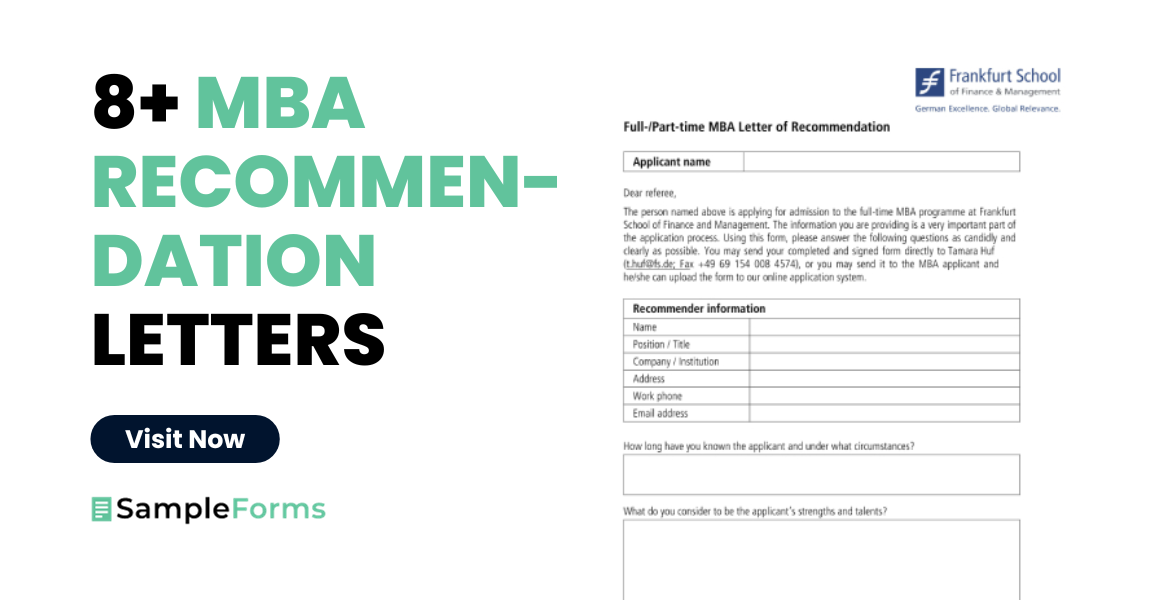 Applying for business-related programs and companies will always be tough, especially with the tight competition of applicants nowadays. MBA or Masters of Business Administration applicants are no exception in this situation. That is why applicants are asking recommendation letters from their previous establishments to get higher chances. Recommendation letters are always handy in both education and work applications. The formal letter contains past performances, accomplishments, and capabilities an applicant possesses. This document helps you gain your potential employers' and professors' trust even before getting hired.
What is a Recommendation Letter?
A recommendation letter is a document that showcases an applicant's qualities and capabilities relevant to the work they are applying for in the industry. This formal letter is from former professors, managers, employers, or co-workers who worked closely with you in your work field. It is useful when a person refers you to take a job position or university you desired. This material are a great support when you are applying either in universities or companies.
FREE 8+ MBA Recommendation Letters in MS Word | PDF
Creating MBA recommendation letters may be a bit tricky and a hassle to write from scratch. So, here are a few sample recommendation letters you can use as references for your convenience. These documents are downloadable in all versions of DOC and PDF.
1. Sample Letter of Recommendation
2. Example Recommendation Letter
3. Full-Time MBA Recommendation Letter
4. Sample MBA Recommendation Letter
5. Recommendation Letter for MBA Applicants
6. Full/Part-Time MBA Recommendation Letter
7. School MBA Recommendation Letter Sample
8. MBA Program Letter of Recommendation
9. Executive MBA Letter of Recommendation
Advantage of Using Recommendation Letters
Writing recommendation letters have different benefits from different perspectives. It is both beneficial for the applicant and the employers. In the case of MBA applicants, it would surely help them enter their desired universities in getting their MBA program. Here are a few benefits of using recommendation letters.
Support document for your application: Not all resumes and application forms have the information companies or universities are looking for. Most establishments prefer a recommendation attached to the application documents for further details about the applicants. It backs up your records in case the employer or head needs an elaboration about your performance.
Verify the qualities in your CV resume: Recommendation letters highlight your capabilities as a reliable student and employee. The document proves that the information in your curriculum vitae (CV) resume is honest since your previous teachers or professors wrote it. School administrators will have an easier time evaluating your resume and school application forms since the recommendation letters already have a detailed review of your performance.
Increase chances of entering the institution or company: With the referral from your former acquaintances, you will have higher chances of getting your MBA program or job position. Recommendation letters help you build a positive impression from your future professors or employers even before getting accepted. Sometimes, companies use recommendation letters as detailed character references of the applicants.
Taking in reliable students or employees: From employers' or professors' perspective, recommendation letters help them decide who to accept in their establishments. Former acquaintances' references are more believable since they have experienced first hand the applicant's work performance. Employers would always seek reliable and capable employees, the same goes for educational institutions.
How to Write an MBA Recommendation Letter
Masters in Business Administration or MBA recommendation letters are useful when students apply for an MBA program in their desired universities. It is usual for an institution to require an applicant two or three recommendation letters from previous teachers or employers to support the applicant's school admission process. As a recommender, you must write recommendations carefully and professionally. For your convenience, here are a few tips you can follow on how to write recommendation letters effectively.
Step 1: Know the MBA Applicant Well
As a recommender, you must know the applicant you are referring to in the recommendation letter. Your opinion about the applicant's performance matters most for employers and professors since you are the one who worked closely with the applicant before them. You must highlight in your message the relevant accomplishments and qualifications that the candidate possess for them to excel among other applicants.
Step 2: Identify the Letter Recipient
One of the essential details you should know next is the recipient of the recommendation letter. You should know who to address the recommendation letter to prevent it from getting lost. The recommendation letter should have the recipient's full name, position, and the institution's address. You need to address the reader formally to maintain a professional and polite tone.
Step 3: Write a Short and Direct Message
Writing short and precise recommendation letters will make it easy to understand. Make sure you have stated clearly your intentions to avoid any misunderstandings with the recipient. Your recommendation letters are like request forms. Since you are making a formal letter, remember to use a polite tone in making your message to show respect to the recipient.
Step 4: Keep an Organized Format
For a professional document, it is understandable to use a clean and organize letter format. Like mentioned earlier, your formal letters are better short and direct. There are various sample MBA recommendation letters available online that you can use as references. You can download one that suits your preferences, and start creating your very own.
Step 5: Print or Email
Once you have finalized the content of your recommendation letter, you can now send it to the addressee. It is up to you if you want to send it as a printed letter or send it directly through email. If you are going for a written document, you should use high-quality paper for better quality. Always remember to proofread your message before printing or sending it to avoid any conflicts. Every company and educational institution has different policies in terms of admission and application process. That is why you need to check each establishment's admission and application processes to follow the correct procedures before submitting the recommendation letters.