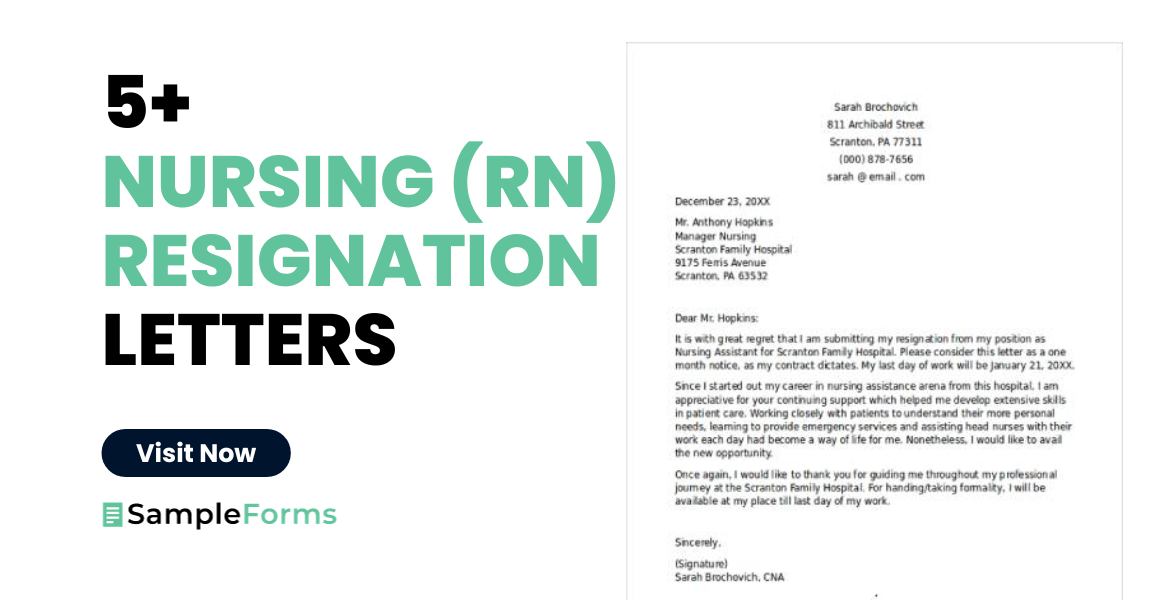 Being a nurse is physically exhausting as well as it is mentally tiring. Overworked and underpaid, nurses have to endure double shifts, time away from their loved ones, and unruly behavior from patients. All of those piles up into a mountain of stress that they have to carry on their backs daily. As a result, most of them could no longer bear the burden and eventually decide to call it quits. Yet, despite the love that they have for the profession, they could not afford to stay any further with the profession that could not love them back. So, they reached for a pen and paper, did a little reflection and then starts scribbling down letters that spelled resignation.
What is a Nursing (RN) Resignation Letter
A Nursing Resignation Letter is a resignation letter written by nurses to express their intention to leave the profession. This letter details all the reasons why they decided to quit the job. This resignation letter is written days or weeks before the person's intended date of leaving the job. A Nursing Resignation Letter is often addressed to the head nurse or any superior officer in the hospital where the person is working.
FREE 5+ Nursing (RN) Resignation Letters in PDF
1. Nursing Resignation Letter Template
2. Formal Nursing Resignation Letter
3. Sample Nursing Resignation Letter
4. Letter of Resignation for Nurses
5. Resignation Letter for Nurses
6. Nursing Director Resignation Letter
Why Nurses Leave their Jobs
Nursing is a profession that's both physically and mentally demanding. It's a profession that is a constant imbalance between life and work. Because of this, only a few people survive the nursing profession. According to an article, "nearly one in five new nurses leaves the first job within a year," and due to this, hospitals are losing nurses faster than they can replace them. This is caused by a variety of reasons, and listed below are two of the top reasons why they leave in the first place.
1. They are Overworked
Nurses often endure working double-shifts with little or no rest. Because of that, they are stretched beyond their normal capacity as human beings. This takes a heavy toll on their health, both physically and mentally. Enduring this kind of working condition often leads a person to its breaking point, which eventually makes them decide to leave for good.
2. They are Underpaid
Aside from having to endure working beyond their shifts, nurses are often underpaid for the amount of work they rendered. Also, the pay they get is not enough to compensate for the emotional and psychological trauma that comes with working in a hospital setting. Being underpaid despite the things that they have to endure in the workplace will eventually make them grab a pen and write their resignation.
How to Write a Nursing Resignation Letter
Being overworked and underpaid often brings nurses into their breaking points. It comes to a point where they would say "enough is enough; my work here is done." Subsequently, leaving the job would come across their minds, and at the same time, begin writing their resignation letters. If you're a nurse who shares the same experience with others, here are the steps on how to write a Nursing Resignation Letter.
Step 1. Write Down the Reasons Why You Want to Leave the Job
Detail everything that made you decide to resign and leave your job as a nurse. Do not be shy to express them in your letter despite how awful they are. State them explicitly. Stating your reason to leave the job by detail enables the senior management to improve the hospital's work environment.
Step 2. Write it Briefly and Concisely
A Nursing Resignation Letter is a formal letter. So, in expressing your decision and intention to leave your job as a nurse, write it briefly and concisely. To do that, avoid writing anything that doesn't have to do with your decision to resign. Doing so allows the higher-ups to read your Nursing Resignation Letter and decide upon it quickly.
Step 3. Express your Gratitude to the Management
Despite expressing your grievances about the hospital's working conditions and environment, don't forget to thank them for the opportunity to work with them. Also, thank your immediate superiors for the memories during the time that you've worked with them. Expressing your gratitude to the hospital's senior management and your colleagues allows you to make a graceful exit.
Step 4. Print and Sign your Nursing Resignation Letter
After writing your Nursing Resignation Letter, have it printed immediately. If possible, print multiple copies of your Nursing Resignation Letter in case you misplace or lose one them. After printing your Nursing Resignation Letter, put your signature on the signature block found on the bottom part of your letter
Step 5. Submit your Nursing Resignation Letter to the Management
After printing and signing your Nursing Resignation Letter, submit the letter to the hospital's management. The hospital management might not put your resignation to effect immediately. You may need to work for a specified period depending on your labor laws.
In some cases, an immediate resignation will be honored if you explicitly state it in your nursing resignation letter. After submitting your resignation letter, you might want to inform your colleagues and friends of your decision to leave the job. This is also the time where you'll bid them farewell and tie loose ends.
After the hospital management honors your resignation, it's time to pack your things and clear your locker quickly. Set your foot outside the door and welcome the outside world with open arms. And just as you did that, you're looking forward to another chapter in your life and leave your past as a nurse behind. This is also the time where you need to give yourself a pat on the back and congratulate yourself for a job well done.