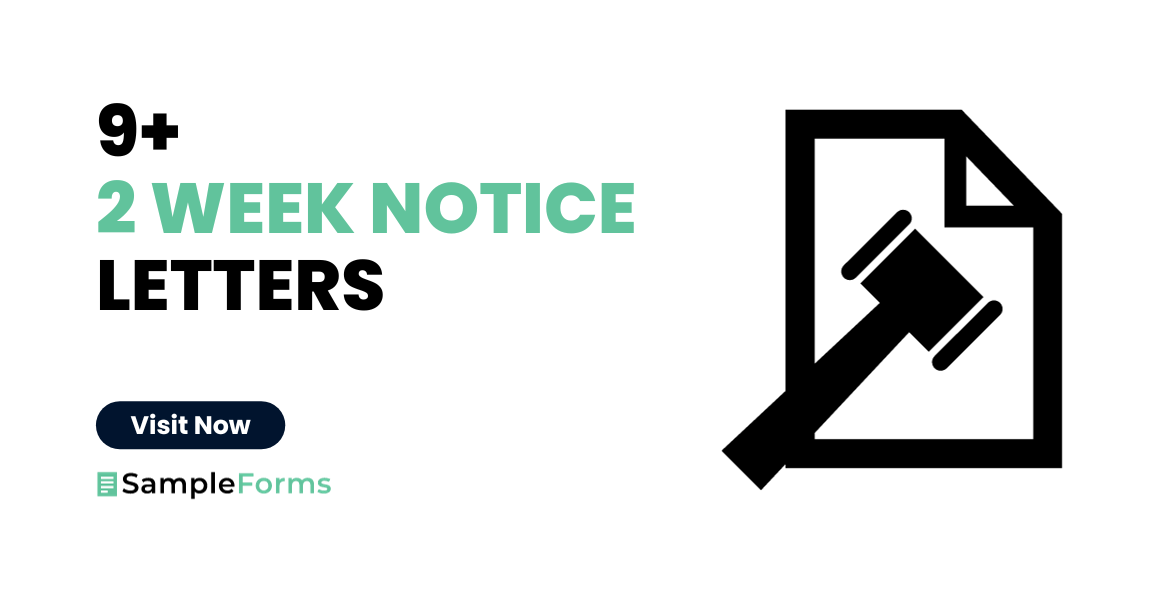 If you have decided to resign your current job then it is obvious that you will need to provide your organization or employer with at least of 2 weeks' notice period so that they can come to know about your decision. This two weeks period gives you enough time to complete all your assignments of the office to cover your absence in future. Also, this two weeks' time will give your employer sufficient time to find your replacement so that the productivity cannot be affected. If you want to provide 2 weeks' notice period to your employer then have a look the below listed Sample Letters and download the suitable one.
Resignation Letter 2 Week Notice
Get this resignation letter sample downloaded to if you want to send 2 weeks notice period to your company. Available in PDF format that can be customized easily. Download now.
Sample 2 Week Notice Letter
This sample 2 week notice letter can be a great tool for you if you are trying to write a resignation letter to your organization with the commitment to serve 2 weeks notice period after providing formal resignation. You can customize this sample letter and frame in your own words. You may also see Sample Resignation Letters.
Formal 2 Week Notice Letter
Check out this formal 2 weeks notice letter sample that is ideal for you if you are planning to quit the job with 2 weeks notice period. This sample helps you in creating a notice letter in seconds.
2 Week Notice Letter For Job
Use this notice letter sample if you want to provide a 2 weeks notice letter to your employer to resign from your job position. You can customize this easily by editing text.
2 Week Notice Letter for Daycare
Do you work in a daycare and want to resign from the job? Utilize this 2 weeks notice letter sample especially created for daycare employees. It speeds up your letter writing work thus making your task much easier.
2 Weeks Notice Letter Medical Assistant
Here is a perfectly created 2 weeks notice letter for medical assistants to help them send a resignation letter to their employer in a formal and professional way. Just get downloaded and customize with your own details.
Simple 2 Week Notice Letter
What is the Importance of 2 Weeks Notice Letter Samples?
The most important thing that matters while resigning a job position is to draft a resignation or notice letter. This letter needs to mention the reason of resignation as well as the expected last day in the office. Most of the organizations follow the culture of 2 weeks notice letter that needs to be provided to the employer before the 2 weeks of expected last working day. You may also see Sample Letter of Resignation Example.
Sending a notice letter is important for both employee as well as the employer. The two weeks time frame will help the employee to cover all the work that otherwise will affect his/her absenteeism in future. Also, resignation on a good note helps to improve the employee's CV. Moreover, the employer can also initiate interviews for that particular position within that period to find the next suitable candidate. You can also see Sample Letter of Resignation.
What to Include in a 2 Weeks Notice Letter Samples?
Here are the important guidelines about what need to be included in a notice letter.
The very beginning lines need to tell about your decision of resigning from the job position. This needs to be in a polite and soft way.
Declare the formal notice period with respect to what your employer has to say about that period.
You also need to state the positive words about your experience with the company and the team.
Express your desire to let your transfer your responsibilities in supporting and positive manner.
Explain your gratefulness to the employer in a positive manner for the support and the opportunity they have provided you.
Planning to leave your job position with 2 weeks notice period? Then all the above listed 2 weeks notice letter samples are ideal for your needs. This letters will help to save you a huge amount of your time while also making you write letter professionally. You can customize these sample quite conveniently to fill your own details. You may also see Letter of Resignation.