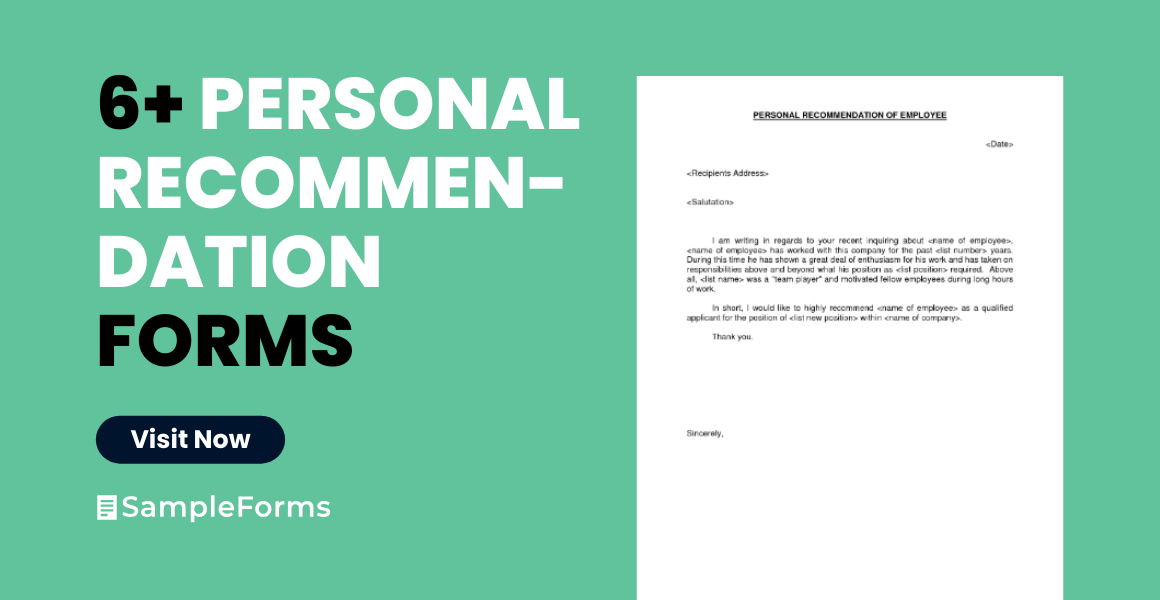 There are instances when credentials do not necessarily describe the overall being of an individual. Some employers look for a candidate's attitude toward his work and his environment. How a certain individual responds to stress, or to any form of stimulus for that matter, is valuable information for an employer.
In this age where most applicants are millennials described as having intolerable personalities despite having exceptional skills, employers value those who dedicate their time and effort to help give fruition to the goal of the company. This is where a personal recommendation letter comes in handy.
What Is a Personal Recommendation Letter?
A personal recommendation letter is a formal business document written by another person that aims to endorse an applicant's character and personality for a job application. A personal recommendation letter, sometimes called character recommendation or character reference, may be requested by the employer or interviewer if the applicant does not possess any work experience.
The document focuses on the job applicant's personality?—how he or she functions under stress, handles responsibilities, and so much more?—and his or her relationship to the one who wrote the recommendation.
Examples of Personal Recommendation Letters
Similar to other formal business documents, there is no singular manner on how to construct a professional personal recommendation letter that will ensure the one you are endorsing to be accepted. Such circumstances are not always the case. Nevertheless, a personal recommendation must forego the vision of the admission of the endorsee into the company.
Personal Recommendation Letter Sample
This recommendation letter sample guide that is mostly blank but dictates what needs to be written down. This sample showcases the basic elements found in a recommendation letter. The form is of the generic and basic structure that is easy to customize and personalize to fit any scenario you will be using it for.
Personal Recommendation of Employee Letter
Personal Reference Letter Sample
Sample Personal Reference Letter
Employee Sample Recommendation Letter
Recommendation Letter Sample
Shown above is a finished example of a personal recommendation letter. The content of this sample is in full block form where everything is positioned flush-left of the document. This form is suited for formal means such as a recommendation for an internship. The full block form presents the information in a linear fashion too.
Personal Data Recommendation Form
How to Create a Personal Recommendation Letter
Writing a personal recommendation letter is similar to writing an essay, but the process is much easier and much direct. You only need to focus on the endorsee entirely—his personality, his attitude, his goals, his dreams, and his work ethics. This type of letter is highly recommended, especially when the endorsee is still a fresh college graduate.
This document is one of the basic requirements of most companies, so you better sharpen your writing skills. Here are a few steps and tips on how to create an effective personal recommendation letter that will surely land your endorsee the job they are applying for!
1. Select a Template
When writing a personal recommendation letter, one must be mindful of the structure or form. Structure breeds formality. When you have no idea on what your form must be, you can visit our website template.net, and dive into our wide selection of professionally designed premium personal recommendation templates.
Select the template that contains the structure that is necessary for the situation, and click download. From there, you can start to customize and personalize the template to your liking.
2. Pick a Font Style
Recommendation letters are business documents that need no fancy or curvy font styles. You must stick to the traditional serifed font styles, such as Times New Roman, Georgia, Goudy Old Style, and Garamond.
Serif fonts are better for printed materials rather than sans-serif fonts, so you must opt to use the former font styles when dealing with printed materials. Serifed font styles appear more orderly with the help of their extending features that guide the reader's eyes.
3. Put a Salutation
Informal and general recommendation letters usually start with a "To Whom It May Concern." Sometimes, informal documents have no salutations at all. This understandable since the letter is aimed not for business-related concerns.
However, writing a formal personal recommendation letter requires a salutation. You would not want to appear rude to the employer in your letter. Being rude may cause your endorsee to be rejected entirely by the employer of the job he or she is applying for. You must start your letter with a salutation, preferably use the most common salutation—"Dear."
4. Indicate the First Paragraph
The first paragraph of the letter must contain the relationship between you and the endorsee. Establish the connection by citing some experiences but make it brief. You must also cite your qualifications as to why you are writing the letter to recommend employment to the endorsee.
5. Proceed to Paragraph 2
With great power comes great responsibility. In your hands, the destiny of the endorsee lies in wait. It is ready to unfold at the moment you put pen on paper. One slip up might fracture the chances of getting the job position. Carefully write down the endorsee's traits, personalities, attitudes, dreams, goals, plans, etc.
Do not merely state the character of the endorsee lightly and jokingly. You are not talking to your friends. You are talking to a representative of a big company. Be professional and formal when stating such information in the personal recommendation letter. Be mindful of how you paint the endorsee and how the employer might take your assessment. You do not have a similar mindset to the employer. Watch your words.
6. Review the Document
If you are responsible for the task that has given to you, I suggest you take another look at the final output. Peer into the letters that have sprung forth from your mind and assess whether what information you have written down on the paper is relevant to the employer or is crucial to the fate of your endorsee.