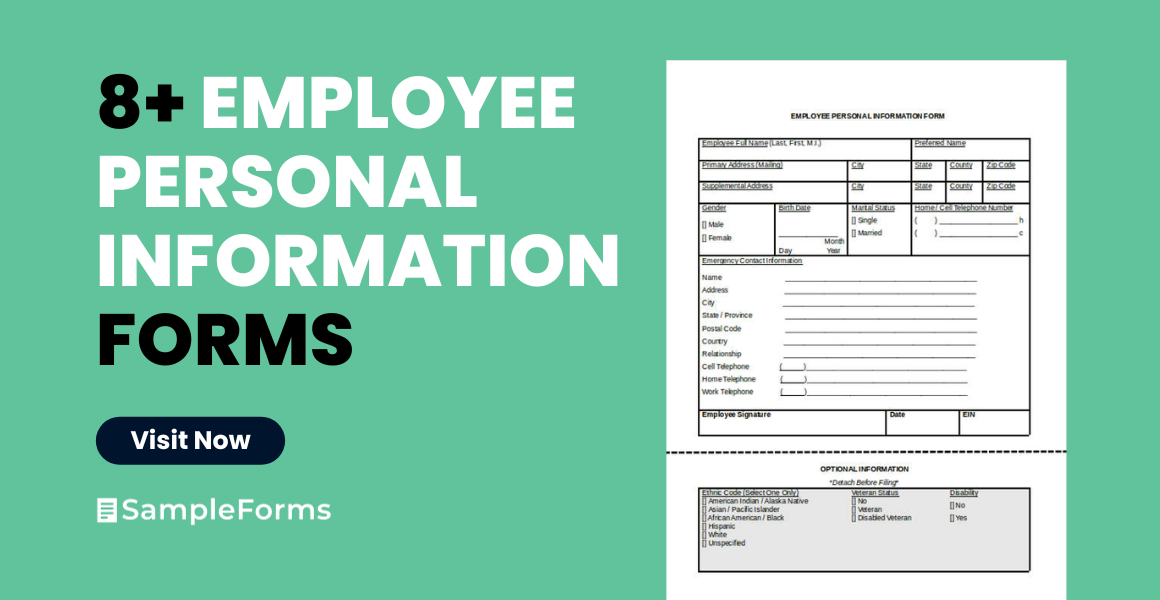 Every individual has their own unique set of information. Each person has had different experiences and has different perspective on a number of topics. With that, it is easy to distinguish one person from another when one looks at their background information. In some situations, some information are asked to be disclosed.
The process of disclosing information is done in a number of settings. In the academic setting, an incoming student gives out his or her personal information for the school records. In the industrial setting, an employer asks an incoming employee to fill up an Employee Form with their personal information.
New Employee Personal Information
Employee Personal Information Update
Employee Contact Information
Emergency Contact Information
What Is Employee Personal Information?
When a job applicant has successfully passed the application and interview process, he or she can officially become a part of the company. An employer must be able to collect the employee's personal information during the application and interview process.
Additional information may be asked during the new employee's first few days of work. This set of information is referred to as an employee personal information.
Employee Personal Information is any kind of personal information that an employer asks an employee to disclose to the company. This set of information is recorded on an Employee Personal Information Form and is stored into the company's archive of records. The information an employee is required to give out to the company depends on what the company wants to know. This might be for security purposes as well as for the employee's salary.
The personal information that an employer asks from an employee should be in line with reasonable standards of the company.  The employer cannot just ask for any kind of unnecessary information since they will be of no use to the company.
The kind of information that an employer asks for is the employee's name, date of birth, personal contact information, government numbers, employee number, and work history.
Personal Data
Personal Information Consent Form
Information Release Form
Example of Personal Information Update Form
General Employee Personal Information Form
What Is the Importance of Using Employee Personal Information Forms?
A business can have a number of practices and procedures established in order to have a harmonious flow between the employer and the employees.
A procedure that happens in the beginning of the recruitment process and the initial stage of employment is the collection of the employee's personal information. Among the number of records and files that a company keeps, data collected in Employment Information Forms can be beneficial to the company.
The responsibility of the company and personnel in supervisory positions is to keep track of the progress of all the employees. Using an employee's personal information form as a reference can give one an idea of what to anticipate from an employee. An employee's performance in the company may stay or consistent or fluctuate which may be predicted by reviewing his or her previous employment history.
There is a legal aspect in relation to an employee's personal information in which an employer is required to keep such information through records and files. There are also federal and state laws that limit employers to what type of information they may ask and what they can do with it. Companies are encouraged to create a secure location for these records and files.