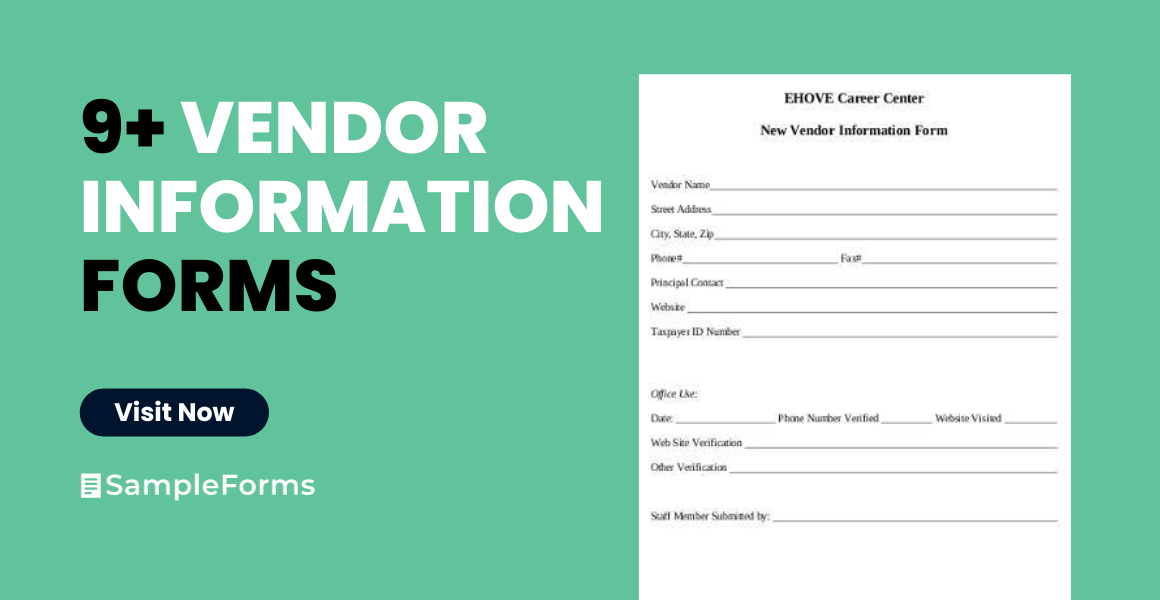 Vendors or suppliers are those who provide goods or services to a company or an individual. A vendor typically manufactures or produces items that are eligible for inventory and then sells those goods to a client. In some instances, a vendor can also be considered as someone who supplies or renders a type of service.
Being able to properly manage your vendors and suppliers is critical to your business's success. In order for a company to get the best value for its money, it has to implement strategic methods to effectively manage its suppliers. One way to start with proper management is by gathering information about your vendor.
New Vendor Information Form
Vendor Contact Information Form
Vendor Tax Information Form
Vendor Payment Information Form
Vendor Supplier Information Form
A Vendor Information Form is a type of form that requires vendors or suppliers to provide key information about their business and their products. Information such as the name of the vendor, the area of coverage, the vendor's business information, payment information, and the type of product that is being endorsed must be included. Below is a list of reasons as to why vendors need to provide information about themselves to companies or organizations.
Facilitates Payments
The Vendor Form serves as a mode to capture all information required to facilitate payments.
Protection and Security
Allowing vendors to come into your company or organization is a window into the company's confidentiality and provides them with the security measures of the workplace. Having information about them allows you to protect yourself and communicate with them if a breach between them and the company occurs.
Vendor Information Form in PDF
Vendor Request for Information Form
Vendor Information Update Form
Vendor Information Form Example
General Vendor Information Form
Simple Vendor Information Form
Serves as a Reference
Vendor Information Forms generally require business and contact details about your suppliers. Having an information form serves as a point of reference for you to establish a way of communicating with them when the need arises.
Sets Proper Expectations
Vendor Forms usually require the terms of payment to be indicated in the form. This way, expectations between the company and the vendor are established and help to avoid misunderstandings between both parties.
A Vendor Information Form is not exactly a complicated form to create. It is what is sounds like: a form that indicates the information about a vendor and the company it is tied to. Below is a list of the key details that is required in a Vendor Information Form:
the vendor's business name if the vendor is a business entity
the vendor's' individual name if the vendor is an independent entity
the type of business – whether it is independent, corporate, a partnership, an LLC, etc.
the purchase order address
the payment address
the tax address
the vendor's contact details such as office numbers and e-mail
Our Information Forms are easily accessible and cater to your business needs. You may download our Employee Information Forms, Release of Information Forms, and Statement of Information Forms with just the click of a button.