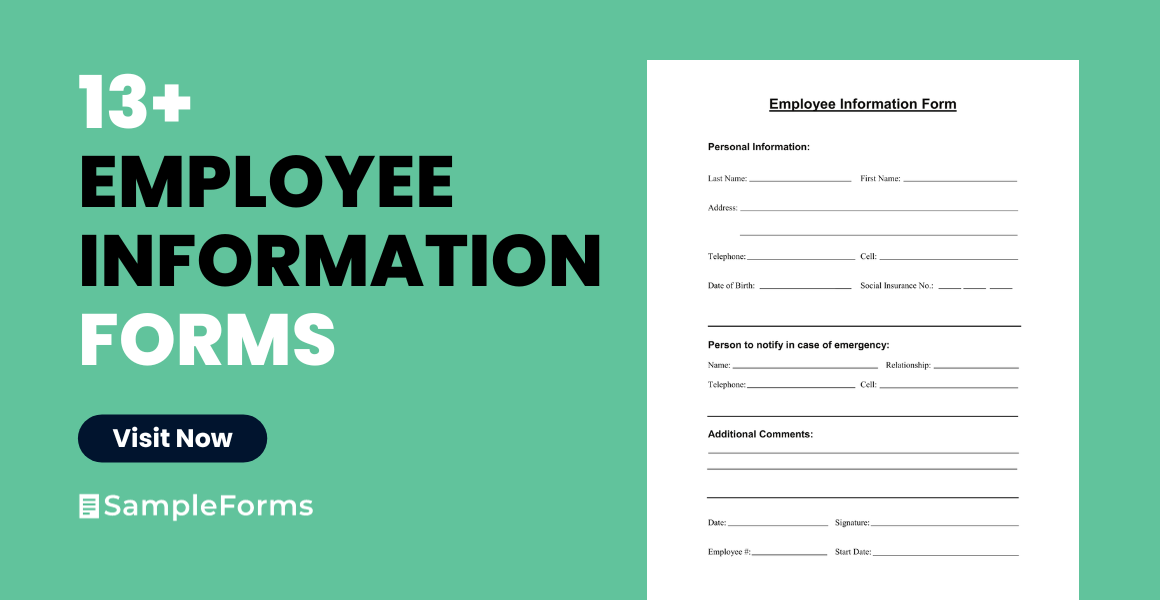 For every new hire or recruit in the company, it is mandatory that the individual's information Form and other essential details are secured, documented, and compiled in the company's personnel management files. The reason for this is because these information serve as an integral part of each and every employee during their employment period in the company. Basically, these documented forms are one of the basis for the individual behavior, conduct, and performance.
These information are required in order for the management to further have knowledge about their employees, even just by basing on their past record and personal information. Thus, by doing this, the company can assure that their business is safe from theft or any act of fraudulence. Another way for the company to be secured from these kinds of unlawful or illegal activities is by conducting a background check authorization form of individual employees.
These information with regards to the employees are basically written in the employee information form. This is where all necessary information are secured and are used as the basis for different purposes. Few of the following are as follows:
During interviews of the employee
When there are different circumstances
For some background check
To have access, connection, or communication with the employee
Sample Employee Information Form
Blank Employee Information Form
Employee information forms are composed of different parts, and these depend on what type of information companies require from their employees. Technically, these forms are basically focused on the employee personal information form. Yet, some companies would also require the past records, such as the education and training information. By means of providing these past data, the information form is then used as a basis during the employees' interview during their job application.
In worst cases that there are some circumstances, such as accident or incident during working hours or business operations, the information form could also be used as a reference of who to contact when there are cases like emergencies. And if circumstances involve actions or exploitation of company properties for illegal purposes, these information forms could be used as a basis when a background verification is done. To better understand how and what composes these information forms, you may refer to the provided sample forms in this article. Further will be explained as you go further.
Labor Employee Information Form
Employee Personal Details Information Form
HR Employee Information Form
Detailed Employee Information Form
New Employee Information Form
Interactive Employee Information Form
Parts of Employee Information Form
Employee information forms, from the word itself, are basically concerning with information regarding the employee. These forms are utilized by the authorized personnel to either add new or update existing information. Either of the two, it is mandatory that these updates are made soon as changes occur. This is to make sure that the company has all their management files current and up to date.
These information forms are composed of the following parts:
The Employee Information
The full name
The  present and permanent residential address
The contact number of both home and personal
The social security information
The citizenship (either a non-citizen, citizen, or a permanent resident)
The race or nationality
The date of birth
The gender
The marital status (either divorced, married, widowed, or single)
These are the basic information that the management should secure first before going deeper to the personal information of individual employees. It is important that you know who you are dealing with, before going to deal with this particular person.
The Spouse and Dependent Children Information
The full name of each
The social security numbers of the individual
The relationship to the employee (either child, handicapped dependent, husband, wife, or sponsored child)
The birth date of each dependent
The gender (optional)
These information release form serve as the basis for different situations. The most common is to know who are the beneficiaries of the employee, just in case something happens.
The Education Information
The level of education attainment
The institution
The year of graduation
The city or state
The degree or major taken
These information would help the management determine how far the employee had accomplished during his or her years in learning.
The Training Information
The training type
The training description
The name of institute
The name of the sponsor
The start and end date of certain training
By referring to these information or details, the management are able to measure the employees' or applicants' capabilities. By means of this, they could conduct trainings that would be fit for the employee.
The Job or Employment Information
The employee code or number
The job title or position
The company name
The name of the supervisor
The work or company site/location
The work or company contact number
The hire or start date for employment
The employment information form (either new, existing employee, or subject for termination)
The base wage/hourly rate and basic salary per period or term
The additional earnings (indicate the type, the amount or percentage, the effective date, and the frequency)
The deductions (specification of the type, the amount or percentage, the effective date, and the frequency)
The current employee payroll form information (the number of hours and the partial salary amount)
There are various of reasons why employees' past employment is also mandatory to be provided. One is that the current employer could determine if the applicant is experienced enough and if he or she has a good exit from that past job.
The Emergency Contact Information
The full name of the person to contact
The present and permanent residential address
The contact information form such as the primary and alternate phone number
The contact person's relationship to the employee
These information are essential most especially when there are circumstances that are encountered. This part is technically for the employee's family or relatives to be notified when there are accidents or incidents.
The Acknowledgment Details
The employee's name
The affixed signature
The date signed
These details are indicated in order to make sure that all information written or provided in the form are true and correct.
Basic Employment Information Sheet
Employee or Contractor Information Form
Employee Personal Information Form
Employee Contact Information Form
New Employee Information Form
New Hire Employee Information Form
The lists of information above are basically the essential details that are often required when provision of employee information is necessary. Though, all these parts may not be found or present in one form. This is due to the fact that employee information forms only serve as a basis or reference. Some forms for employee information require some attachments of individual's medical clearance form or certificate. This is basically in order for the management to be aware on what are the health conditions or issues that their individual employee has. And if these health issues are serious yet remediable, it is the management's call whether they'd still accept the employee's application.
Accepting one's application despite of his or her situation would be a great problem to the management; maybe not now, but later on. Further additional information that included but not necessarily needed is a photo. A photo in not a must in an employee information form. Yet, this could be used as the basis for physical judgment. Sometimes, you could derive with the right judgment regarding a person just by looking at his or her appearance. The way he or she dresses up partly reveals the personality. Yet sometimes, physical appearances are not reliable. That is one of the reasons why employees or applicants are interviewed not just once, but twice or even more.
What is Employee Information Form?
An Employee Information Form is a document that an employer uses to gather essential personal and professional details from employees. It typically includes fields for:
Personal Information: Full name, address, phone number, email, date of birth, and emergency contact details.
Employment Details: Job title, department, manager's name, employee ID, and start date.
Tax Information: Social Security Number or Tax Identification Number for payroll purposes.
Banking Information: For setting up direct deposit of paychecks.
Benefits Information: Details for health insurance, retirement plans, and other employee benefits.
This form is used to maintain up-to-date records for communication, payroll processing, and handling of benefits. In addition, you should review our Blank Forms.
How do I create an Employee Information Form?
Creating an employee information form involves several steps to ensure it collects all necessary information in a clear and organized manner. Here's a simplified guide:
Choose a Format:
Decide whether you want to create the form as a printable document or a fillable digital form.
Basic Information Section:

Full Name
Address (current and permanent)
Phone Number
Email Address
Date of Birth
Social Security Number (or equivalent)
Emergency Contact Information (name, relationship, phone number)

Employment Details Section:

Employee ID
Department
Position/Title
Type of Employment (full-time, part-time, contractor)
Start Date
Supervisor/Manager Name

Tax Information Section:

Tax Withholding Forms (such as W-4 information in the US)

Banking Information for Payroll:

Bank Name
Account Number
Routing Number

Benefits Information (if applicable):

Health Insurance Options
Retirement Plan Details

Legal Acknowledgments:

Confidentiality Agreement
Attestation of the accuracy of information provided

Design the Layout:

Use clear headings and subheadings.
Provide ample space for responses.
Include checkboxes for selections when appropriate.

Review and Compliance Check:

Ensure the form complies with privacy laws and employment regulations.
Have it reviewed by a legal expert if necessary.

Instructions for Completion:

Provide clear instructions on how to fill out the form.
Indicate which fields are mandatory.

Finalize and Distribute:

Save the document in a format that can be easily accessed and edited.
Distribute the form to new hires or existing employees needing to update their information.
Remember to keep the form as concise as possible while collecting all necessary information, and ensure that the storage and handling of the information comply with data protection laws.
What Forms are needed for Employees?
For proper employee forms management and legal compliance, several forms are typically needed throughout the employment lifecycle. Here are key forms that are commonly required:
Job Application Form: Collects applicant information, qualifications, and experience.
Resume or CV: Provides detailed work history and educational background.
Cover Letter: Offers additional context to the application and the candidate's interest in the position.
Employee Information Form: Gathers personal and contact information for use in the company's administrative records.
Form W-4 (US): Used by employers to determine the correct federal income tax to withhold from employees' paychecks.
Form I-9 (US): Employment Eligibility Verification form required by the Department of Homeland Security to verify an employee's legal right to work in the United States.
State Tax Withholding Form: Similar to the federal W-4 but for state taxes, where applicable.
Direct Deposit Form: Collects banking information for payroll purposes.
Emergency Contact Form: Information on who to contact in case of an emergency involving the employee.
Employee Handbook Acknowledgment Form: Confirms that the employee has received and understands the company's policies and procedures.
Benefits Enrollment Forms: For opting into health insurance, retirement plans, and other employee benefits.
Non-Disclosure Agreement (NDA): Protects proprietary company information.
Non-Compete Agreement: Restricts employees from working with direct competitors for a certain period after leaving the company.
Job Description and Performance Expectations: Outlines the duties and performance standards for the position.
Performance Review Forms: Used for evaluating employee performance.
Termination Form: Documented notice of an employee's termination with the company.
Exit Interview Form: Used to gather feedback from departing employees about their work experience.
These forms can vary based on the country's labor laws, state regulations, and the specific needs of the employer. It's important to stay updated with local employment laws to ensure all necessary documentation is in order. You should also take a look at our Fillable Form.
What is the Employee Information Application Form?
An Employee Information Application Form, often simply referred to as an Employee Information Form, is a document that employers use to collect essential data about their employees. This form typically includes fields for personal information, contact details, emergency contacts, and sometimes employment history or qualifications.
The primary purpose of this form is to have a comprehensive record of all employees that can be used for administrative purposes, payroll, communication, and in case of emergencies. It's one of the first documents an employee fills out when they join a company and may be updated periodically to ensure all information is current. Our Printable Forms is also worth a look at.
What is Employee Information Summary Form?
An Employee Information Summary Form is a consolidated document that provides a snapshot of an employee's key personal and professional information. It typically includes:
Personal details like name, address, phone number, and email.
Employment details such as job title, department, and supervisor.
Hire date and employment status (full-time, part-time, temporary, etc.).
Payroll information, including tax withholding details and possibly bank account information for direct deposit.
Benefits enrollment information, including health insurance, retirement plans, and other company-provided benefits
This form is used by employers to quickly access the most important information about an employee, often for administrative purposes, payroll processing, and contact lists. It's a summary, so it's more concise than the full employee file which would include more detailed documents and records.