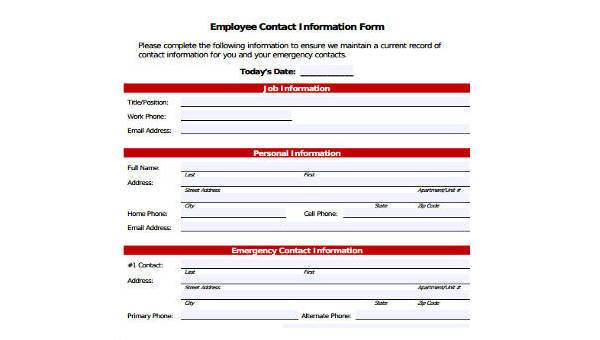 Employment is the condition of someone having paid work. A person's employment is usually based on a contract where work is paid for, where one party, which may be a corporation or even a nonprofit organization or other entity, is the employer and the other is the employee.
However, how does one go about knowing the information of his or her employment? They'll need Employee Information Forms to find about the status of their employment, along with other general information that may be in those forms.
Request for Employment Information Form
Employment Information Update Form
Employment Contact Information Form
Self Employment Tax Return Information Form
Employment Personal Information Form
The Different Types of Employment Information Forms
There are various ways of finding out employment information from certain organizations or companies. There are even Statement of Information Forms that verify the information of employment. Here are some other examples:
Release of Employment Information Forms are used when employees or managers desire for the terms of their information to be made known to other companies or establishments that require them.
Employment Details Forms are forms used to know about the the details of the current employment.
Employment Personal Information Forms are used to find out the personal information of those under employment, such as their home address or email address.
Employment Contact Information Forms are forms that are used to figure out the contact information of certain employees.
Employment Information Update Forms are used by companies or workers within the company that wish to update information such as credit card or contact information.
Request of Employment Information Forms are used when companies or other sources wish to request the information of a certain employee's employment status.
Employment Details Form
Employment Information Release Form
Employment Information Request Form
Employment Information Form in PDF
Employment Information Form Example
Simple Employment Information Form
The Importance of Employment Information
The times where employers or company managers had to keep fat, bulky files on their employees, with these locked away in the HR department office, are long gone. Thanks to ongoing advances in HR software, firms can keep all their employee data in one place and get the information they need with the click of a button. These are really important so that they can easily keep tabs on an employee's current employment information.
But the reasons for keeping accurate employment information are the same as ever. Above all, in many cases, the proper management of personnel files is a legal obligation, and failing to keep sensitive information secure can result in a fine or an even harsher prosecution.
Without proper employment information, it can be difficult, if not impossible, to effectively monitor performance and productivity. lacking these kinds of important information can hinder both the growth of the business and the development of the individual employee. Hence, everyone benefits from accurate and up-to-date records.