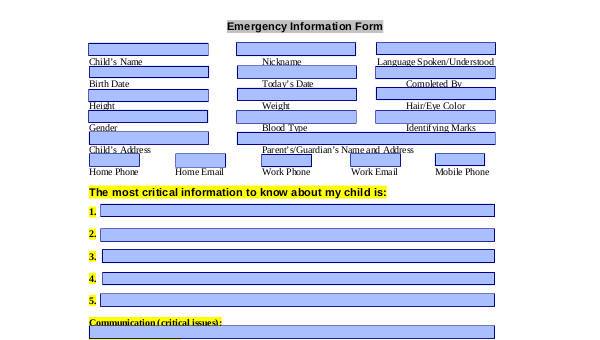 There are emergencies that happen every single day. There are always going to be those uncertain factors that may or may not happen but still happen to anyone anyway. So we all need to take extra precautions to make sure that if these situations do happen, we will know what actions to take.
However, there are just some situations that a person can't handle on his own. Or there are some situations which require the help of others. This is especially true when a company employee undergoes a certain emergency that requires the company to call that employee's emergency contacts.
That's why businesses or any other establishment need to make sure they have forms such as Emergency Medical Information Forms so that they'll know what to do and who to call when these situations arise.
Employee Emergency Information Form
Medical Emergency Information Form
Child Care Emergency Information Form
Emergency Contact Information Form
Emergency Health Information Form
The Different Kinds of Emergency Information Forms
There are lots of different types of Emergency Information Forms that just about anyone can use to make sure they know what to do and how to do it along with whom to contact. Here are some examples of these types of forms:
Emergency Patient Information Forms are the kind of forms that are mainly used by hospitals. This helps them guarantee that in the event that their patient undergoes a certain emergency which requires immediate medical treatment, they know whom to contact and what procedure they should resort to.
Emergency Information Forms for Students are mainly used when a student from any school undergoes a situation wherein he needs the help from his parents or guardians for him to be aware of the situation.
Tenant Emergency Contact Information Forms are very useful for landlords when one of their tenants encounters an emergency that requires immediate attention and help from any of his or her emergency contacts.
Emergency Information Form for Students
Tenant Emergency Contact Information Form
Personnel Emergency Information Form
Emergency Information Form in PDF
Simple Emergency Information Form
The Importance of Having Emergency Information Forms
Think of it like this: if you were in a situation wherein you would need all the help you can get, you'd want to contact someone to help you out, right? That's why schools have forms such as Student Emergency Information Forms to help their students out when they really need it.
It is also really important that these establishments have these bits of emergency information. They need to make certain that they gather everyone's information so that they can prevent anything else from happening. It also helps them from getting into serious legal trouble as all companies are required by law to gather certain information from their employees, and this includes emergency contacts.