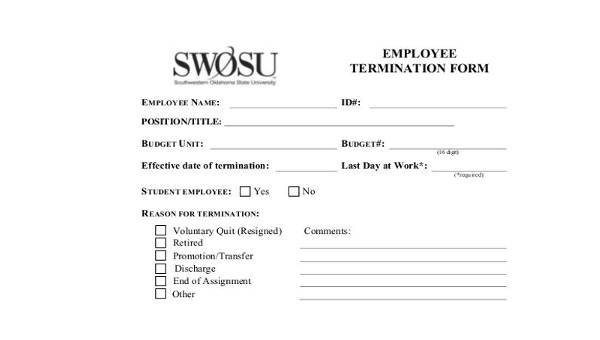 In a company, it is crucial to keep track of an employee's records and personal information. Why is it important for you as the company owner to keep Employment Forms records of your employees? In times of legalities or emergencies, you must keep the information of your employees on record to make sure they are safe and able to enjoy the benefits the government provides. There are twenty-six formats to use.
Aside from legalities, these records will help you compile and understand the status and needs of your employees in your company. These also provide you the medical history and records of their past employment.
Printable Employee Termination Form
Generic Employee Termination Form
Free Employee Termination Form Sample
Employee Termination Release Form
Employee Termination Notice Form Example
The force behind the success of every company lies in the competency and work ethics of your employees. What if one performs below standards? Or they simply cannot handle the pressure anymore? These Employee Termination Forms will provide you clean and clear formats to avoid misunderstandings and ill feelings between both the employer and employee. With over nine unique formats that you can use, these will help clear up the tension and make the employee understand the situation at hand better.
Through these forms, you will be able to clear the issues with the employee and check the items that prompted you to reach a specific decision. Make it clear for them in simplified tables and fill-in-the-blank formats in order to clarify the actions which affected their status. Keep in mind that this cannot be done right away as proper termination requires a series of written warnings to notify the employee.
Why are these termination forms important in the company? Aside from separating good performers from those who are easygoing, it also cuts unnecessary costs in the company and avoids a wasting of resources. Encourage your performers and keep your company afloat with proper management.
Employee Termination Agreement Form
Sample Employee Termination Request Form
Employee Termination Checklist Form
Employee Termination Form Example
Every success requires discipline and the will to strive. The company requires this same attitude from their employees in order to properly function and produce the service effectively. When you encounter employees who are rowdy and impossible to manage, you must take proper action in order to rectify the error. These Employee Discipline Forms will provide the appropriate actions you need in order to clarify and record the violations done by the employee.
There are seven formats you can use or modify to make your own final disciplinary forms in accordance with what you need to record. These are made to be written warnings and are a form of disciplinary action in the company. Why are these forms vital to your company's success? Aside from protecting behaved employees from recalcitrant ones, these also help you discipline the employees to become better people even outside of the workplace.
In case of legal matters, these will serve as recorded proof of the employee's attitude and personality. It is also ideal to keep records of their violations and performances in a neat and orderly manner.