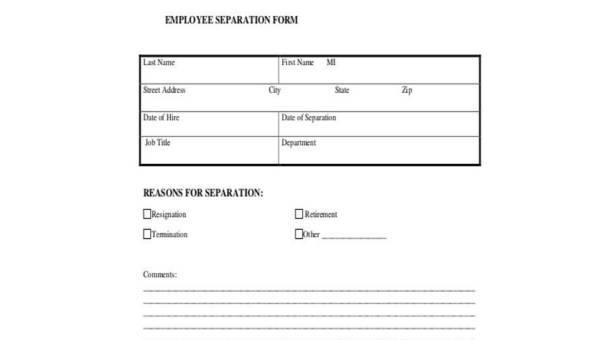 So you have just completed your course at university and are now in the pursuit of career-building. Before you start looking through your local classifieds for job openings, however, doing some research may do you a load of good.
There is nothing wrong with choosing a job on impulse, especially if you see that the pay is satisfactory and the nature of the job is not too taxing. However, equipping yourself with the know-hows will help you excel, as well as come up with a long-term career goal. Hence, before you start obtaining or accepting Employment Forms, and showing up at job interviews, getting thorough information and tips on career-building should be your first step.
Employment Separation Certificate form
Employment Separation Agreement Form
Employment Separation Checklist Form
Employment Separation Form Example
Employment Separation Notice Form
Building Your Career Starts with YOU
There is more to career-building than curating an impressive resume and worrying about Employment Verification Forms. One truth you must always bear in mind when working on building your career is that everything starts with you. It does not begin with certain people and not even with an opportunity—you are the starting point of your own success. The values and principles you have incorporated to how you live your life play a compelling role in your journey.
Once you have zeroed in on your life principles, identifying your strengths should be your next step. You can do this by conducting a self-assessment. What traits and skills in particular were you able to use to your advantage in your previous endeavors? Did your talent in leadership benefit you back in university? Were you lauded in an activity you participated in due to your effective communication skills?
After putting focus on your strengths, determine the lifestyle you want to live. This is crucial, especially if you are the type of person who gets critical when it comes to monetary compensation. You would definitely want to make certain that your chosen profession will help fund your lifestyle, as well as let you set aside ample savings.
Employee Voluntary Separation Form
Employee Separation Report Form
Employment Separation Form in PDF
Employee Clearance of Separation Form
Attaining Success in Your Chosen Profession through Efficient Planning
The success of whatever endeavor an individual embarks on depends on the approach they take. In terms of building a career, some people take a lax, happy-go-lucky approach, while others are uncompromising. You may fall on either side or even in between. But as previously emphasized, your success starts with you. Once you have highlighted the principles you abide by and your strengths, coming up with a plan that will cater to you and your goals should be your next objective.
Efficient planning begins with setting a realistic goal that also challenges you, as this allows both professional and personal growth. Ask yourself where you would want to be career-wise in the near future. Then take note of the things you may need to do to make that vision a reality. These things can become your "means goals"; in other words, those that you must meet in order to attain your end goal.
Whatever the vision you hold for yourself, whether it's taking on a major role in an organization or filling out Self Employment Forms as the first step to starting your own business, efficient planning is key. Equipping yourself with the right information will prove to be beneficial for you in so many ways.