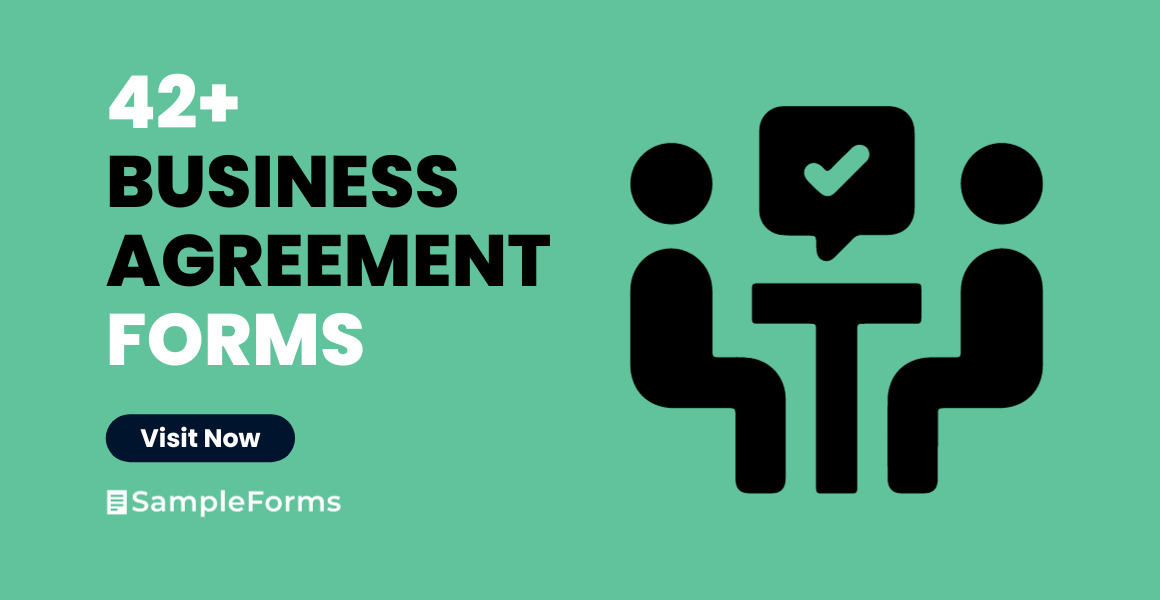 In the world of business and trade, written agreements are essential tools that help a business owner, a client, a supplier, a contractor, or an employee protect his interests. Business agreements help to lay down the terms and conditions of an arrangement between two parties and help to avoid disputes and misunderstandings so that both parties will have a peaceful business relationship.
Business agreements are legally binding contracts that are written. Written agreements are more viable than verbal ones because they serve as hard and physical proof of the arrangements made between parties. You can download from our wide array of business agreements to help you save on time and money.
Sample Business Agreement Forms
Sample Loan Agreement Form
Sample Partnership Agreement Form
Contract Agreement Form
Business Lease Agreement Forms
Sublease Agreement Form in PDF
Commercial Lease Agreement Form
Lease to Purchase Option Agreement Form
Business Partnership Agreement Forms
Free Partnership Agreement Form
Partnership Dissolution Agreement Form
Partnership Agreement Form in Doc
Why Business Contracts Matter
Whether you run a family-owned business or are a proprietor of a large company, contracts will play a key role in the management of your affairs. Business contracts, as with other types of agreements, provide protection and security among companies and business owners.
A Business Contract is an important document needed in business negotiations and dealing because it is legal and binding and ensures that both parties are equally remunerated for their work or products. Drafting a Business Contract can be mind-boggling and tedious; however, they are especially useful to business. Here's a list of reasons why:
They Supply Facts
Contracts are usually the by-product of a long and carefully thought-of negotiation process. Which means that they can actually take days, weeks, or even months to be developed. Some really serious business contracts such as a merger often go through addendum processes where amendments are made to the agreement if one party is not in favor of the terms. Having a contract allows both parties to physically see the outlines of their agreement in big, bold letters. The content of a contract carries factual information that both parties have willfully agreed to and can be used as a reliable source for mediating disputes.
Ensures a Fixed Resource Cost
One typical use of a business contract is the agreement to purchase or to sell a product at a specified fixed cost. This is particularly helpful for buyers to purchase a product at a standstill price regardless if economic prices of the merchandise increases or decreases. It also allows sellers to sell a product as is, irregardless of economic fluctuations. This can, however, backfire on companies if a decrease in economic resources occurs in the future.
Limit Obligations
When a business contract is related to services being rendered, specific duties and obligations of the company are usually laid out in the contract to help protect the company's interests. These agreements ordinarily are utilized when companies forge agreements with contractors, suppliers, or vendors in order to perform services such as maintenance, technical support, or customer service operations. More often than not, these types of contracts include payment information for each type of service and the extent for which the service will be performed. This is to guarantee that contractors are being properly paid prior to completing their work.
Non-Compete Agreements
Most, if not all businesses, often include a non-compete clause into their contracts. Non-compete agreements prevent individuals such as employees, staff workers, suppliers, or contractors from working or contracting with a competitor or establishing a business in the same area or field. For example, if an employee has worked for a publishing company, then that employee will not be legally permitted to be under the employ of another publishing company while he is still connected with the previous company or even after resignation, for a period of up to two years. These contracts create strategic relationships between two companies and allow them to provide unique goods or services to consumers and also allow the limitation of the type of services offered by former employees who have garnered knowledge about the company's specialized business services and trade secrets.
Business Agreement Contract Forms
Rental Agreement Contract Form
Employment Agreement Contract Form
Partnership Agreement Contract Form
Business Sale Agreement Forms
Purchase and Sale Agreement Form
Land Sale Agreement Form
Real Estate Sale Agreement Form
Legal Business Agreement Forms
Free Legal Agreement Form
Legal Separation Agreement Form
Legal Room Rental Agreement Form
Standard Business Agreement Forms
Standard Rental Agreement Form
Standard Lease Agreement Form
Standard Loan Agreement Form
Business Management Agreement Forms
Property Management Agreement Form
Real Estate Management Agreement Form
Management Agency Agreement Form
Business Agreement Forms in PDF
Month-to-Month Rental Agreement Form
Loan Agreement Form
Non-Disclosure Tenant Agreement Form
Types of Business Agreements
Business contracts or agreements can differ in format and style depending on their use. Below are examples of the common types of business contracts used by companies and business owners:
Loan Agreement
A Loan Agreement is a contract that is legally binding and formalizes a loan process that is made between a borrower and a lender. Loan Agreements can vary depending on the type of loan being made and the negotiations between the borrower and the lender. Loan Agreements can come in the form of a detailed contract or a simple promissory note.
Loan Agreements typically include covenants, interest rate terms, length of time for repayment, and the collateral involved. Our Agreement Forms and Loan Agreement Forms cover the basic and general information that a Loan Agreement should include.
Loaning money requires a huge financial commitment and should not be taken lightly. Having a written Loan Agreement serves as tangible proof that indicates that the money given was borrowed. Loan Agreements also enable the lender to set certain terms and conditions which may be used as a point of reference when disputes or misunderstandings arise.
What Should I Include in My Loan Agreement?
The Principal Amount – The initial part of the Loan Agreement should indicate details about how the money is to be given by the lender to the borrower, the amount of money being loaned to the borrower, and the requirements or conditions that have to be met in order to obtain the amount of money being loaned.
The Drawdown Date -The Drawdown Date generally refers to the date on which the amount being advanced or loaned is given by the lender to the borrower. This typically depends on the type of deal instigated by the lender. In some cases, the lender may opt to give out the principal or the loaned amount of money all at once; in other cases, the draw-down date may be given in several installments.
The Purpose of the Loan – Loan Agreements will typically indicate the purpose for which the loan is being incurred, be it for a mortgage, a car loan, to pay off existing debt, and vice versa. The exact purpose of the loan is important because the assessment of its risk profile is based on the purpose of the loan to begin with.
Conditions Precedent – Conditions Precedent pertain to certain requirements or conditions that a borrower has to meet before he is able to obtain his principal or the loaned amount of money. The conditions imposed by the lender in the agreement will usually depend on the purpose of the loan, the amount of money being loaned, and the risk potential of the loan being made.
There are a lot of aspects that need to be considered and should be covered in a loan and in constructing a Loan Agreement. Loan Agreements have to be carefully written and should cover all the necessary details to make sure there is no room for doubt or loopholes. Our Personal Loan Agreement Contracts are guaranteed to cover all the necessary details and are within easy reach. Simply download them or print them out and tailor them according to your preferred format.
Lease Agreements
Rental Lease Agreements are legally binding contracts that indicate all necessary information relating to the lease of a rental unit. These details can include, but are not limited to, the information of the tenant and the landlord, the amount of rent due, terms of payment, and conditions and responsibilities.
Having a Rental Lease Agreement is important in the land-lording business because it lays down the ground rules that both the landlord and the tenant need to abide by in order to avoid misunderstandings and to maintain peaceful business relationships. Our Rental Lease Agreement forms are available for download for rental renewals and new renters.
A Lease Agreement is a form of contract between a landlord and a tenant and is therefore legally binding. A Rental Agreement serves as a means of protection for the landlord because it allows him to properly establish set terms and regulations with the tenant such as issues pertaining to the repair and maintenance of the property, proper garbage disposal, house rules, and terms of payment.
Lease Agreements also safeguard a tenant's interests because it helps to ensure that the cost of the monthly charges for the rental unit stay as is and that outstanding increases with the monthly dues are properly communicated and done with prior notice.
Because a Lease Agreement is a legally binding contract, it also obligates both parties to adhere to the terms and conditions indicated in the contract and can be used as grounds for legal disputes when part of the contract is being breached.
What Should I Include in My Lease Agreement?
Names of All the Occupants – Rental Contracts should incorporate a list of names of all the occupants in a rental unit or a leased space. Listing down the names of all the tenants residing in the property makes them all obligated to pay the rent and abide by the terms. That way, when one tenant goes amiss, you will still have legal rights to demand payment from the other occupants.
The Number of Occupants Allowed – Another way to set proper expectations among your renters is to establish a clear indication of the allowed number of tenants in one rental unit. Applying this technique on your Rental Contracts will guarantee you that the only people residing in your rental space are those who have been properly screened.
The Duration of the Tenancy – Rental Agreements should also specify if the length or the duration of the tenancy is a mere rental or if it is a fixed-term lease. Rentals usually renew every month while a lease usually lasts for several months or a year.
Rental Dues and Payment Schedules – The amount of rent due should also indicate the specific date that it is due and the mode of preferred payment, such as via online transfers, personal checks, or cash. Including penalties for late payments or bouncing checks would also be a great way to set proper expectations on your renters and help to avoid late payments.
Deposits – Advanced deposits and security deposits, their uses, and how they will be refunded have to be clearly defined in your Rental Contract to avoid confusion and misunderstanding between you and your renter down the road.
Repairs and Maintenance – The terms for repairs and maintenance also have to be properly established in the contract. Tenants have to be properly informed that it is their responsibility to maintain the cleanliness of the property and that incurred damage to the property, whether intentional or unintentional, will have to be covered by the tenant or may be taken from his security deposit.
Restrictions – House rules and restrictions such as certain guidelines if a tenant has a pet, illegal business, excessive noise, or disruptive behavior have to be clearly defined in your Rental Agreement to avoid trouble among your tenants and damage to your property.
Free Business Agreement Forms
Free Lease Agreement Form
Free Non-Disclosure Agreement Form
Free Separation Agreement Form
Business Associate Agreement Forms
HIPAA Business Associate Agreement Form
Sample Associate Agreement Form
Free Associate Agreement Form
Business Rental Agreement Forms
Free Rental Agreement Form
Month-to-Month Rental Agreement Form
House Lease Agreement Form
Business Service Agreement Forms
Service Contract Agreement Form
Sample Services Agreement Form
Cleaning Service Agreement Form
Business Development Agreement Forms
Development Agreement Form in PDF
Software Development Agreement Form
Real Estate Development Agreement Form
Non-Disclosure Agreements
In the business of trade and commerce, coming in contact with different people happens every minute of every day. Interacting with clients, business partners, shareholders, and suppliers may sometimes lead to the sharing of information that is sensitive or confidential.
As a business owner, it is your responsibility to protect your company by making sure that confidential information remains that way. One way to guarantee this is by constructing a Non-Disclosure Agreement, or an NDA.
Non-Disclosure Agreement are contracts that take away the liberty of another person or organization to disclose information that is confidential and affects the business's trade.
A Non-Disclosure Agreement or a Confidentiality Agreement may sometimes be a portion provided in an Agreement Form, or may also be constructed as a totally different form of agreement.
Types of Non-Disclosure Agreements
One-Way Non-Disclosure Agreements
A one-way NDA, also called a unilateral non-disclosure agreement, is a type of agreement that is used when only one organization or party has access to confidential information.
Two-Way Non-Disclosure Agreements
A two-way NDA is also known as a Bilateral Non-Disclosure Agreement. A Two-Way Non-Disclosure Agreement is created when two or both parties are at risk of having confidential information divulged. This type of Non-Disclosure Agreement is commonly used in mergers or in partnerships.
Some proprietors or organizations, however, will typically opt to use a Bilateral NDA in anticipation of having to eventually divulge confidential information in business transactions.
Multilateral Non-Disclosure Agreement
A Multilateral NDA helps to protect everyone's interest when there are three or more parties involved.
Business agreements are contracts that help to protect you and your business. Make sure that your agreement forms are solid and foolproof to save you from the hassle and expensive costs of a litigation. Download our business agreement forms now.