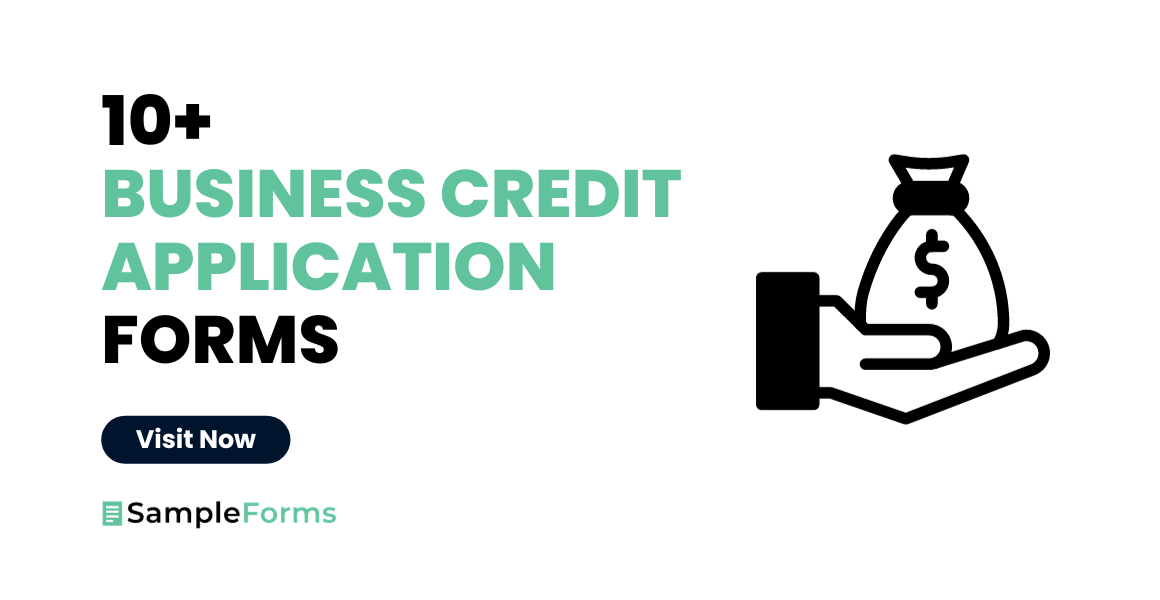 Application Forms are an important tool of your job search if you work in a particular field. For new job hunters, it is most likely that an application form will be provided to you by the management. It is usually part of an initial requirement when applying for a new job. Necessary information asked in an application form are usually just personal information, educational attainment, and previous work history. Application forms are not only used for job employment but also for rental intentions, medical purposes, and many more.
Another example of an Application form is a Business Credit Application form wherein an individual seeks for a line of credit with an organization.
Blank Business Credit Application Form
Business Line of Credit Application Form
Business Customer Credit Application Form
Free Business Credit Application
Business Credit Card Application Form Sample
What Information Is Included In A Business Credit Application?
Similar to Business Application Forms, when applying for Business Credit Application Forms, basic information such as your personal and contact information are requested. A Business Credit Application is usually a statement of request for an extension of credit in an organization.
When applying for a Business Credit Application, the following details should be included:
Customer Information
Customer Financial Information
Bank Information
When a credit application is validated, it will provide the amount and type of credit requested. But keep note of one thing. You need to verify a creditor's existence. One can simply indicate fraudulent and misleading information in a Business Credit Application form.
To avoid any misconceptions and misfortune for your company, it is best for the management to verify a customer's legitimate identity. An individual's credit scores are one of the major factors that an organization should evaluate in the business credit application.
Another major factor to consider is an individual's credit history. If an individual has regularly paid their bills, then they are most likely a legitimate creditor. But if you find out that an individual does not have the ability to pay or repay the credit on a regular basis, then you may make the decision to reconsider their application, as approving their application may prove to be disastrous for your business in the future.
Business Credit Account Application
Standard Business Credit Application
Sample New Business Credit Application Form
Financial Business Credit Application
Small Business Credit Application Form
Small Business Credit Application Form
Business credit is a risky and huge step to involve in your business. One must know an individual's credit history, employment status and their capability to repay the amount of credit. Once you are permitted to contact reliable references, then please do so. Businesses cannot take chances when it comes to approving Business Credit Applications.
With forms widely used by people and organizations these days, we are pleased to inform you that our website provides you with Business Credit Application form samples and many other legal forms and documents. These downloadable and Printable Application Forms are specifically catered for your needs and we guarantee you that these forms are very simple and easy to use. With only one click from your laptops and desktop computers, you can easily have access to these forms.
If you feel the need to explore other legal forms for your own first hand knowledge, please do so. We're glad we have various of these forms. Of course, you just have to download them each for their specific reasons and for your personal use as well. You can also choose from either DOC and PDF file type formats. Feel free to download and fill them up for their right purposes.