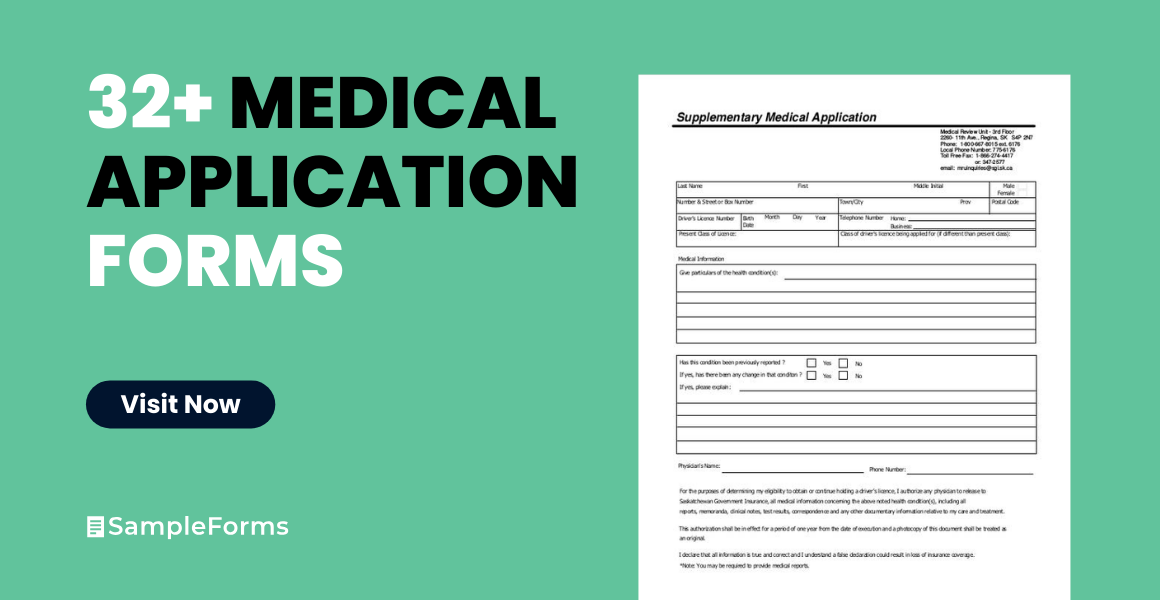 In order to enjoy the gift of life, one must put importance on their health. Achieving the ideal state of health and stability would require one to go through certain process. If one wishes to get their dream job they must complete a Job Application Form. In order to get a check up, one completes a medical application form.
The application process is considered to be the first step in the acquisition of any service or treatment. It can also be thought of as a screening process to obtain further input on a person. Delegated personnel are the ones who are assigned to check on the Application Status of incoming patients and applicants.
Medical Application Request Forms
Medical Participation Application Request Form
Medical Statement Request Application Form
Medical Staff Application Request Form
Medical Card Application Forms
Medical Card Renewal Application Form
Medical Visit Card Application Form
Medical Certificate Application Forms
Aviation Medical Certificate Application Form
Medical Certificate Form for Motor Vehicle Driver
Medical Licence Certificate Application Form
What Is a Medical Application?
Medical Application Forms are forms that a incoming patient is asked to answer before being able to go through a medical service, procedure, or treatment. Medical personnel hand out this form as part of a process because it is one way of gathering the necessary personal and medical information from the patient.
Giving this form is done in every branch of the medical filed. A doctor of any branch in the medical field cannot come up with a correct and accurate diagnosis without a set of information as basis. The same goes for medical treatment since it is highly correlated to the diagnosis the doctor makes.
Importance of a Medical Application
Any kind of application is considered to be an important piece of paper work. It is formal document that makes the applicant and the provider have a increased sense of awareness on the current circumstances of the applicant. For example, when an incoming student fills up a School Application Form, the staff of the school are able to correctly place the student in the grade or year level.
On the student's part, they become aware of their current standing. In the medical field, application forms are important because they create a smoother process for both the patient and the doctor, as well as lessen the chances of medical conflicts.
Medical Service Application Forms
Medical Service Program Application Form
Medical Service Enrollment Application Form
Emergency Medical Service Application Form
Medical Application Report Forms
Medical Report and Patient Information Application Form
Medical Report Consent Application Form
Medical Examination Application Report Form
Medical Priority Application Forms
Medical Priority Pass Application Form
Medical Priority Consideration Request Form
Medical Confidential Priority Application Form
Medical Reimbursement Application Forms
Medical Reimbursement Claim Application Form
Medical Reimbursement Benefit Application Form
Uses of Application Forms
The general and basic use of a Medical Application Form is to gather all the necessary medical input from the incoming patient. The information found in the application form is considered to be the initial basis for the doctor's diagnosis, treatments to be given, and the procedures the patient has to go through.
Decisions made by the doctor should be done carefully and not end up with the patient's life in a critical condition. The patient should also give correct information in order to get the medical attention they need.
For a School Application Form, it is directed to the educational setting. In this type of form, an incoming student discloses their personal information and the previous educational attainments and achievements. Having this set of information can give teachers or the school administrative officials to properly place the student in the right grade level or year level.
When the student is placed in the right level, they are able to progress well in terms of their education. There would be no need for them to repeat the same level, or have the need to catch up when the level is too advanced for them.
Medicare Application Forms are similar to the aforementioned Medical Application Forms, but these are more directed towards the medical insurance of a patient. Medical insurance companies formulate a number of insurance plans that can suit the different medical needs of a patient. Patients may find it hard to keep up with their medical expenses so they turn to medical insurance to help them out.
Medicare can suit some patients who fit the insurance plans they provide. In order to avail of this kind of medical insurance, applicants can fill up a Medicare Application Form. With it, they can have a lesser medical expenses than they initially anticipated.
Supplementary Medical Application Forms
Sample Supplementary Medical Application Form
Medical Concession Application Forms
Medical Cooling Concession Application Form
Medical Energy Electricity Retailer Application Form
Medical Heating and Cooling Concession Application Form
Employee Medical Application Forms
Private Medical Insurance Employee Application Form
Medical Employee Pass Application Form
Employee Medical Reimbursement Application Form
Medical Disability Application Forms
Disability Insurance Application Form
Medical Disability Allowance Application Form
How Is It Related to Medical Insurance?
The Application Forms Format can give the person administering it and the applicant answering an idea of what information should be disclosed. The format of a medical application form typically consists of the patient's general information, their medical history, medical insurance information and other related information. The total medical treatment and medication associated with the patient's diagnosis can be a costly thing for them to think about.
This is when they turn to medical insurance. Medical insurance grants the financial aid that can cover their medical bills and expenses. The insurance company is given an invoice of the acquired services, treatment, and medication. They process it and show the patient what they do or do not need to pay.
How Are Medical Applications and Medical History Connected?
With College Application Forms, interested applicants go for a school that suits their academic needs and be the right stepping stone for their future career. For Medical Applications Forms, it can be a stepping stone for the incoming patient to be more mindful of their state of health.
In order to achieve the goal of having good health, one must undergo activities or process to enlighten them in regards to that subject. One way to become more aware of their current health is to take a look back at their medical history. Looking at one's medical history can show you health patterns as well as hereditary medical conditions that run in the family.
Medical Internship Application Forms
Medical Internship Application Information Form
Medical Student Internship Application Form
Medical Illness Application Forms
Medical Illness Benefit Application Form
Long Term Illness Application Form
Difference Between Physical and Mental Health Application
Application Forms can serve different purposes since there a number of companies, institutions, and services that require incoming applicants to disclose specific kinds of information. For example, when completing Membership Application Forms, an interested member would disclose their personal information and other kinds of information that relate to the kind of membership being advertised.
In the field of medicine, there are a number of branches that cater to different medical services. The first branch that comes to a person's physical health. A medical application form in line with physical health services have a format of items that asks about the patient's basic information, any physical complaints they currently have, previous medical conditions they encountered, their medical history, and prescribed medication they have taken, or are currently taking.
Another aspect of an individual's health is mental health. An application form pertaining to this aspect of health would ask the incoming patient or client of their current emotional state, medications they have or are taking, if they have had any previous psychological therapy or psychiatric treatment, any form of substance abuse they have had, if they encountered any legal issues, and their family's health history. If the clinician finds a concern in the form, they may issue Counseling Application Forms to the patient.