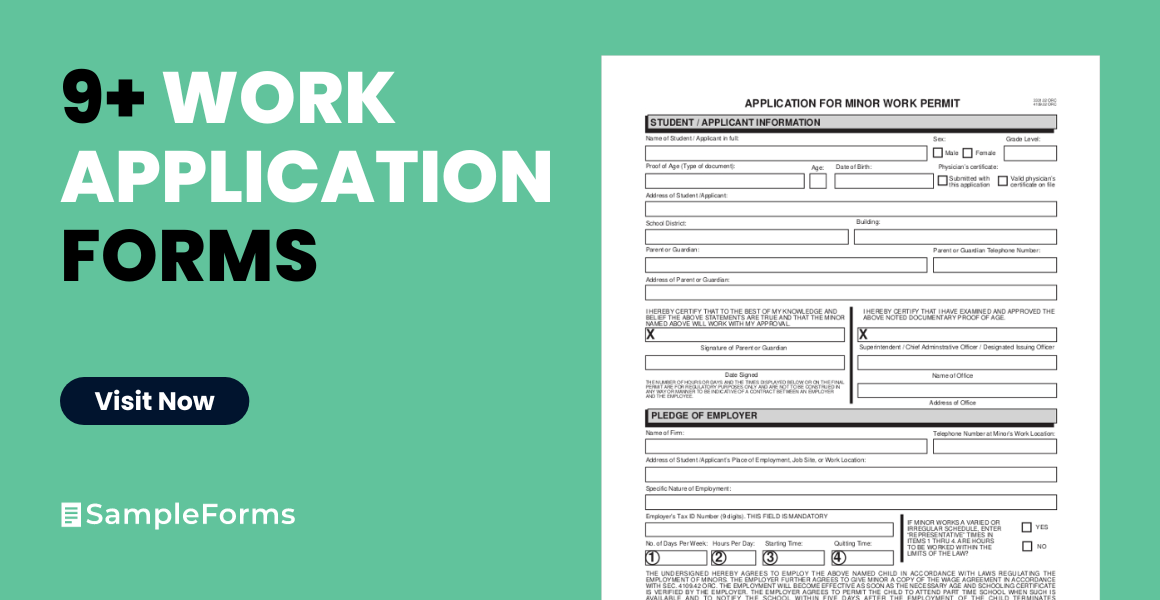 While working in an organization, an employee may have to make certain requests with the company management. However, verbal exchange in such cases is totally uncalled for. What is required is some paper work that would not only give it a formal look but would also be a proof of the request. It is for this reason that organizations make use of work application forms. The format and subheadings in these Application Forms may differ based on the purpose for which they are used.
Example of Work Permit Renewal Application Form in PDF
An employee working on international shores usually requires a work permit that is issued by his organization. This has to be renewed after a fixed period of time. The organization expects him to fill in and submit the aforesaid form to request for the renewal of the work permit.
Work Experience Application Form in Word
A person leaving an organization to take up a better job may require a work experience certificate from his former employer. It is for this purpose that this form is used. The employee can fill in this form with his details and the request and submit it with the authority concerned. You may also see Social Security Application Forms.
Work Licence Application Form
When a person moves to another country for work, he requires a work license which is the only legal way to get employment. This is issued by the relevant government agency. The agency uses this form to allow the person to raise a request for the work license.
Application Form for Volunteer Work
This form is generally used by nonprofit organizations and social groups to allow people to apply for volunteer work with them. The person is required to fill in the form with his details, the reason he wants to take up volunteer work and the kind of work he would like to be involved in. You can also see Employee Application Forms.
Work Permit Application Form in PDF
This form is used by government agencies to allow the people to apply for a work permit. The applicant is required to list his personal details and other relevant information in the form. The agency then reviews these details and issues the work permit.
Social Work Scholarship Application Form in PDF Format
As the name indicates, this form can be used by a person who wishes to attain a scholarship be engaging in social work. Mostly used by nonprofit organizations, this form helps the interested parties to apply for volunteering in the group which would then help him to win the scholarship.
Application Form for Miscellaneous Work Pass
This form is used by government agencies to allow people to request for a miscellaneous work pass that would help them to apply for multiple jobs in a country. The form comprises of the segments which ensure that the applicant shares all the relevant information.
Undergraduate Course Work Application Form PDF
Educational institutions that offer chances to the undergraduates to work within their premises or some other company use this form to accept applications from the students who may be interested in working. You may also see Sponsorship Application Forms.
Free Application for Minor Work Permit Form
When a person approaches a concerned government agency with a request for a minor work permit, the agency expects him to fill in this application with the relevant details. These details are then reviewed. Once the agency is happy with the review, the minor work permit is offered. You can also see College Application Forms.
Target Audience for Work Application Forms
Work application forms are used for a variety of reasons which is why the target audience for these forms is also quite diverse. Here is a list of some of these
Business organizations
Service organizations
Colleges Nonprofit organizations
Social work groups
Government agencies
What are The Benefits of Using Work Application Forms?
These forms are designed by experts and adhere to the latest industry trends. These follow an acceptable format which gives these documents a very professional look
When writing a work application, the applicant needs to share crucial information with the authority concerned. Since these forms comprise of all the important segments, the user can be assured that the applicant does not miss out on any significant details
These forms can be easily customized to suit the requirements of the user
Need help to design a work application form? Take cue from the whole range of forms that we have on offer. From Job Application Forms to work application forms, there is a whole lot to choose from. Once you find the perfect one, download this and then customize it to suit your needs. Available in PDF and MS Word format, these forms are compatible with all devices and an ideal choice for all.