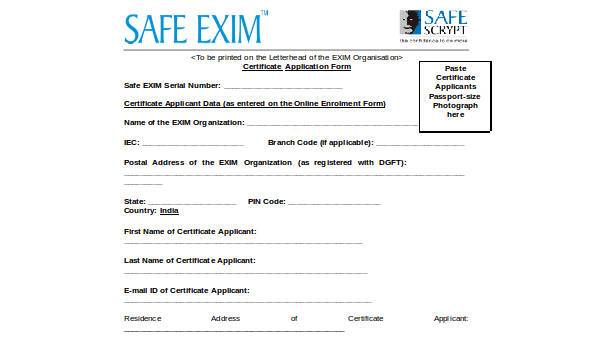 A certificate is an official document attesting to a certain, particular fact. Basically, if there's something you accomplished that you feel must be documented due to its importance, you can always have a certificate made for it. These documents also contain important information. One example would be a medical certificate that allows anyone to prove that they were in a hospital for a particular reason.
However, before these people can have any kind of certificate made, they'll must to apply for them first. These can only be handed out by certain officials who have the proper authority, and they need to make sure that all information in the certificate is a hundred percent thorough.
How would these people acquire these certificates? Well, they can use the proper Certificate Application Forms to help them out.
Birth Certificate Application Form
Death Certificate Application Form
Title Certificate Application Form Example
Certificate of Registration Application Form
The Different Kinds of Certificate Application Forms
Many kinds of certificate application forms exist, such as Certificate of Citizenship Application Forms which are used by those who wish to apply for citizenship. Here are some other examples of these types of forms.
Birth Certificate Application Forms are forms that are utilized by those people that need to retrieve their birth certificate, or someone else's.
Death Certificate Application Forms are mainly used to apply for a death certificate. These are used when a person's loved one or family member recently passed away, and need a certificate as a form of proof that they did.
Certificate of Travel Application Forms are used by those who have traveled to another country or area and require certification as a form of proof. The details indicated include: when the travel was made, the precise location of the travel, and more.
Marriage Certificate Application Forms are mainly used when two people have joined under holy matrimony, and would like an official document to proving so. These forms state the personal information of the two parties that are about to be wed, along with other information such as the date of application.
Certificate of Travel Application Form
Marriage Certificate Application Form
Certificate Application Form in PDF
Certificate Application Form in Doc
The Importance of Certificate Application Forms
People who require these important documents need to apply for them before they can actually receive them. This is why there are forms such as Certificate General Application Forms exist, which can help with that.
These help people because these certificates can come in very useful at certain situations. Say that a person needs to apply for a certain kind of job. However, this position indicates that the applicant needs to provide their birth certificate and have the proper medical certificates. This is where application forms for these certificates can come in handy, assuming they don't have them yet.
The information in these forms help verify what happened and what was accomplished. Details stated in these certifications include: the recipient of the certificate, the purpose of the issued certification, and the issued date. If you need to know more about Certificate Application Forms, then you can check out our examples here and use that knowledge to help you acquire the certificate you need. Just make sure you know which one to use that matches the situation you need them for.