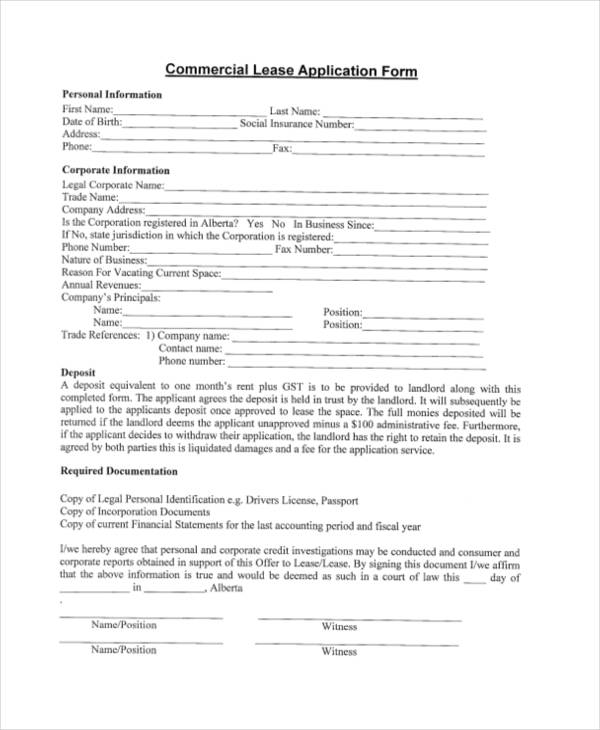 Establishing a business requires a suitable location to build your business enterprise. There are entrepreneurs who would go to the extent of demolishing existing houses and buildings at specific locations where they believe their businesses can grow. These entrepreneurs must always undergo the necessary legal proceedings to acquire such a location.
In the same way, small-scale businesses will hunt for the perfect spot for their businesses. The target-market at a location must be high in order for the business to flourish. As an entrepreneur, you would want the best location to base your business operations. With this in mind, Application Forms are used in acquiring your desired business property.
Commercial Lease Agreement Application Form
Blank Commercial Lease
Commercial Real Estate Lease
Commercial Lease Credit Application
What is Commercial Real Estate?
It is a real estate or property used for establishing a business venture. The purpose of the property is for any business to occupy the space through leasing. For example, when you find yourself wanting to rent something, this generally requires Rental Application Forms. With this in mind,  leasing also requires Lease Application Forms. Examples of commercial real estate are hotels, shopping malls, restaurants, and the like.
What is a Commercial Lease?
It is a contract which binds both the leasor and leasee regarding the rental matters of a property. The leasee must specifically be someone who will use the property for business purposes. The commercial lease contains all agreements and conditions both parties have mutually agreed upon.
Types of Commercial Real Estate
Commercial Real Estates have different definitions depending on the nature of the business dealings.
Retail: This type includes all retail markets and restaurants. Retails are basically establishments which sell goods or services to their consumers. The common shops you see around like shopping malls, boutiques, and electronic shops can be classified as retail.
Office: This type can be divided into two: suburban and urban buildings. Urban buildings are usually found in cities. They are structurally durable and high. Some examples of urban buildings are skyscrapers and tall business buildings. Unlike suburban buildings, they come in average or small sizes. Suburban buildings include small space offices and one-room offices.
Commercial Tenancy Lease
Sample Commercial Property Lease
Commercial Bank Lease Application
Printable Commercial Lease
General Commercial Lease Application Form
Industrial: This type of property is where manufacturing operations occur. Some industrial structures include warehouses, factories, and storage areas. These industrial properties are mostly located near any transportation system for easy access and delivery of goods and materials.
Land: This type covers all raw land which can be used as a site for any possible future industry construction.
Multifamily: This type refers to properties that are available for occupation by any individual or families. Examples of multifamily properties are apartments and condominiums.
Learning about these types of commercial real estates can assist you in selecting the suitable commercial lease application for you. Aside from these commercial lease forms, Residential Lease Applications forms are also available in our website should you choose to apply for a residential property for your family. Our commercial lease forms vary depending on the type of property you need. If you want to see the templates of our forms, you can easily skim through our website. The forms are free and downloadable. Check them out now!