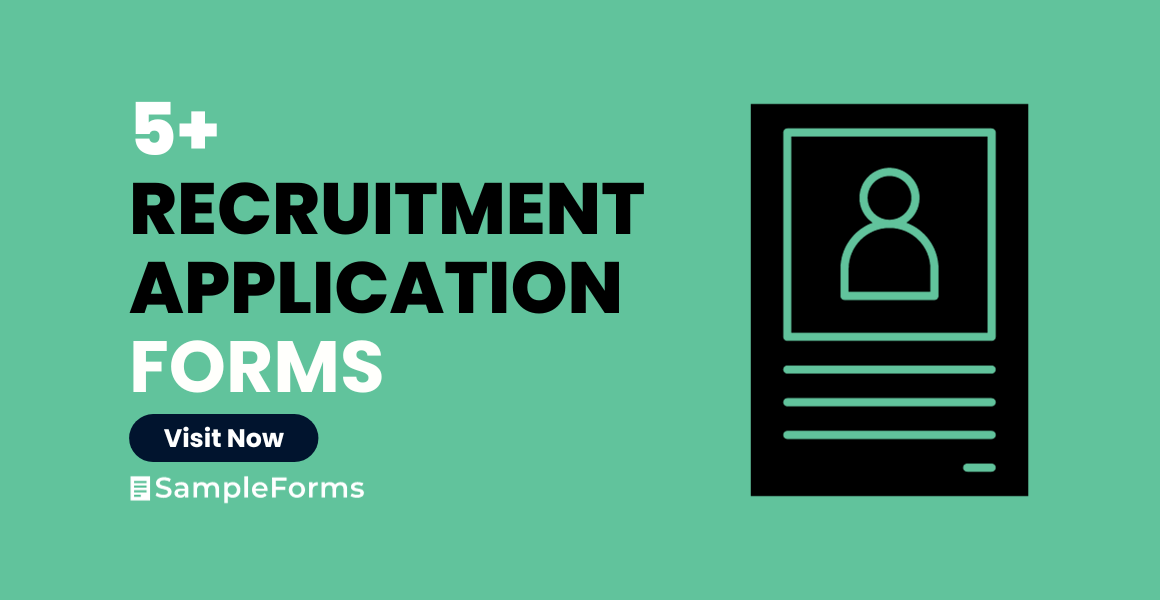 In today's industry, job seekers are not only having a hard time looking for a promising job. Companies are also trying their best to get reliable and dedicated employees to work for them. That is why HR managers are looking for ways on how to enhance and organize their recruitment system. One tool that makes the hiring process efficient is the recruitment application forms. This document will help HR employees evaluate the job applicants' information according to their qualifications. Application forms are also convenient for both employers and job applicants. If you are not familiar with recruitment application forms, read further in this article to learn more about it.
What Are Recruitment Application Forms?
Recruitment forms are like job application forms that are useful in a company's recruitment process. This document is filled out by an applicant applying for a particular job vacancy in a company. Just like any other application form, this document will provide employers the background information about the candidate. It is usually submitted together with the applicant's other documents like resumes and recommendation letters. The hiring personnel will review this application form to see if the job candidate is suitable for the work.
FREE 5+ Recruitment Application Forms in PDF
1. Sample Application Form for Employment
2. Simple Employment Applcation Form
3. Sample Recruitment Application Form
4. Example Job Recruitment Application
5. Recruitment Application for Employment
6. Employment Application Form Sample
Benefits of Using Recruitment Applications
According to Satista's US employment data, the monthly job openings in the states reached approximately 7.02 million, and the civilian labor forced reached 106 million, including the job seekers. These numbers proves that there is a tight competition going on in the hiring industry. Companies are trying hard to provide convenience in their recruitment process so they can attract more applicants. Moreover, using recruitment applications would benefit both the company and the job seeker. To enlighten you, here are a few things you will gain in using the application forms.
1. Makes the application documents easy to evaluate: You will have a smooth flow in examining the applicants' records with a recruitment application. This document already has the applicant's information, employment history, achievements, and educational background—enough for you to see if they are qualified for the job position. As a hiring employee, you can require the applicants to provide proof of achievements such as certificates, recommendation letters, and many more.
2. Replacement for resumes: Once the job candidates have filled in the application forms, you will no longer need to require them any resumes. The recruitment applications have similar content as a professional resume but more detailed. You will have more control over the information you want to get from the applicants than just requiring them to submit a resume. There are times that resumes won't have enough information you need to evaluate your applicants.
3. More chances of a job interview: This advantage is in the applicant's perspective. It will be easier for the candidates to apply with the company's official application form than submitting resumes and application letters on their own. The HR managers can schedule the qualified applicants an interview through the filed application forms online and walk-in.
How to Make Recruitment Applications
Recruitment application forms can either be digital or hardcopy. There are times that companies use both recruitment applications for the convenience of the applicant and the hiring employees. As a hiring employee or an HR manager, you should be familiar with using recruitment forms in your hiring process. For you to have an efficient way of making recruitment applications, here is a list of tips and steps you can follow.
Step 1: Know Your Business Well
You should know your business well to come up with an effective application form for your hiring procedures. Before you conduct a recruitment process, you should know what job positions are available in your business. This way, you can identify what qualifications and specifications you are looking for an employee. How many work slots are available? Would you consider working students for a particular job position? Consider these questions, and you will know what to include in your recruitment forms.
Step 2: Determine the Elements You Need
Once you know the open job positions, you can proceed in determining the essential information you need from the applicants. Most recruitment applications have the candidate's personal information, job position applying for, educational background, and employment history. These details will help you evaluate the candidate if they are qualified for the job position. The application forms should also have the date when the applicant files the application form so that you can schedule them an interview.
Step 3: Decide on an Application Format
Plan the format of your recruitment applications so you can start filling in the details you need. Usually, recruitment applications are segmented depending on the categories or elements. For instance, you can start with the applicant's personal information, the job they are applying for, educational background, and then the employment history. This way, you will have an organized and presentable application form. Character references are also essential in creating a recruitment application form. This way, you will have someone to confirm the reliability of the applicant as an employee.
Step 4: Insert a Verification Note
You should place a verification note at the end of the application forms to certify that the information that the applicants provided are true and accurate. The verification section should have a short message or agreement with an area where the applicants can affix their signatures. If you are planning to post your recruitment applications online, you can use checkboxes as a replacement for signatures to ensure complete and correct information.
Step 5: Post Job Recruitment Notice
After finalizing your recruitment application forms, you can start printing them on high-quality paper to make it look professional and presentable. You can also post the application forms online, linking them in your online job hiring advertisement. Online application forms are convenient for both you and the applicant. But, you can still prepare a hardcopy of the recruitment application in your office for the walk-in applicants. Always remember to proofread before posting and printing to avoid any conflicts in the recruitment process.