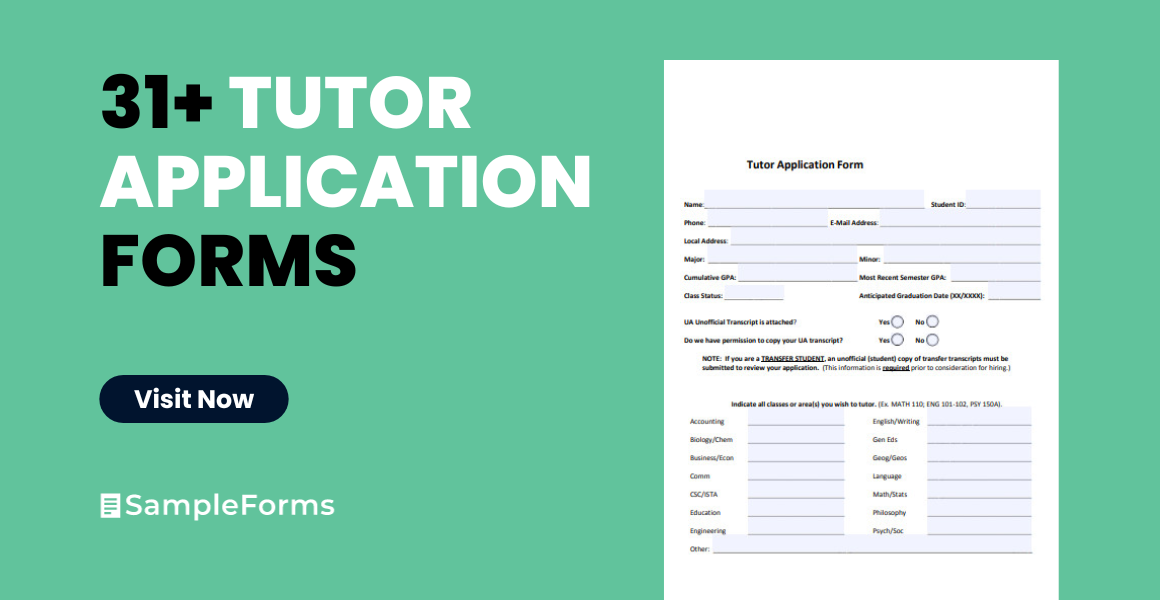 People can have a variety of options for educational sources aside from school, and that is good news because there will be more learning opportunities to expect. An example to pay attention to involves private tutoring wherein a student can have time with a tutor for learning. However, not just any teacher should get acquired because there must be qualifications to set. Preparing a job application form made specifically for finding the right tutors would be necessary until a decision gets made.
FREE 31+ Tutor Application Forms in PDF | MS Word
1. Tutor Information Application Form
2. Tutor Classes Application Form
3. Tutor Doctor Application Form
4. Tutor Change Application Form
5. Peer Tutor Application Form
6. Tutor Course Application Form
7. Subject Tutor Application Form
8. General Tutor Application Form
9. Teacher Tutor Application Form
10. Tutor Details Application Form
11. Student Tutor Application Form
12. Tutor Application Form Sample
13. Job Tutor Application Form
14. Writing Tutor Application Form
15. Tutor Approval Application Form
16. Licensed Tutor Application Form
17. Lab Tutor Application Form
18. Educational Tutor Application Form
19. College Tutor Application Form
20. Faculty Tutor Application Form
21. Tutor Work Placement Application Form
22. Tutor Position Application Form
23. Learning Tutor Application Form
24. Tutor Self Application Form
25. Basic Tutor Application Form
cfms.uct.ac.za[/ns_col] [/ns_row]26. Simple Tutor Application Form27. Tutor Training Application Form28. Potential Hiring Tutor Application Form29. Volunteer Tutor Application Form30. Standard Tutor Application Form31. Printable Tutor Application Form32. Learning Tutor Application FormWhat Is a Tutor Application Form?
Tutor applications are application forms that help identify the data of any interested applicant who wishes to become a tutor. Nobody should assume of getting the job position immediately without formally applying with the right document anyway as employment observes a systematic process. These forms generally ask the essential details from the name until the subjects which the teacher specializes in. Without this document, people looking for tutors only wonder about what to expect from the teachers for lacking info.
The document used here can serve as the official registration, too, because candidate registration marks as the first part of the hiring process. After registering, the people who hire eventually proceed with interviewing, comparing candidates, and finally choosing the best possible tutor. The method might end in the wrong way if forms failed in getting made. For example, some of the required information could be lacking or that the instruction on the sheet was hardly understandable. Thus, creating a better output would be required until the form gets perfected in the end.
What Are the Benefits of Tutor Application Forms?
The great thing about tutoring and using the tutor application form is how there will be advantages included. Of course, this idea would not turn needed if it is not essential or beneficial in the first place. Finding the proper tutor should never be taken for granted because someone's knowledge and education will be affected. The significant benefits expected here are the following:
Privacy Assurance

What makes tutoring special is how it is more private than the traditional classroom setting of schools. Some shy students could not deal with a lot of people, so a more individual approach with a confidentiality agreement may make these pupils comfortable in working with the tutor. At least other people never need to hear whatever gets discussed during the session. It becomes nice to have extra time to learn something instead of only limiting knowledge gained from school.

One-on-One Interaction

Expect a more active approach of teaching to happen because the tutor can focus on one student at a time. That idea is much better, so tutors can concentrate on ensuring that the student understands the lesson before proceeding to another topic. The problem in certain classes is how not all teachers wait for every student's progress because there is a deadline to catch up, and it takes longer to handle everyone. With more focused communication, there is a high assurance of success.

Easy Reference

Just like training application forms, these job applications are also useful for reference. There may be a need to confirm the tutor's name or work experience, so it gets easy to manage that by reviewing the form. The sheet used serves as documentation anyway, and it will be useful for reviews. Not having any document for reference will only make the said tutor questionable if he or she is legitimate to work. Thus, the paperwork here will serve its purpose someday, like lessening conflicts.

Formal Contract

There are agreements prepared on the forms which are similar to contracts. The purpose of considering that beneficial is because of how there are clear instructions already. This idea clears out what seems allowed and prohibited while getting the job at some point. Any applicant should not sign and complete the form if there is anything to disagree with because signing it signifies that the tutor enrollee will respect its terms. Those who create these forms must also provide agreements clearly for applicants to understand.
The Important Questions to Ask for Tutor Applicants
Ensuring that applicants will take the form and complete all details is one way of knowing every applicant. However, those are not the only details to know, and it is normal for clients to get interested in knowing more about the tutors. Thus, knowing the essential questions that must get asked is a big deal. Recognizing interview questions and answers for teachers will help find the most qualified tutor. A job interview comes after the application anyway, and everyone should get prepared. Asking about their purpose to teach is one example of knowing the kind of passion the tutors have in terms of teaching. How they value their job speaks a lot about how serious they are at the profession. Thus, knowing its answer would help in deciding.
Never forget about questions involving the tutor's personality because education is more than just academics. Those who practice values will get highly appreciated for also observing ethical conduct in teaching. Being strict in educating pupils is typically done for discipline, but maybe the candidate seems to be overdoing it. A sort of balance would be much better in that scenario. It is wise to check how tutors communicate with the students' parents, too, as that shows if they update about the progress to parents as well. In receiving satisfaction from the answers given by applicants, then such candidates may qualify.
What Are Common in Tutor Application Forms?
Filling out the sheets is the concern naturally, but maybe there are wrong or incomplete details asked from there. The best way to slowly perfect the document is by recognizing what gets added mostly in such forms. The typical examples usually present there would be referred to as standards anyway. Those factors help make the sheet reliable, especially if appropriately prepared. No one should continue implementing forms that do not pass standards then. The common parts expected in these sheets are:
Applicant's Information

It stays essential to gather the personal and contact information of applicants to make it easy to identify these people. For example, some tutors may have caused conflicts like stealing or doing inappropriate stuff with the student getting tutored. If such people go into hiding, it gets easy to identify the tutor to the police or authorities by showing the applicant's details and history. Therefore, the essential points that help familiarize the background of such tutors matter.

Skills and Mastered Subjects

Relevance is vital for tutoring, which is why there is a need to identify the subjects such teachers specialize in. Maybe a student suffers in math, but an English teacher got hired. That example is a bad idea because of not being relevant. Besides recognizing what subjects the applicants excel at, other skills can get determined too. There could be additional factors involved that can help students develop besides focusing on academics only.

Task Information

Clarifying on the expected tasks for every tutor will help inform ahead about what shall get done. Besides teaching, there will be other concerns like indicating the schedule for tutoring and adding particular tasks. At least the applicant stays aware of other things to manage instead of only telling the additional info upon the first day of coaching. Some might back out from teaching if late announcements of extra tasks got shared.
How to Make a Tutor Application Form
Making these tutor application forms may seem like it involves a lot of work, but that is untrue. There are specific steps available that can help in making the form efficiently and effectively. To spend time in familiarizing each would make a difference wherein the document to create will pass professional standards. At least there is no need to have a hard time completing forms when the following steps get done.
Step 1. Label the Form as Tutor Application
Many examples of application forms exist, and the public should at least get an idea right away on what the document is wholly about. Maybe some applicants mistake the sheet for another example like a contract instead of an application sheet. Sometimes the design of the material itself can already leave an impression at what it tackles about, so be sure the presentation serves right. People would know what to do already after recognizing that the job application is specifically for tutoring after labeling.
Step 2. Pick a Decent Template
The great thing about considering downloadable and customizable forms is how there is a variety of templates. Individuals only get to choose at the example which satisfies them the most. In choosing a model, an assessment should get managed to come up with a smarter decision in ensuring that the selected option is worth it. If the example brings mostly disadvantageous factors, then that already sends a message to look for another option that brings more advantages instead.
Step 3. Simplify the Sheet
A bunch of unnecessary words and information might be around that the sheet ends up becoming too long. Applicants might take very long in completing the sheets if unneeded steps and questions got taken. There is no need to have lengthy details if there is still room for simplifying some terms anyway. At least a brief document lessens any misunderstanding, and there may only be one page or a few for each applicant instead of wasting a lot of papers in lengthy forms.
Step 4. Give Clear Instructions
Avoid bringing a hard time for anyone interested in taking the sheet. Putting instructions can help, so an applicant follows the rules properly instead of doing it wrong. Guidelines affect the success rate of applications anyway, like when people cannot tell if something should be encircled or perhaps underlined. Where to write other information might turn confusing, too, like in online spreadsheets. Some applications get done online, and not knowing how it works would happen if no clarity in instructions happened.
Step 5. Edit Some Mistakes to Notice
Give an evaluation at everything found on the sheet. There are chances that errors could be around on the spelling, format, and other factors. Rest assured, each failure can get lessened by reviewing all possible mistakes and slowly changing those into correct versions. Nothing can go wrong in just a few moments to spare for correcting all info. What stays essential is that these application sheets get correctly made until the process of hiring tutors will surely succeed after.
Preparing application forms and observing qualifications are not at all useless. Even for putting that much effort into finding a tutor, it is advantageous to have high assurance that the possible teacher to hire soon will be excellent with the service. Indeed, tutors are not always in a more top position than school teachers, but what they bring towards any student that needs tutoring will still be influential.