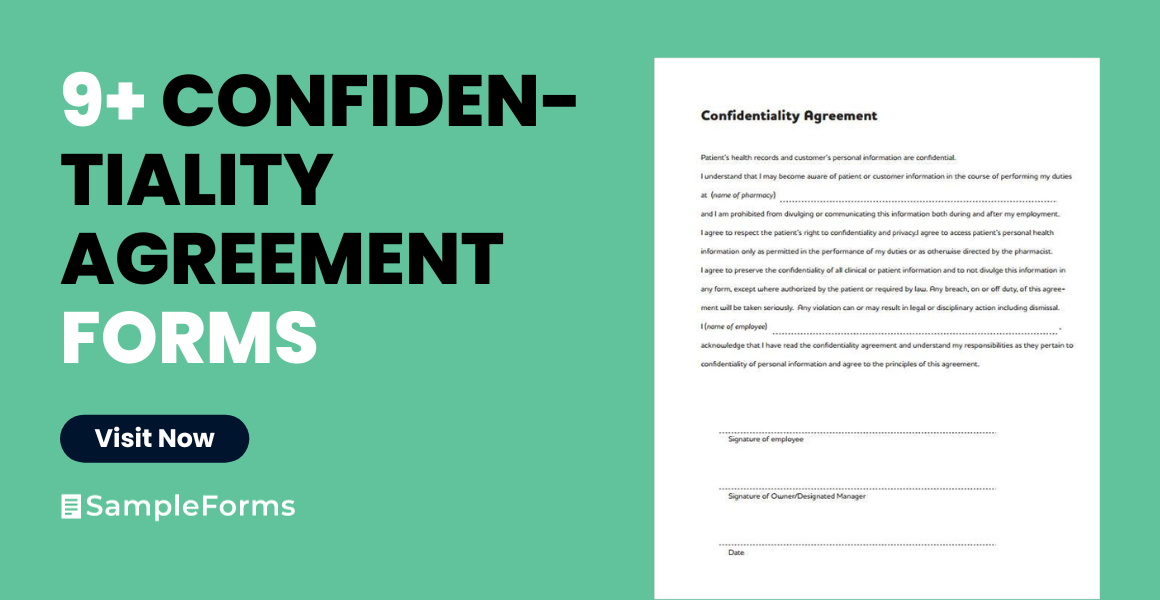 When you are into business, your strongest venue for marketing or selling your product or your service will be through your social network. As such, you will be required to interact with different clients, business partners, shareholders, suppliers, contractors, and employees.
While social interaction can be a good way to expand your market and sales reach, it also poses a threat to your business especially if confidential data is leaked or compromised. Your strongest line of defense against tattletales and blabbermouths who can potentially harm your company by exposing trade secrets and sensitive information is by instilling a confidentiality clause in your agreement forms or contracts.
Employee Confidentiality Agreement Form
Free Confidentiality Agreement Form Sample
Generic Confidentiality Agreement Form Example
Medical Confidentiality Agreement Form
Free Patient Confidentiality Agreement Form
A confidentiality agreement is also dubbed a non-disclosure agreement (NDA). A confidentiality agreement is a contract between two or more parties prohibiting each one from sharing or divulging any type or form of information that has been conveyed between all parties, especially information leading to or about the company's trade secrets or confidential information that is related to the business's trade.
Trade secrets are anything that are used in a business that sets it apart from others. A trade secret has an independent economic value in itself which is primarily the reason why it is kept as a company secret and is not exposed to the public. Examples of trade secrets are secret ingredients, a formula to an energy drink, a list of client contacts, or marketing strategies.
Before you craft or download a Non-Disclosure Agreement Form, you must first be privy to the different types of confidentiality agreements. Each type of agreement caters to different parties such as:
Unilateral Non-Disclosure Agreement
A unilateral NDA is also commonly dubbed as a one-way NDA. These types of agreement forms are typically used when there is only one organization, party, or individual who has access to confidential information such as a confidentiality agreement for a newly hired employee.
Bilateral Non-Disclosure Agreements
A bilateral NDA is also known as a two-way NDA. These type of contracts are generally used when there is more than one party that is knowledgeable about the secret information such as in a merger or in partnerships. Because business transactions typically involve interactions and communication, most companies automatically use the bilateral NDA, especially when dealing with suppliers or contractors.
Multilateral Non-Disclosure Agreement
The usage of multilateral non-disclosure agreement or multilateral NDA is helpful in ensuring that the interest of the people involved in the transaction are protected. However, this kind of non-disclosure agreement can only be applied if there are more than two parties that are involved in a transaction.
Standard Confidentiality Agreement Form
Confidentiality and Non-Disclosure Agreement Form
Business Idea Confidentiality Agreement Form
Confidentiality Agreement Form Example
Mutual Confidentiality Agreement Form Format
What Should Be Incorporated into a Confidentiality Agreement?
The Complete Names of All the Parties Involved
If the agreement is for an employee, both the employee's and the employer's names should be indicated in the contract. On the other hand, transactions that are intended for a merger must contain the names of all the parties within the agreement. Be extra careful when listing down names for a contract, especially if the parties involved are names of companies. It should be the name of the company indicated in the contract instead of the person who will affix his signature.
Provide Specifications
Your Confidentiality Agreement should provide an outline of the type of confidential material that is involved as well as a specification of the sensitivity of the information.
Legal Consent
A Confidentiality Contract may sometimes need to be terminated in situations wherein the information is needed for a judicial process or in a legal proceeding.
Breach of Contract
There are measures and terms by which confidentiality agreements and other things agreed upon by parties can be broken, abused or dishonored. The breach of these legally binding transactions can result to court proceedings. Settlements should also be made to compensate for the damages that has been incurred.
Be sure to use foolproof agreement proofs that are legally binding and can protect you and your business's interests. Download our wide array of agreement forms that range from Non-Disclosure Agreement Forms to Lease Agreement Forms.