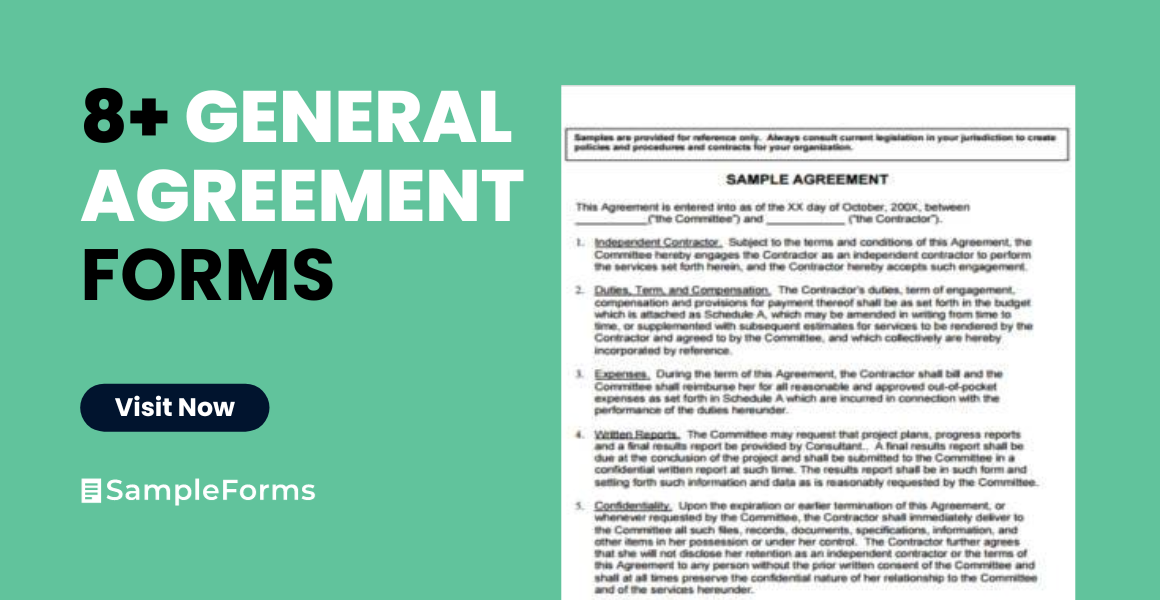 A general agreement is a binding contract between two parties agreeing to several and specific conditions that are beneficial for both individuals or businesses. It is usually better to put all matters that have been agreed upon in writing, with signatures of the parties involved, than trusting words in a deal.
Agreement Forms are documents that contain the responsibilities and obligations of the agreeing parties involved in any personal or business deal. They also contain the terms and conditions on how the partnership is going to be executed. A general agreement form can be drafted by the parties themselves, or a lawyer or attorney for legal validity.
Free General Rental Agreement Form
General Partnership Agreement Form
General Contractor Agreement Form
General Lease Agreement Form
General Rental Agreement Form
Why are General Agreements Important
Protection
In case one or both parties are not able to keep their promise and end of the deal, the general agreement form can come in handy during legal disputes as valid evidence for breach of the terms and conditions of the contract.
Assurance
Each party can utilize the general agreement as an assurance of getting things or services exactly as they are supposed to. Once a party signs the contract, they are obliged to follow the rules indicated in each clause of the agreement.
Expectation
A written contract, like Partnership Agreement Forms, establishes expectations from and to each party as they journey a long way together in promoting a successful partnership and business relationship.
Confirmation
Using general agreement forms assures all the parties that they have a bind to honor and regulations to follow. Having this document confirms all the agreements  and obligations of the entities involved in the transaction are well-documented.
Enforcement
An agreement form also allows errors and misunderstandings to be minimized. Having strict enforcement of the process details in the form makes parties trust each other even more. With this, a successful arrangement and a business relationship that lasts can be expected to be one of the effects of the procedure.
General Security Agreement Form
General Agreement Contract Form
General Early Decision Agreement Form
General Business Associate Agreement Form
What Makes a Good General Agreement Form
All details in the agreement should be written
During the conversation of the parties, a lot of small details might be overlooked and not put into record. It is important that these details are captured so each party will be able to satisfy each other's expectations.
Keep it brief and concise
An agreement does not need to be lengthy to make it look legal-worthy. The use of simpler words and more understandable statements guarantees each signer is responsible for his or her end of the contract.
Each party involved should be mentioned clearly
To prevent confusion and invalidation of the agreement, assignors and assignees should be marked clearly with complete names and corresponding signatures. The same for guarantors, witnesses, and legal counsels.
Explain the purpose of the agreement
Together with the responsibilities and duties of each party, the agreement should also state the purpose of writing the agreement form. Just like Non-Disclosure Agreement Forms, it stipulates the responsibilities of both parties.
Specify compensation details
The most important and inevitable part of any agreement is the monetary value of each task required. Payments and modes of payment should be explained clearly as to avoid delays.